Creating Inlays with the Glowforge Laser
I did a short post in the past about creating mother of pearl inlays. However, I have since gained more experience and wanted to cover this topic again with a focus on wood inlays.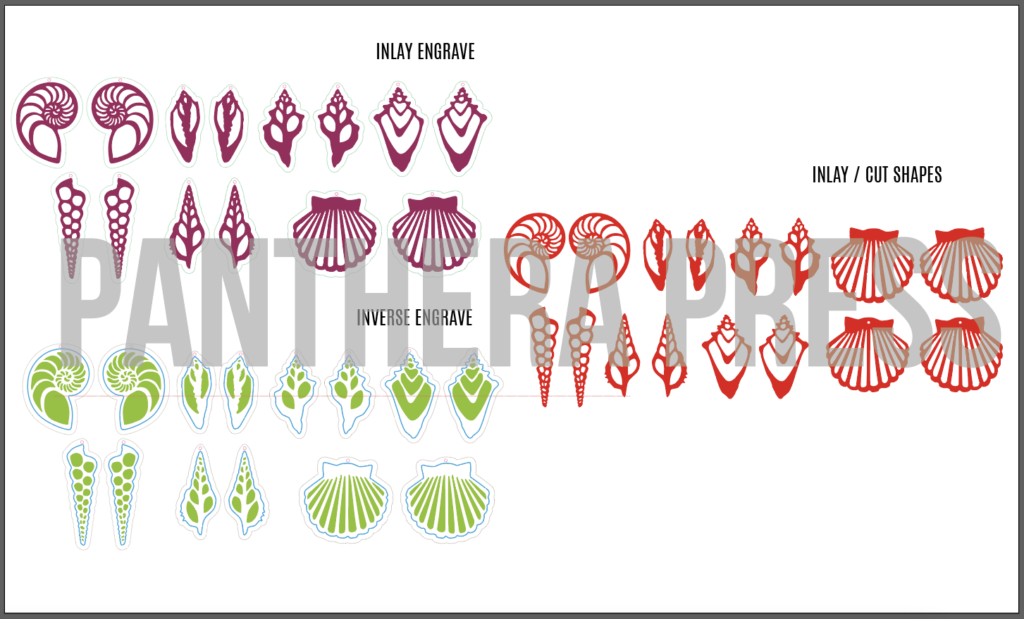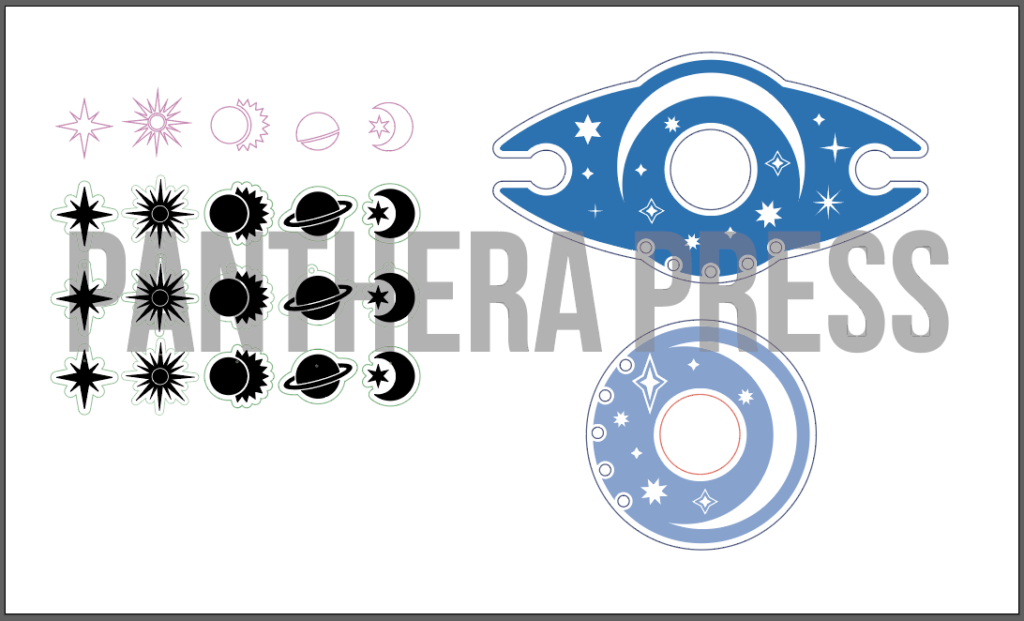 I created a special file just for this post that features a variety of shell cross sections. The file has options for doing inlays (the offset of .003 is already put in the file) or just cutting the shell cross sections as is. 
The second file shown in the project was created to test shell inlays and features a set of celestial wine charms with a wine butler and charm holder that fit over a wine bottle.
I was browsing the local Woodcraft and came across some beautiful mixed packs of veneer. These suckers weren't particularly cheap but I knew I could get a TON of projects out of them so I picked them up anyway. I was especially smitten with the dyed grey birdseye which was you'll see in most of my samples. 
As for the other materials I used unfinished walnut hardwood (also from Woodcraft) and some acrylic scraps I had laying around – specifically Rowmark Colorhues in Passion Fruit.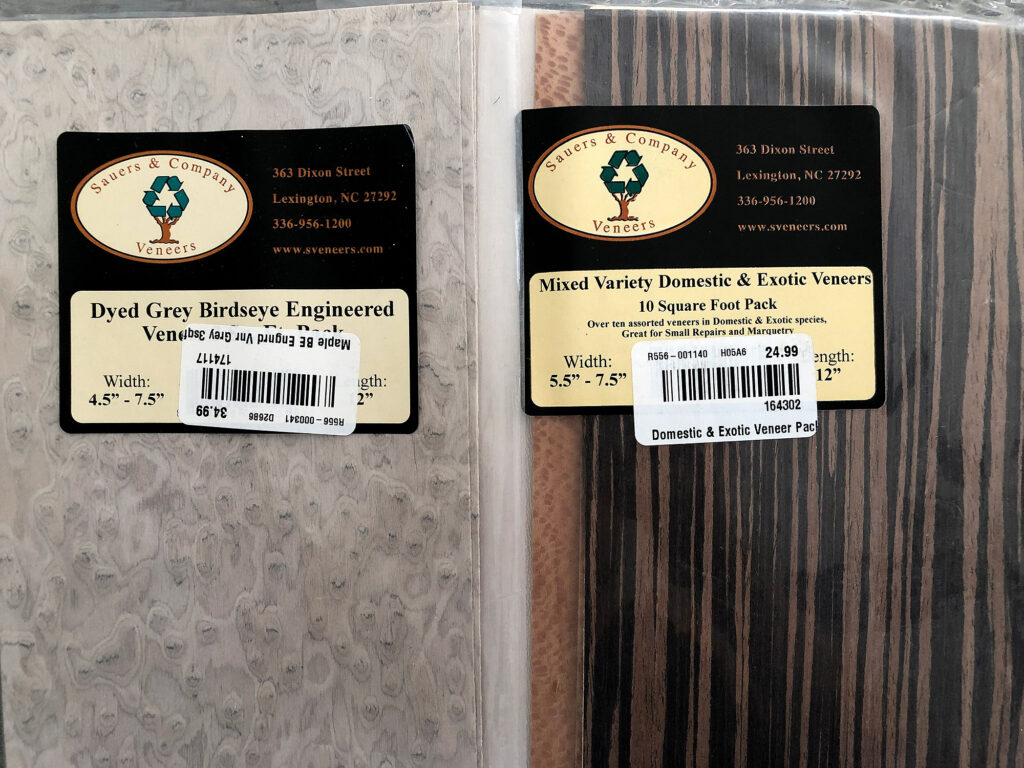 About the Offset in the File
I decided the create a special file just for testing these so I drew up some shell cross sections (some artistic license here I know that scallop shells don't look like that when cut in half haha). 
When doing inlays you want to offset either the inlay or the "well" that it will rest in just a little bit. The inlay pieces were already pretty detailed and delicate so I chose to offset the well to make it a little bit bigger. This is as simple as going to Object > Path > Offset Path (In Illustrator) and then selecting an offset of somewhere around .003-.01″ (your call based on the detail but for these I just offset to .003″).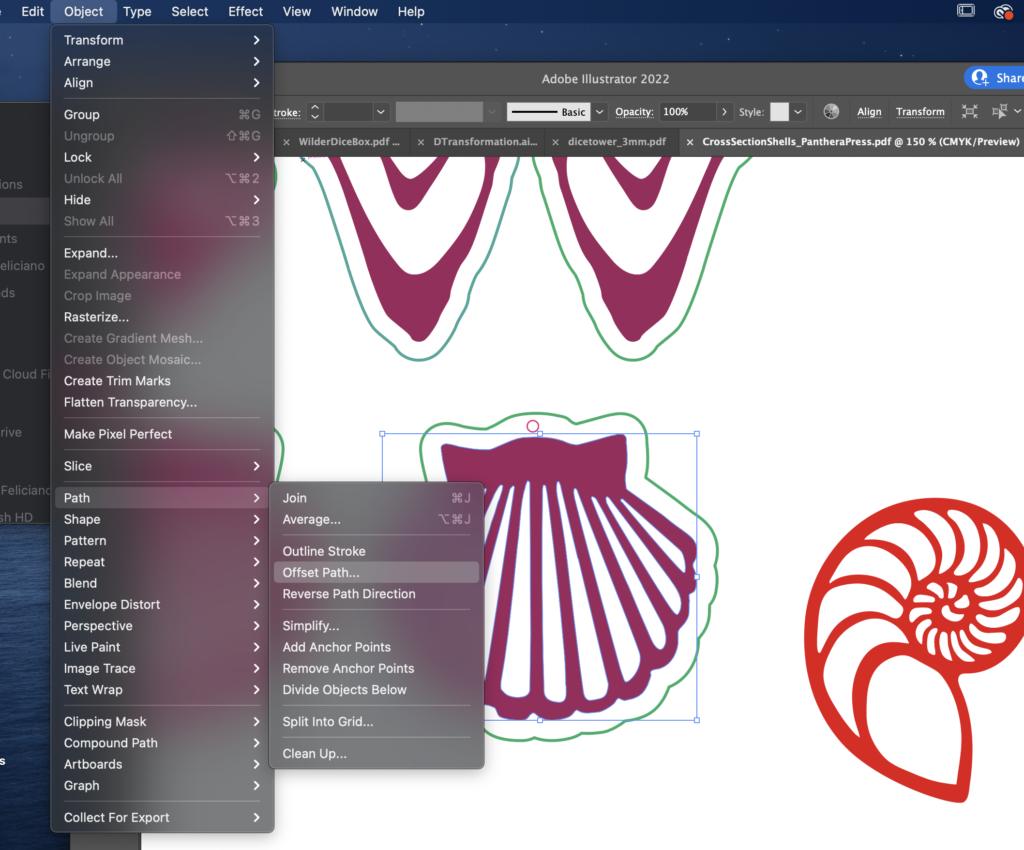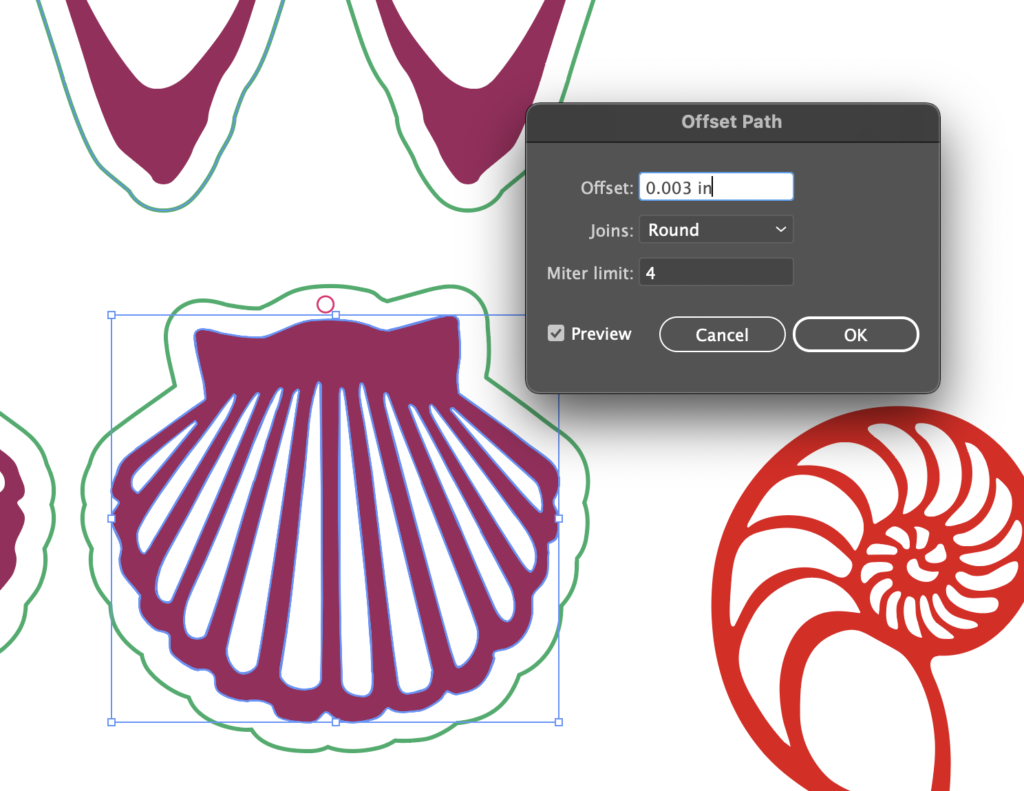 Cutting the Veneer & Base Designs
For the base of the earrings all I used 3mm (not actually 3mm, always measure, but mine comes out to .13″) solid walnut and cut and engraved with the following settings. The MOP_well is also the right settings for inlaying the mother of pearl material I purchased from Johnson Plastics Plus which I will show you layer.
For the Veneer I wanted to minimize any flashback and charring so I went down to the lowest settings I could. This is what I ended with which minimized burning away too much material. I did however mask my veneer which makes a huge difference in the end result. You can sand off charring if needed once the piece is inlayed but that's much harder to do if you'd inlaying into acrylic (which you won't want to sand typically), and so masking is best if you can.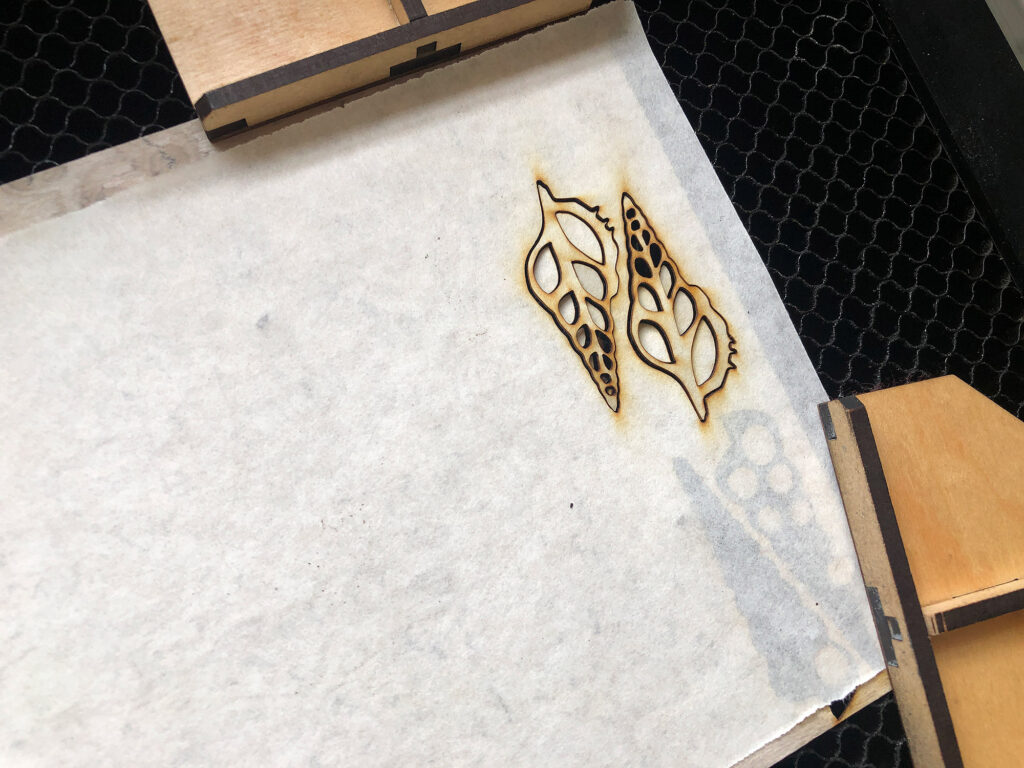 This is pretty easy – glue and stick. There are a ton of different techniques for glying and I'll show one below. However, if you can I HIGHLY recommend just applying 3m adhesive tape to the back and then peeling and sticking. It works excellent that way, and unless your doing a traditional wood inlay into some furniture or something (in which case you likely know way more than me so why are you here?) it should be plenty durable.
For easy gluing one of my favorite techniques is just to use a makeup sponge and dab the glue across the surface. Since I masked my veneer there wasn't any worry about getting the front messy. This is just some wood glue (since I'm gluing wood to wood that is the right option here). Make sure you get enough on there though or it may peel up at any delicate edges or points. Then just press it into place and let it dry. You can clamp it if needed, but I didn't find that necessary. I then peeled the masking and done!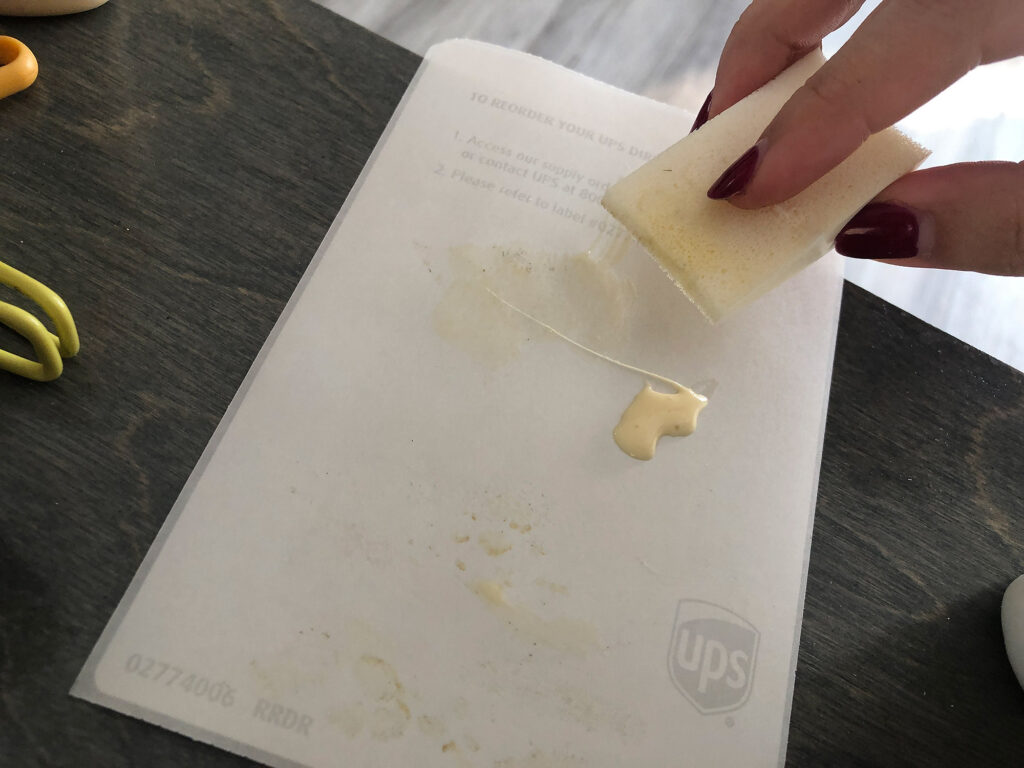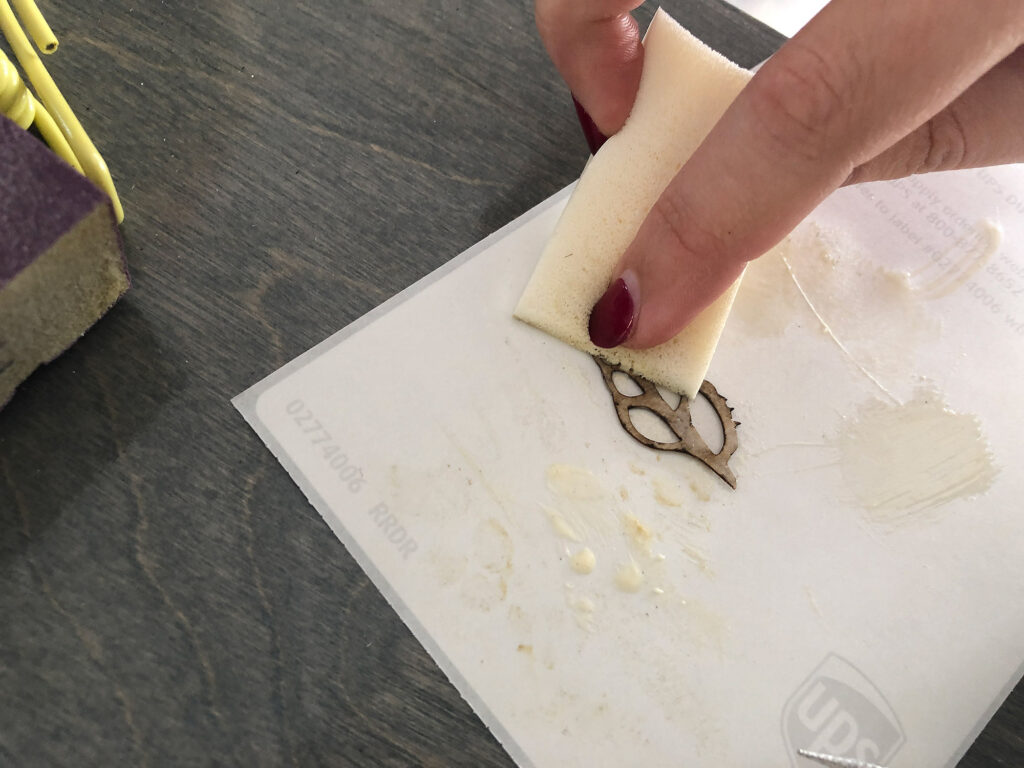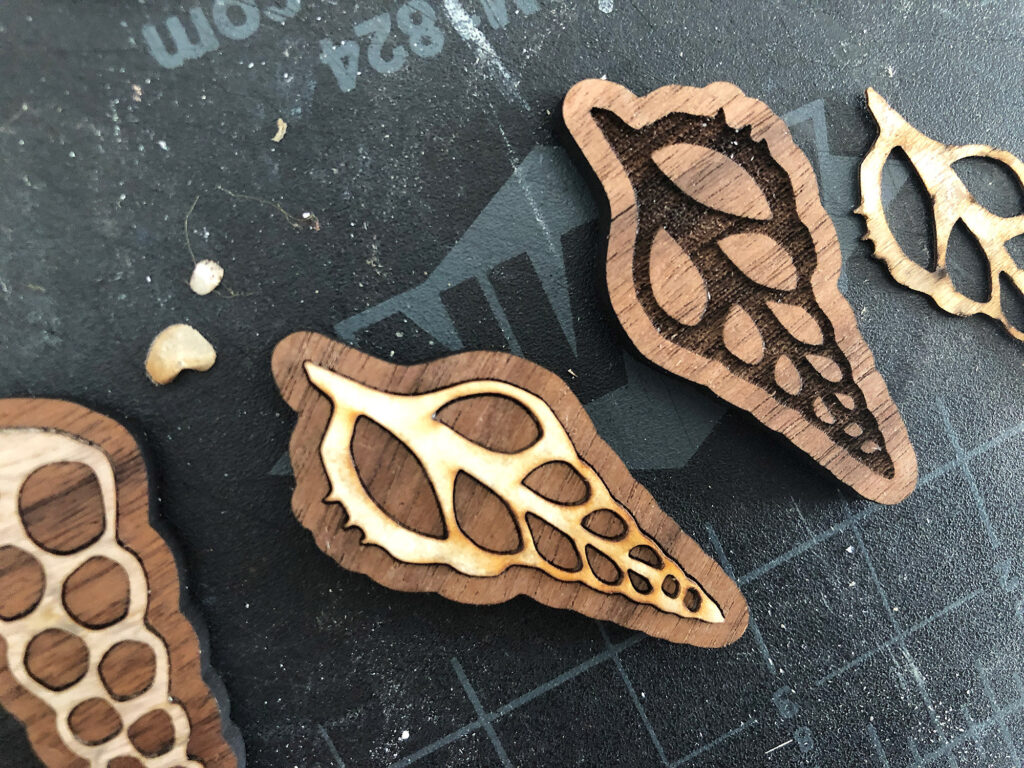 Not going to lie though – 3m backed veneer is where it is at – SO easy. No glue mess, no drying time and by applying the 3m before cutting you ensure even the most delicate areas will adhere to the base. The only disadvantage is that it makes the inlay thicker so I'll need to play with more settings to get it flush with the surface of your base piece.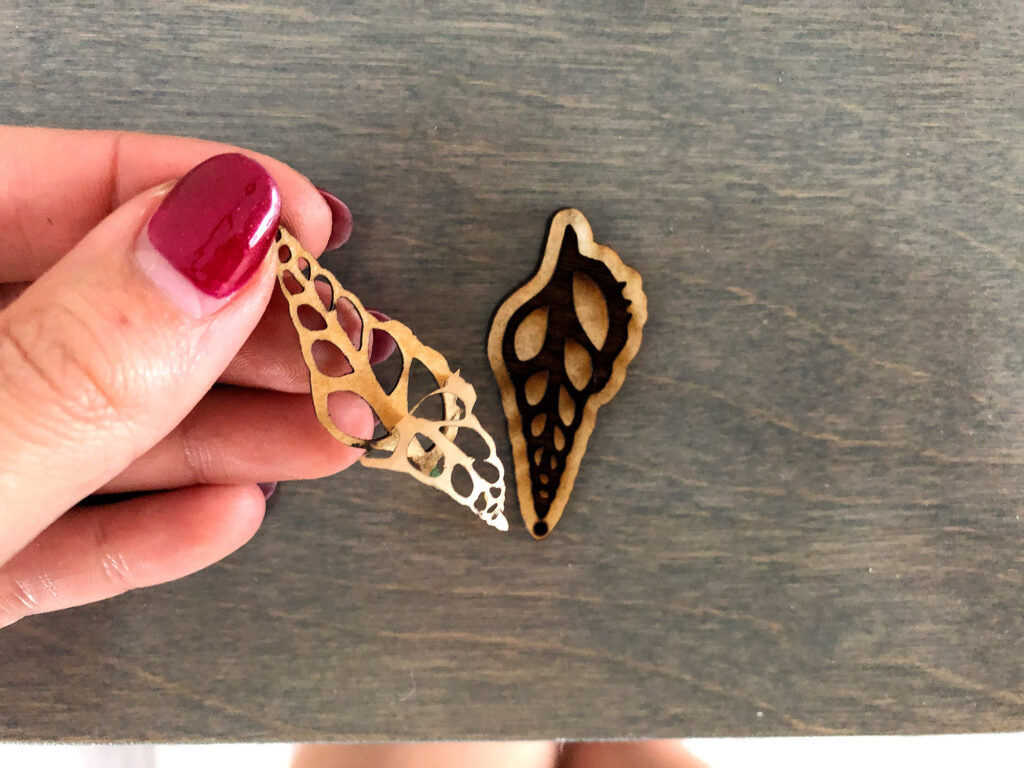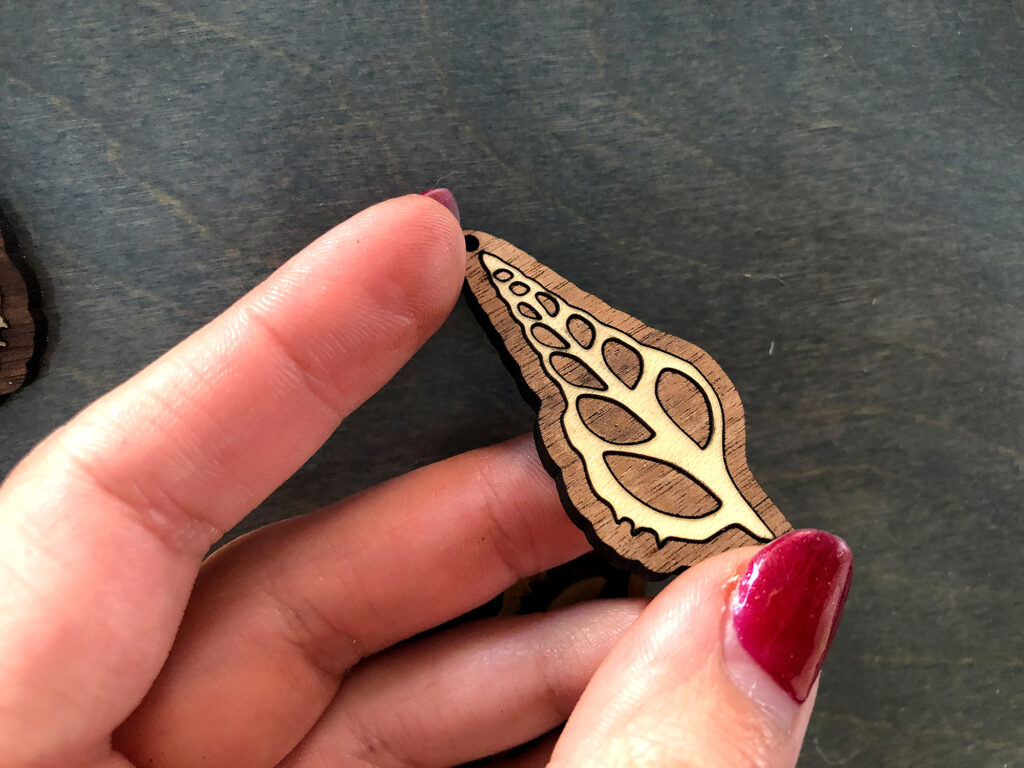 If you need to remove any flashback or level out your inlay (if you want it perfectly flush) then you can just peel your masking and rub the surface on a sanding block until it's level. Dust it off and then apply some wood oil and you'll be good to go. I personally didn't feel it needed to be perfectly level since this was a jewelry item, (not a work surface or something that'll be touched and handled a lot and where lifting would be a risk).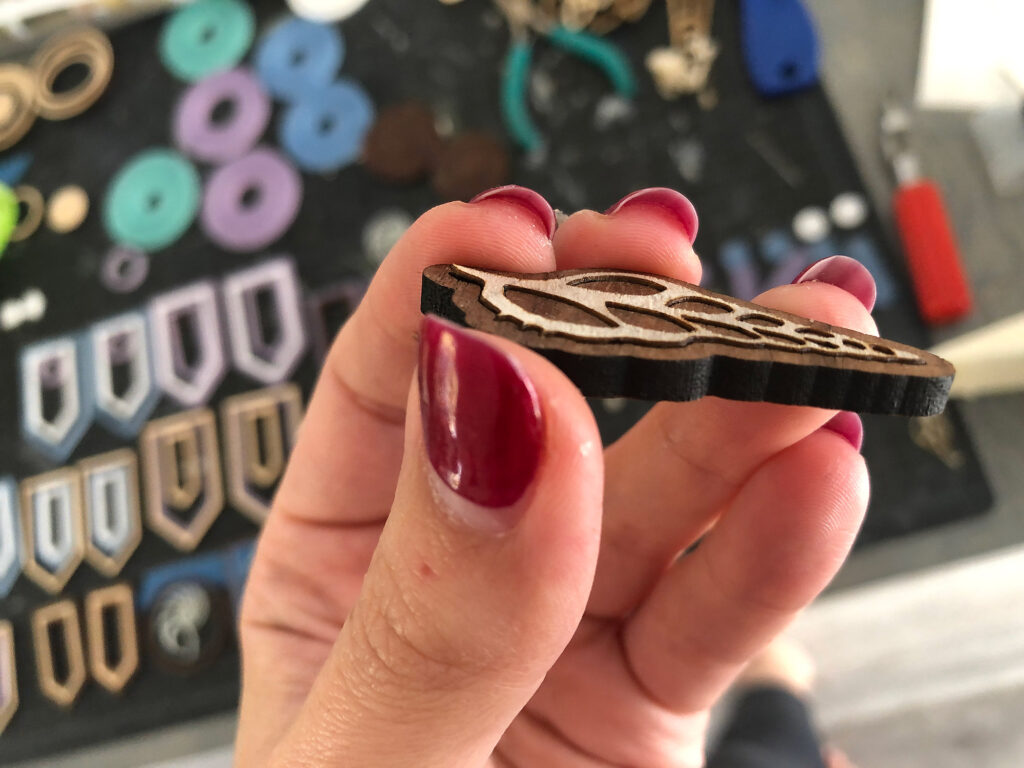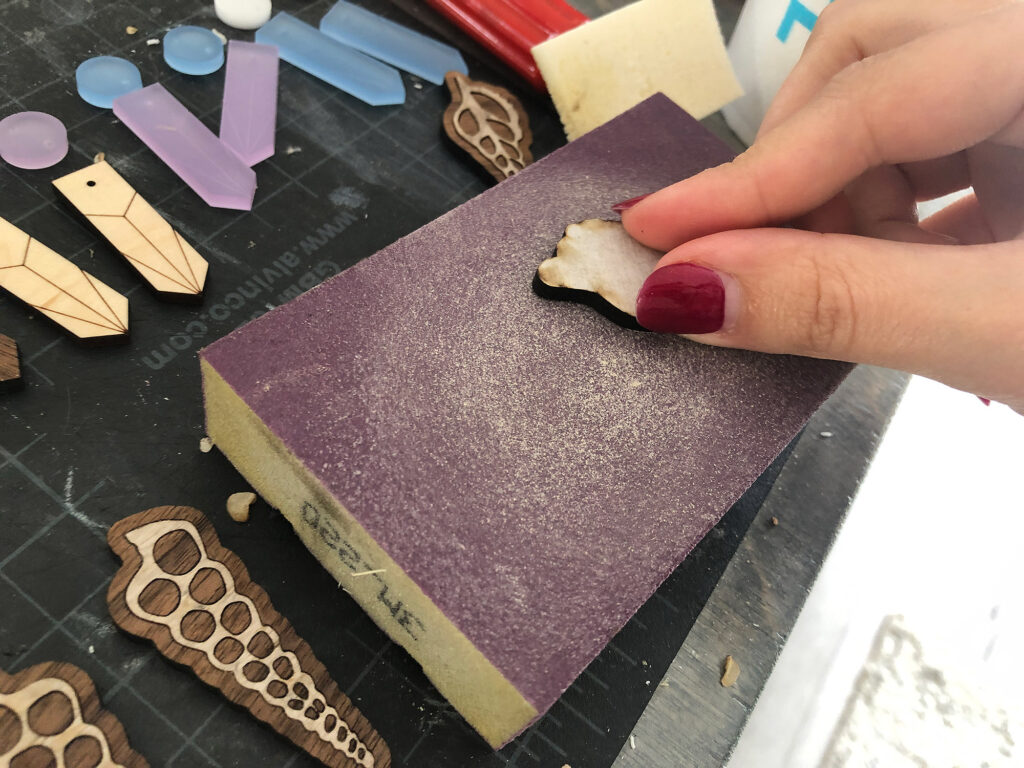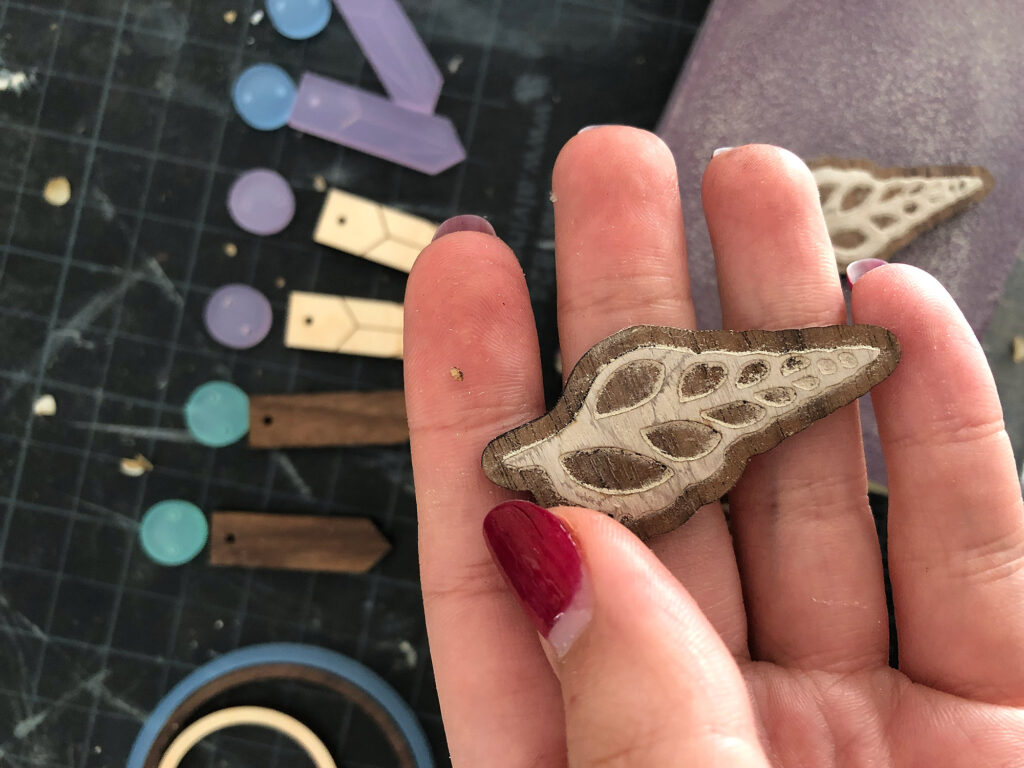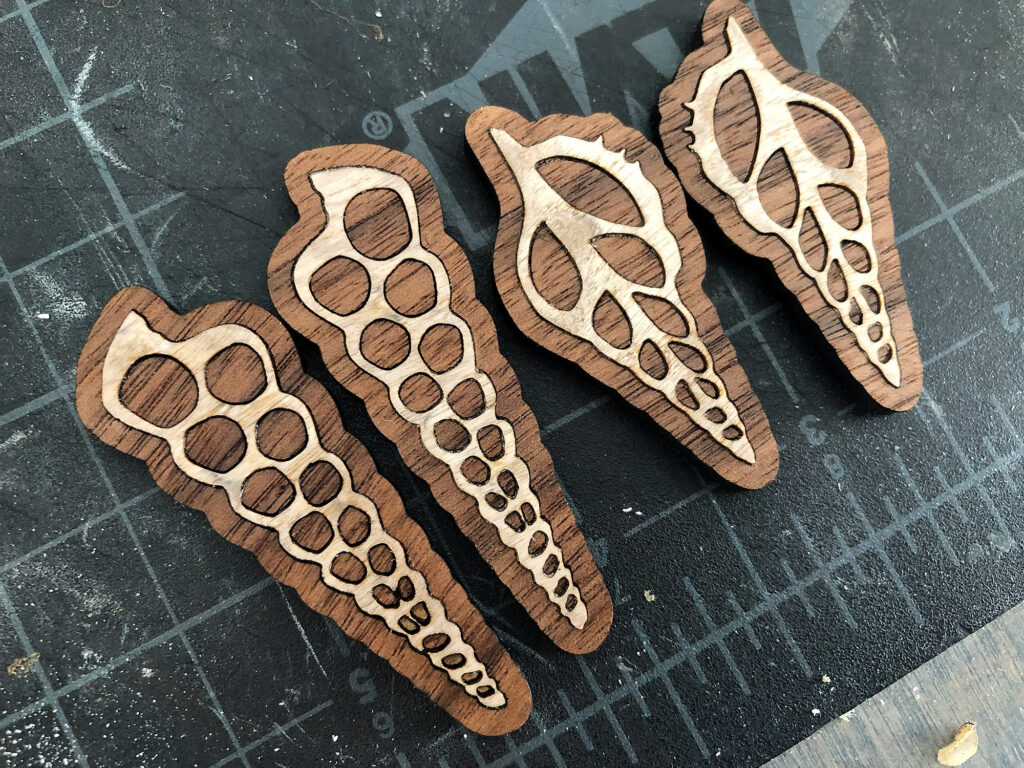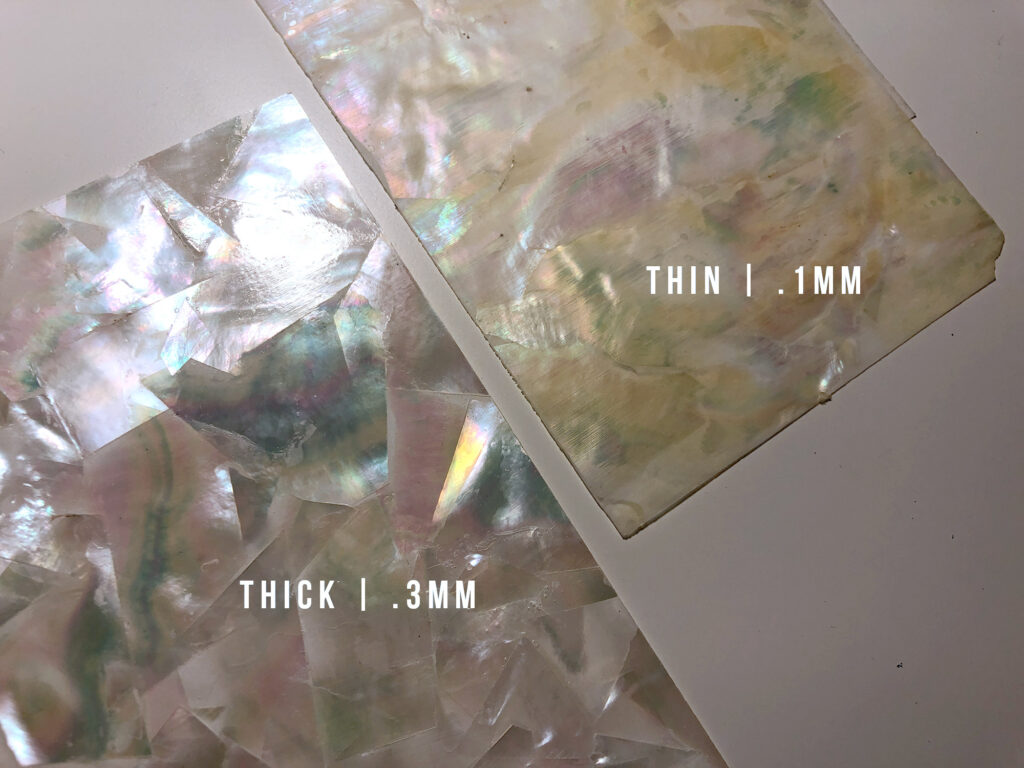 You can see the two types of mother of pearl I used above. Below you'll also notice they look very different when inlayed due to the thinner MOP being much more transparent. I've worked with mother of pearl inlay before but this was my first time using this thicker product. In the past I used a much thinner product I got from a random place on eBay – this fit into a shallower well than the new product I picked up. Here are the settings I used:
Engraving the Wood for the Thinner MOP: . The setting of 1000 Speed | 70 Power made a depth just perfect for the thinner MOP sheet.
Cutting the Thinner MOP (.1mm – didn't register on my calipers for inches so I'm guessing it's the typical .006″ but it might be as thin as .003″): 200 Speed | 35 Power resulted in perfect cuts for me.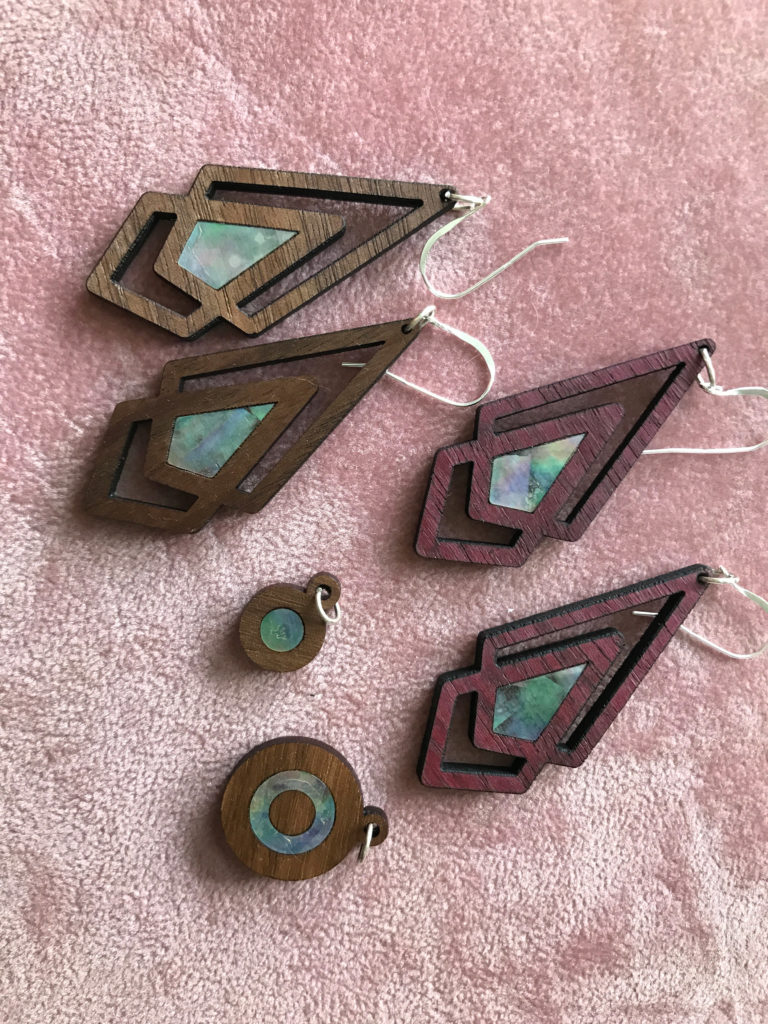 This new mother of pearl product is much thicker and backed with some sort of white coating to make it shine better and be more opaque. It required more aggressive cut settings and a deeper engraving well. I originally purchased it from Johnson Plastics Plus, but I've found a new supplier – Craft Closet, that has a much wider range to choose from. They even have flexible veneers. 
Engraving the Wood for Thicker MOP: 1000 Speed | Full Power (270 LPI) 
Cutting the Thick MOP (.01″ – .3mm) : 230 Speed | Full Power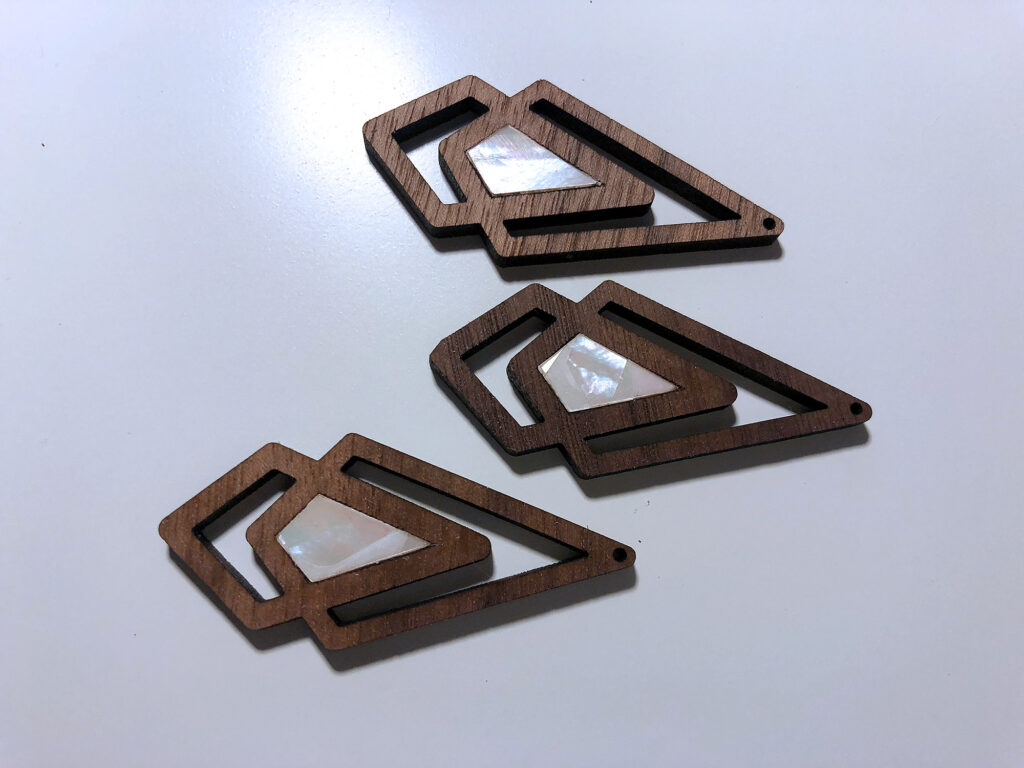 The new supplier I have found is Craft Closet who carries a wide range of beautiful veneers by Luméa. I bough three different ones – Natural Galaxy in White, A Flexible Abalone, and Aquamarine White Mother of Pearl. They all come with a sheet of 3m which is great as well. The flexible abalone which you can see a few pictures below is also really neat – it would be great for tumblers or other curved surfaces.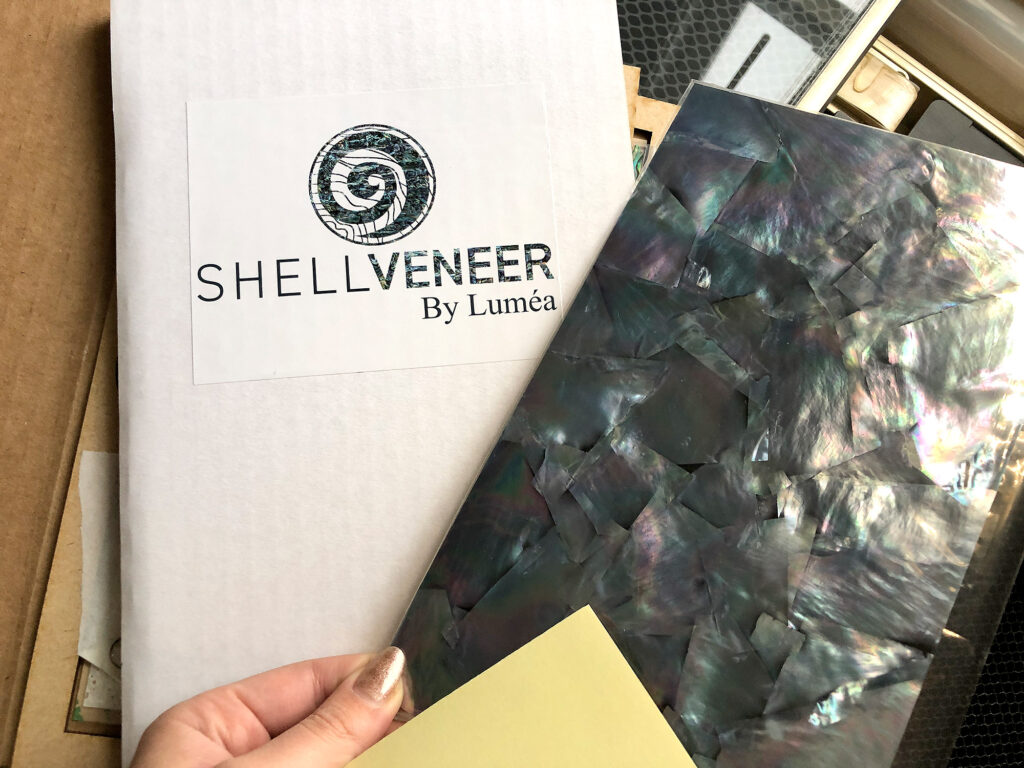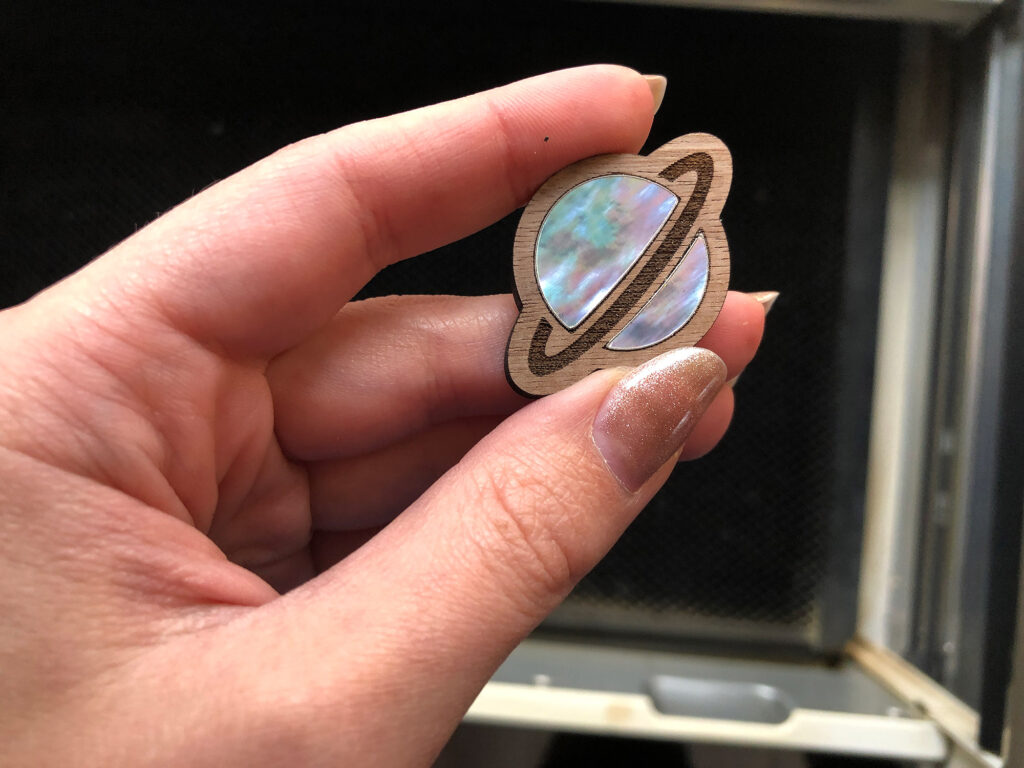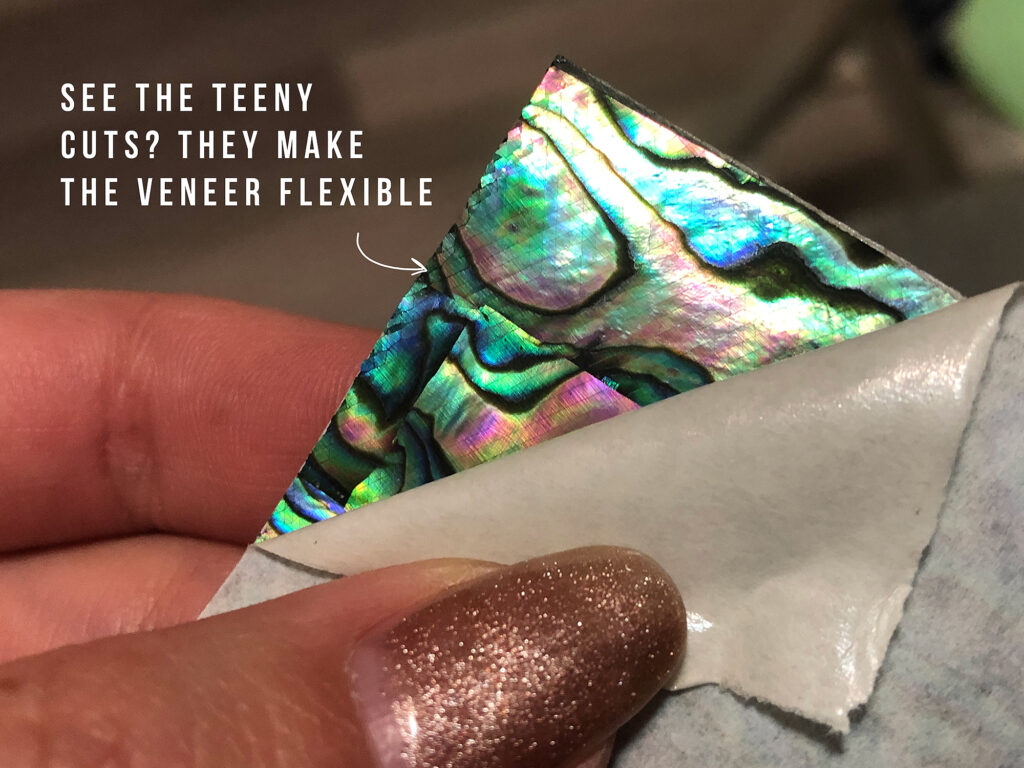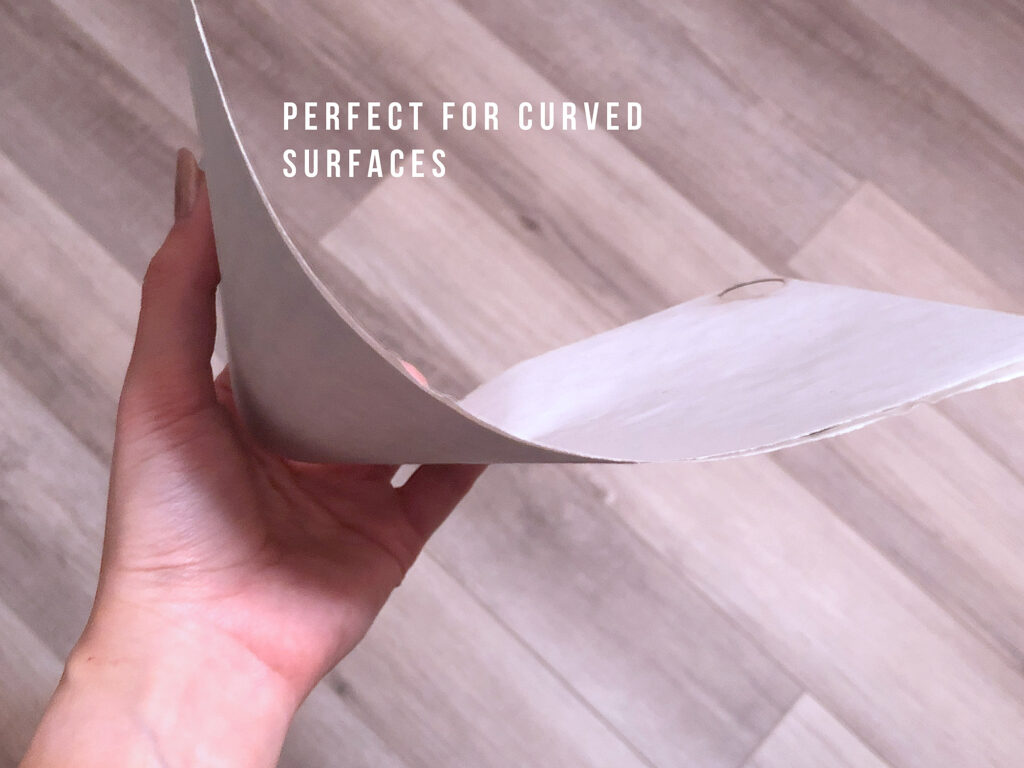 I did some tests with the different colors I purchased (including the regular white from JPP) and turned them into wine charms by top drilling them and putting in teeny eye screws. I am finding that gluing into wood wells is more secure than using 3m. For acrylic – 3m is the best for insetting your veneer, but for wood so far I'm linking gel super glue.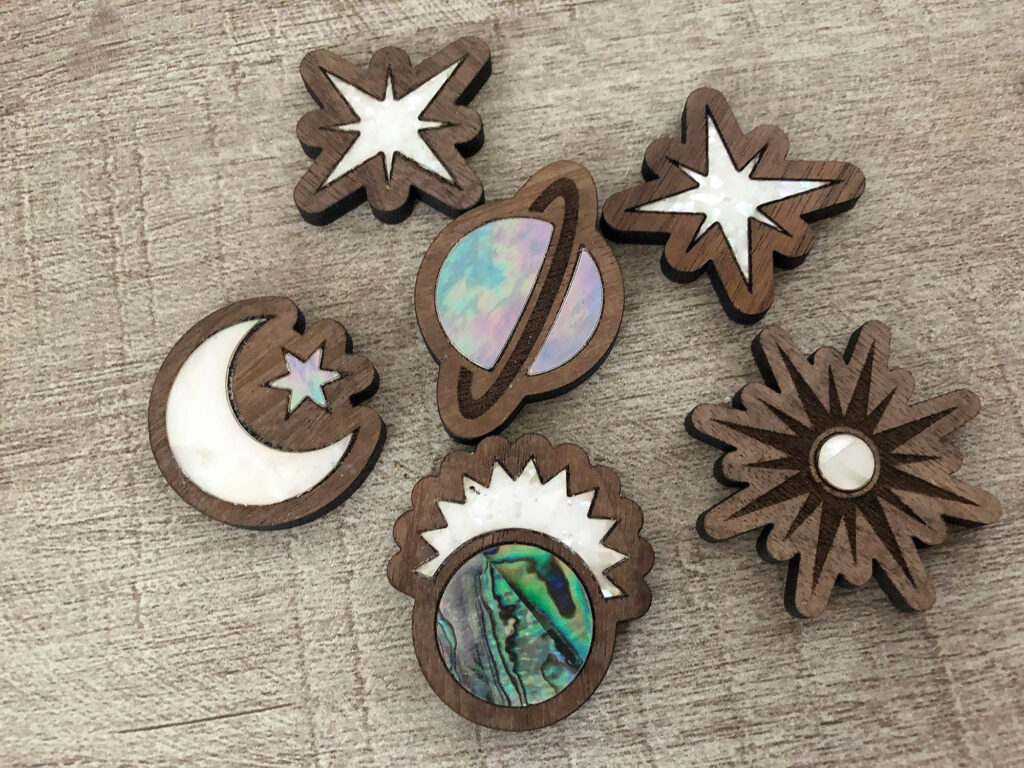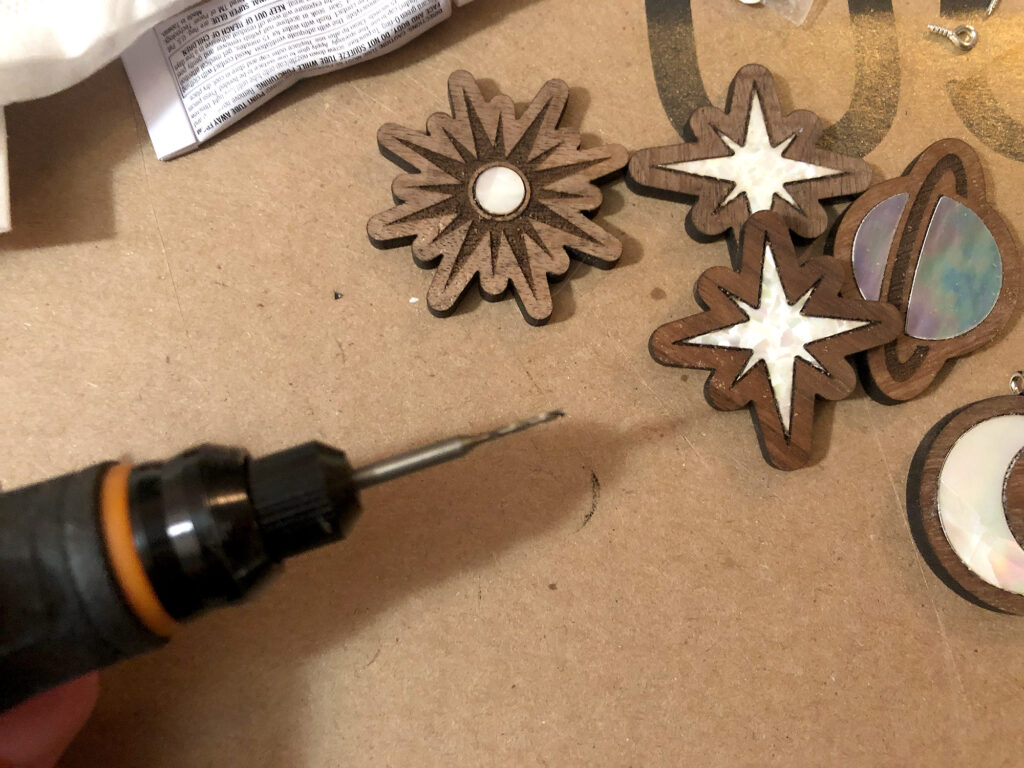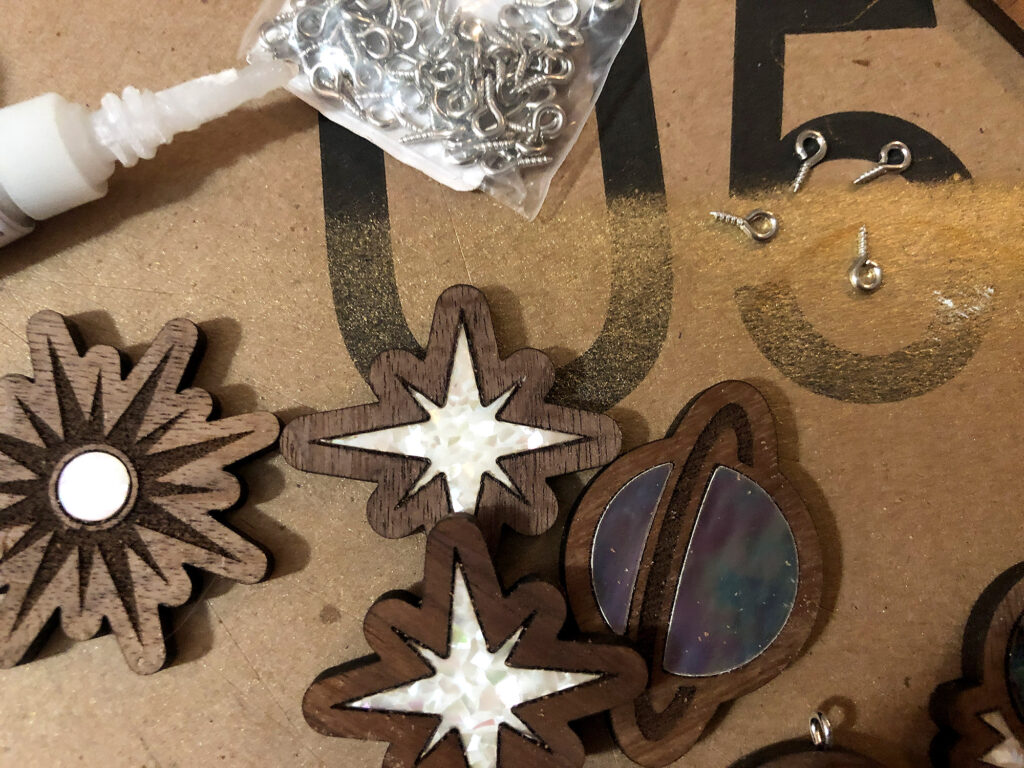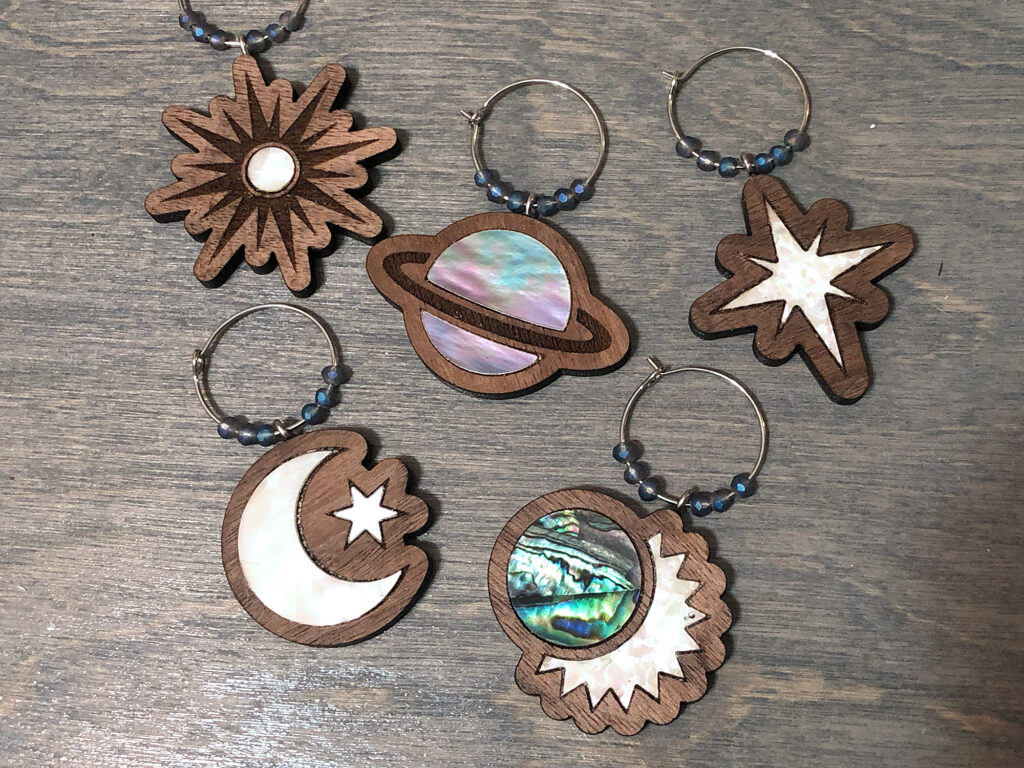 You don't have to do veneer inlays – you can inlay thicker materials as well for a beautiful layered effect. It's worth engraving the well vs just gluing it on because it makes it more secure and hides any glue better. I played around a lot with these shapes, cutting them from acrylic, wood and multiple types of veneer. They looked great in every medium.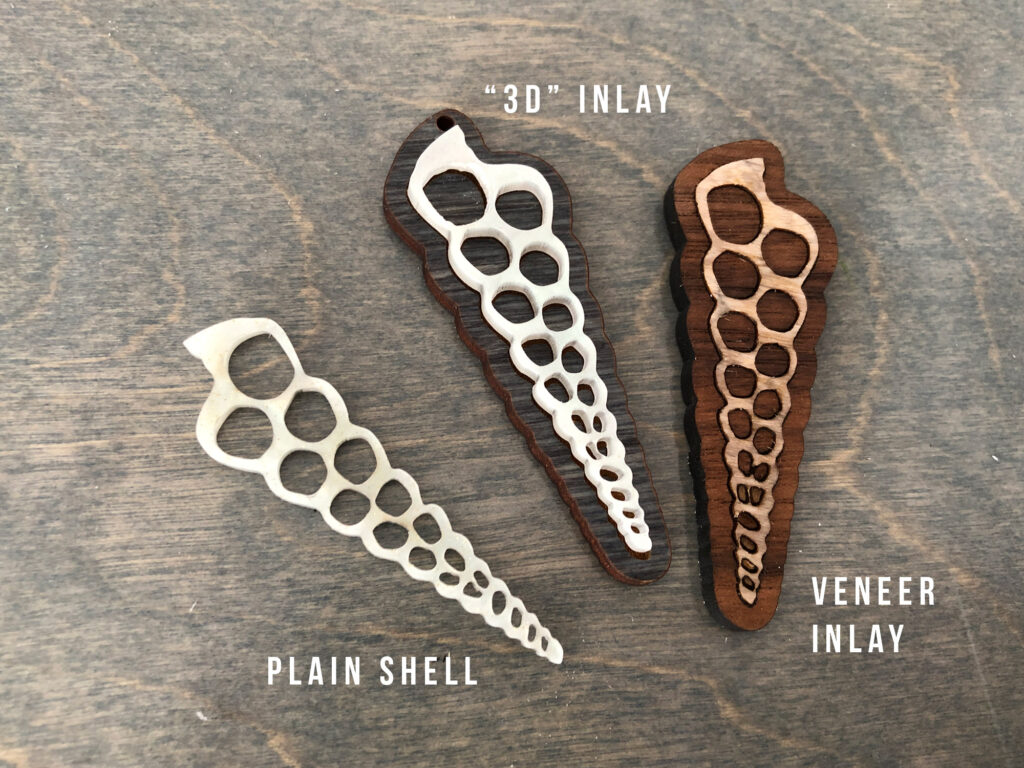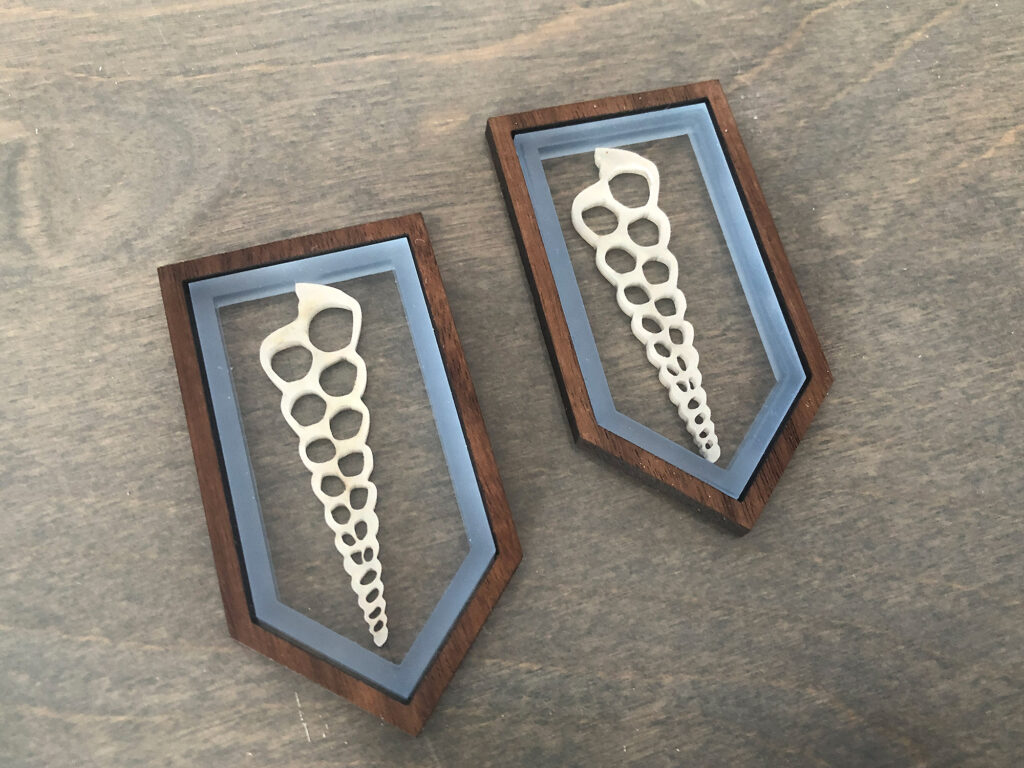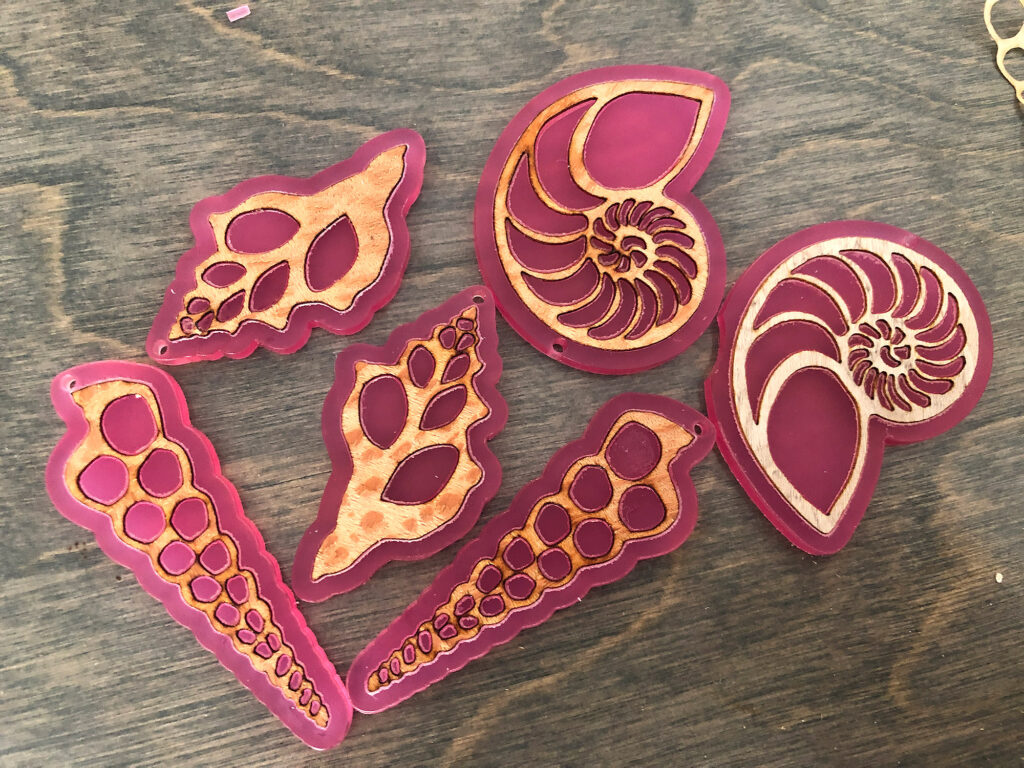 I hope this post will inspire you to try some inlays for yourself. They are a great way to use some beautiful materials like shell laminate and fine wood veneers without breaking the bank.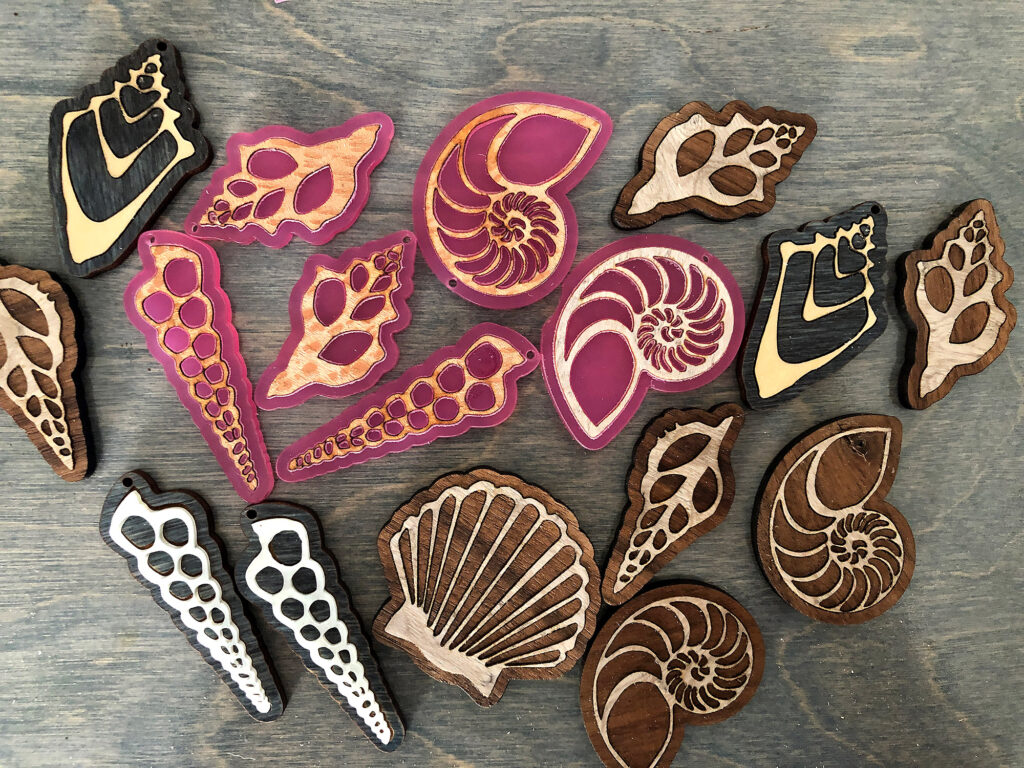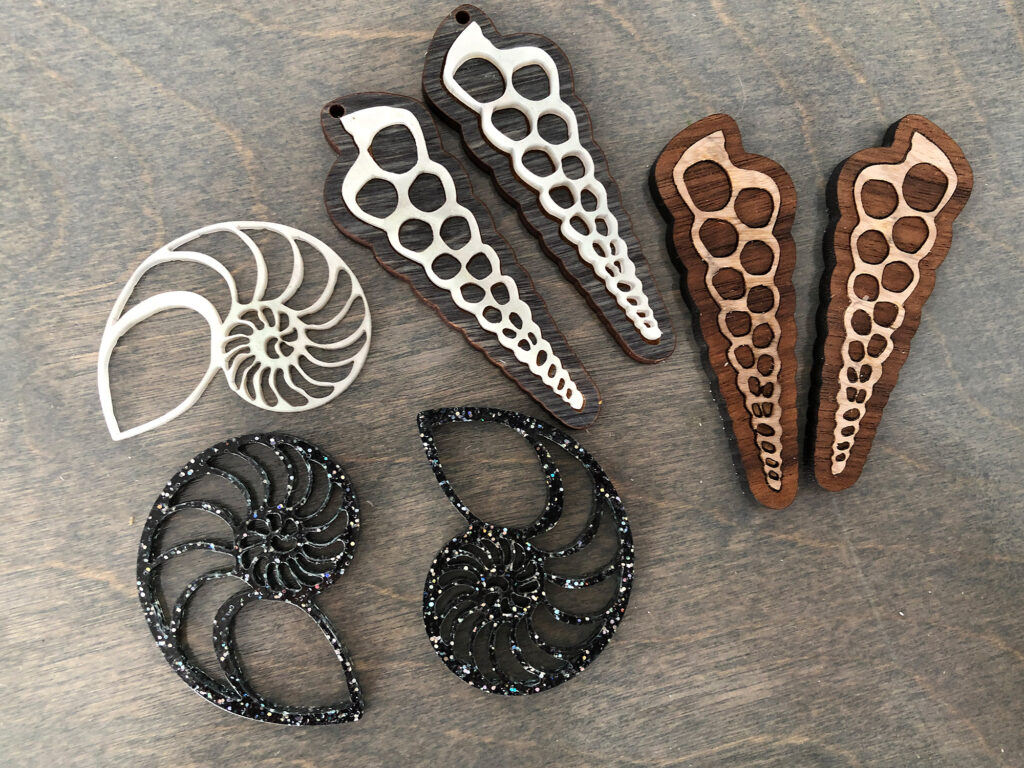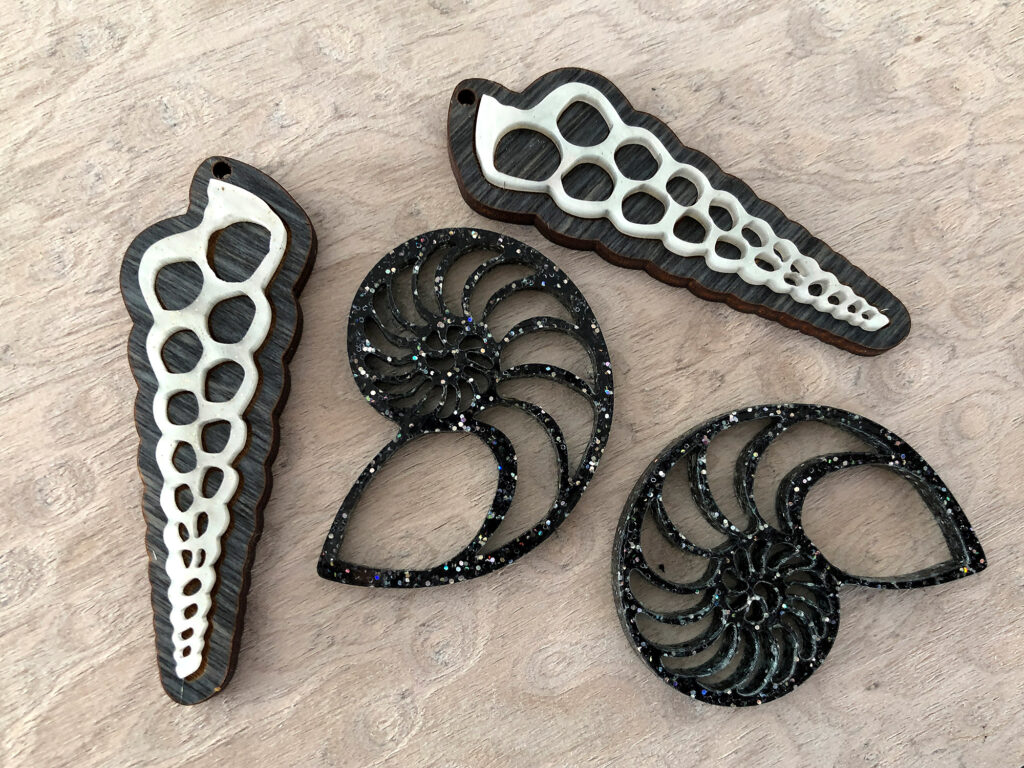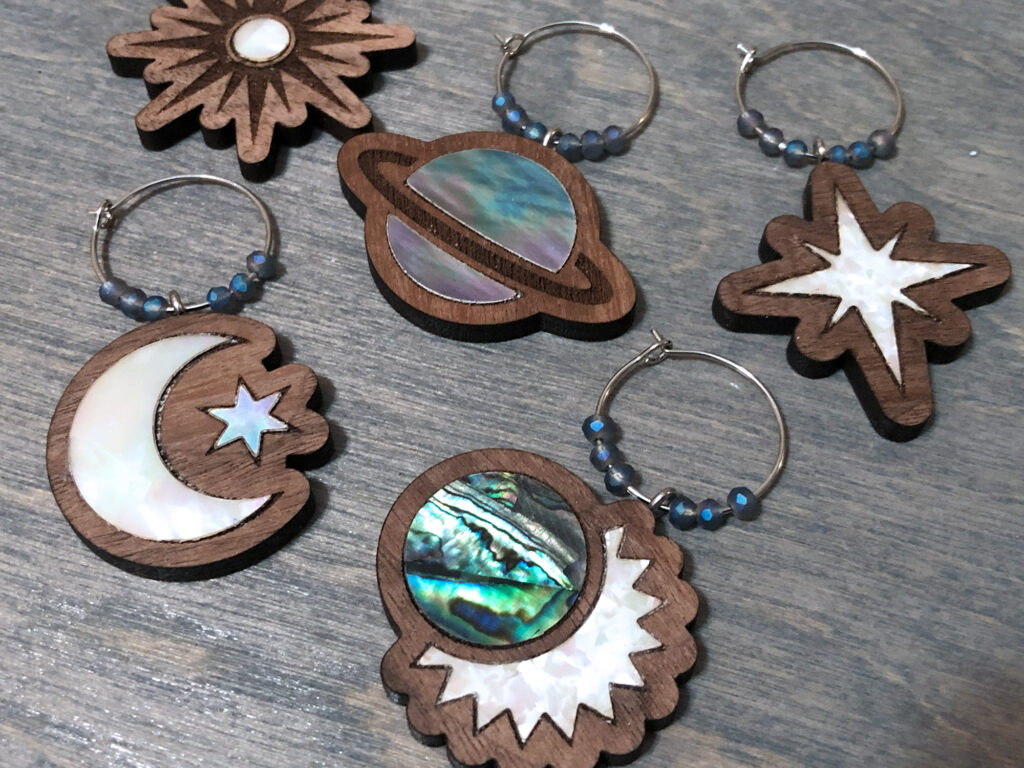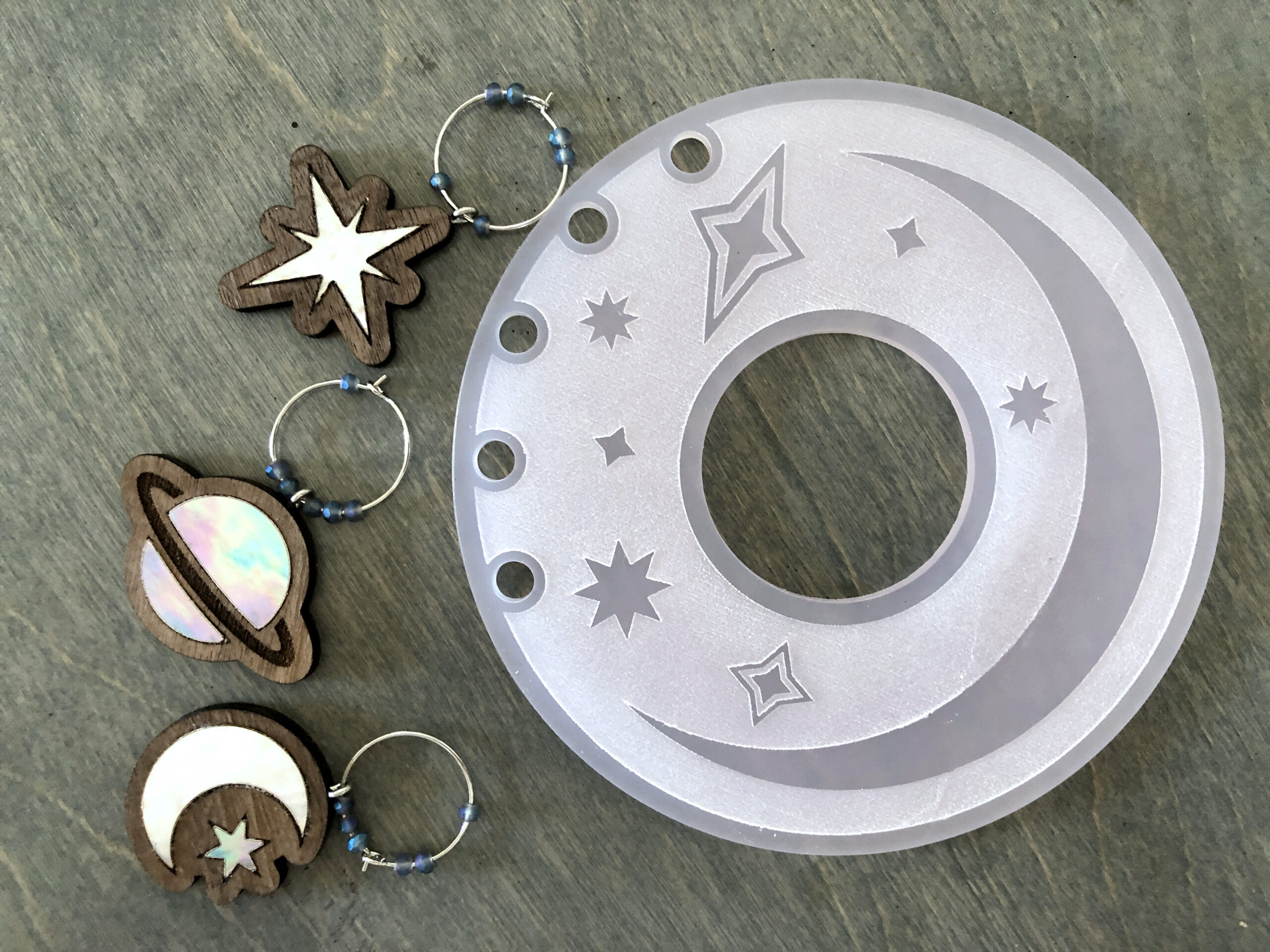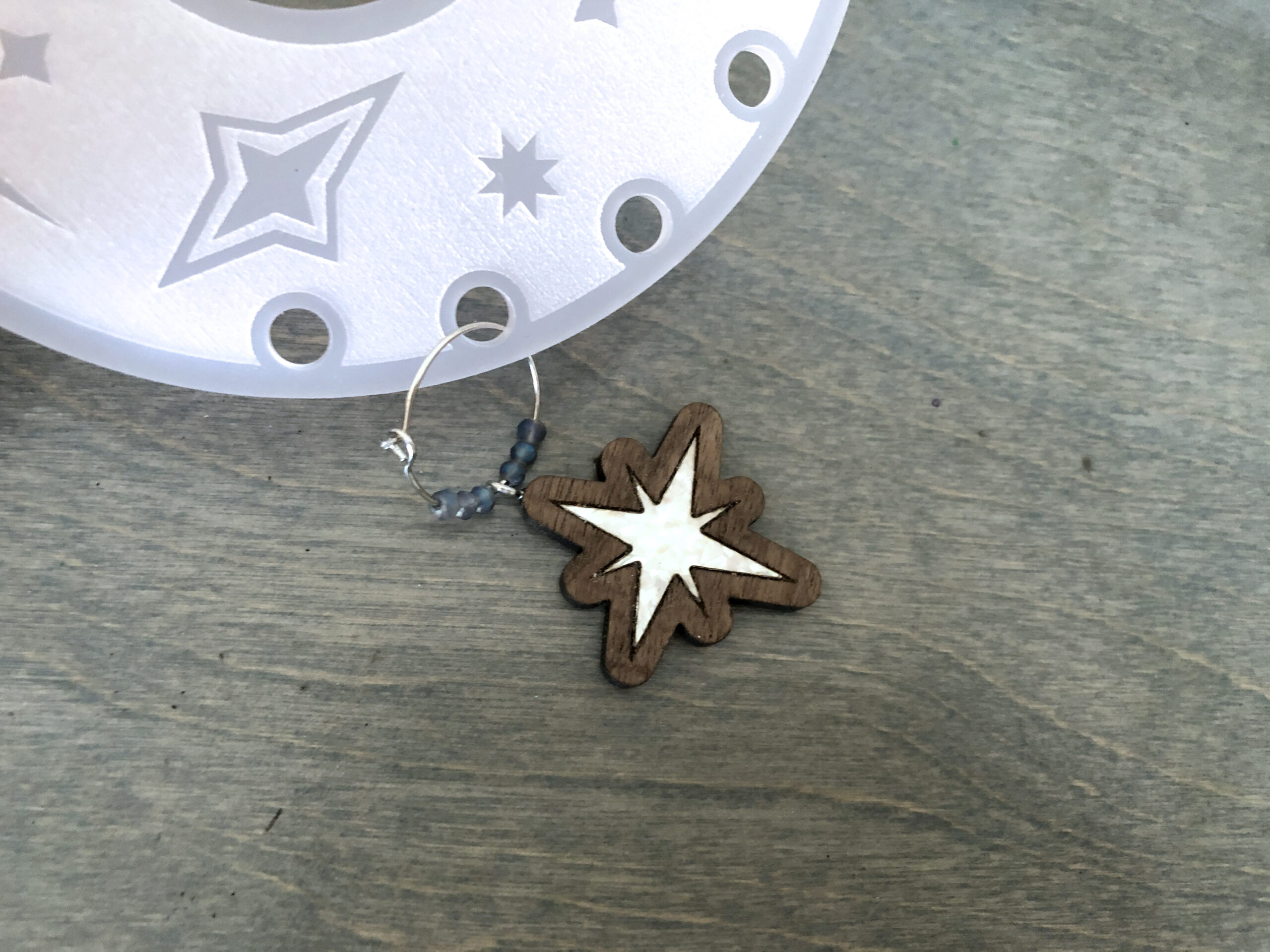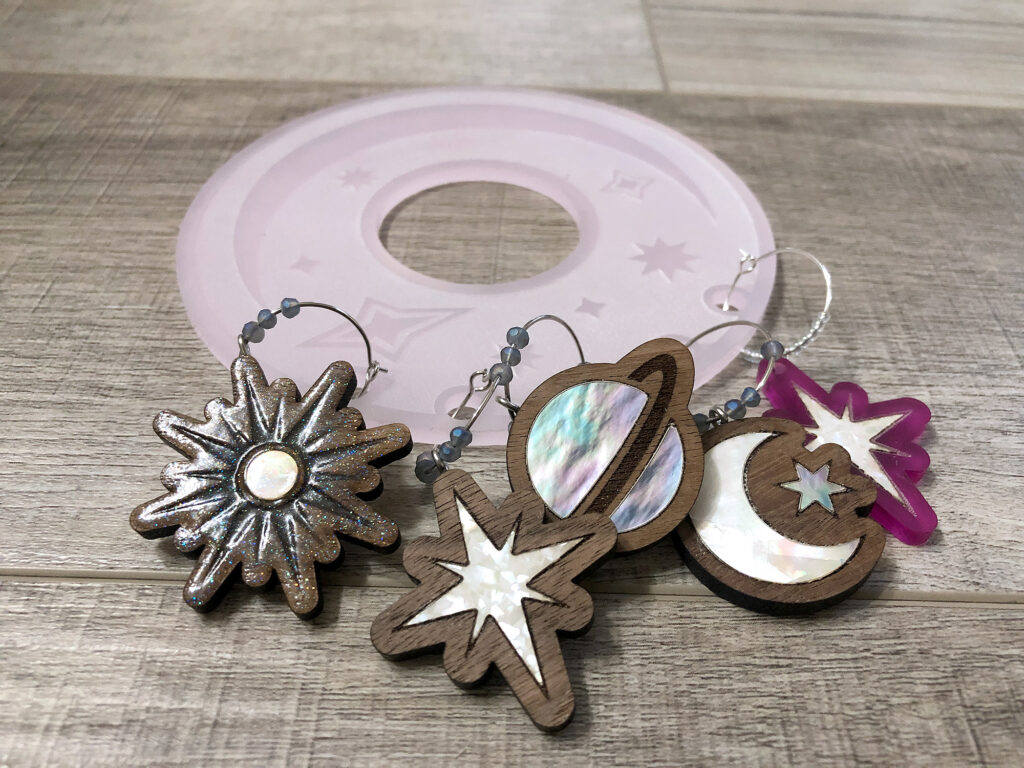 Where to Get the Materials:
Get 50% off your first Wish.com order with my code: mfvjgnw | I buy lots of odds and ends here, so if you need some small item and don't mind waiting, this can be a fun shop to check out.
The two Amazon links below are affiliate links. They don't cost you more but they do help me keep creating content.
Woodcraft – My walnut and veneers were all from Woodcraft
Acrylics + Mother of Pearl – The pink acrylic (Rowmark Colorhues – Passionfruit) and the white mother of pearl are from Johnson Plastics Plus
Wine Charm Rings – I bought this set from Amazon
Even though I just bought the white mother of pearl laminate a few weeks ago it seems it may be discontinued at JPP
Luméa Mother of Pearl from Craft Closet – there are SO many choices. I will definitely be getting some more.
This Mother of Pearl The thickness is slightly different at .006″ so I would start with the thin settings to test
Mother of Pearl Option Two – This one is already adhesive backed! Also. 006″ so try thin settings first and then a second pass if that doesn't work
Glitter Acrylics – I got this black glitter acrylic from Cerulean Tides.
Obligatory Glowforge Discount Code Plug
If you found this post helpful and you plan to buy a Glowforge you can use my code (https://glowforge.us/r/QHDONFXB) for a discount of $125 off the Basic, $250 of the Plus, or $500 of the Pro:
Sign Up for Blog Posts Updates
And finally, if you'd like to be updated on posts like these in the future you can sign up for my email list. You will only receive an email if there is new content, and only once weekly in that case: