Handwritten Gift with a Hidden Voice Message
If you're like me. you have a few family members that are impossible to buy for. In my case it's my mom and dad. This year I decided to do something more sentimental and created some handwriting gifts that include audio messages from each of their three children (and their grandbaby!). For my dad I created a set of coasters for his fancy bar, and for my mother a set of ornaments and pendants to hang on her jewelry display in her fancy closet. 
HOW TO SETUP THE HANDWRITING AND QR CODE MESSAGE
(Sound is missing for some reason, I'll fix it later sorry!)
This project is pretty universal. You could engrave handwriting on just about anything. For those looking for the coasters shown in the video I got them on eBay.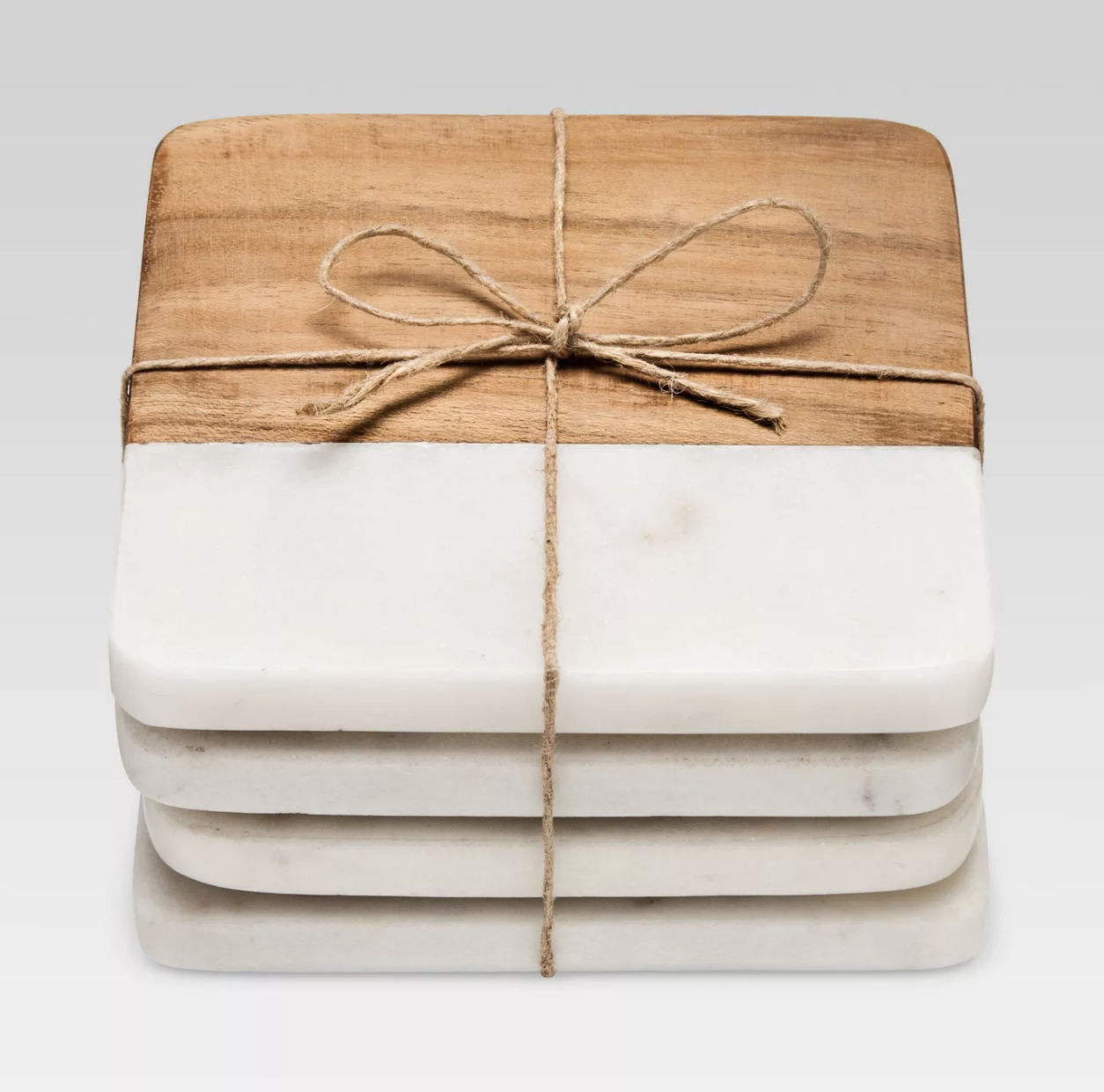 WHERE TO GET THE COASTERS
There are a ton of places to find wooden coasters to engrave. TJ Maxx and Marshalls are prime spots. Target also sells a set for $12 (though it doesn't have the best ratings – I did buy some of these to test in the future). Amazon and eBay are also options. The circle ones in my post were shipped from India and cost about $11 – I found them on eBay but the price more than doubled since I bought them so I did not link to them. 
This project is pretty simple but here are a few tips you might find helpful:
The key is in the editing of the handwriting. The better your contrast the better the result. You don't need to convert to a vector like I did, but you do need the background to be as white as possible. 
If you are unsure of your placement put masking on your object and set your power to 1 (lowest) and your speed to 1000 (max) then score the design. You'll be able to see where it's going to engrave before committing to the placement without ruining the piece. 
There are a ton of QR code generators out there – don't get stuck paying for your code, I guarantee there is a free one you can use.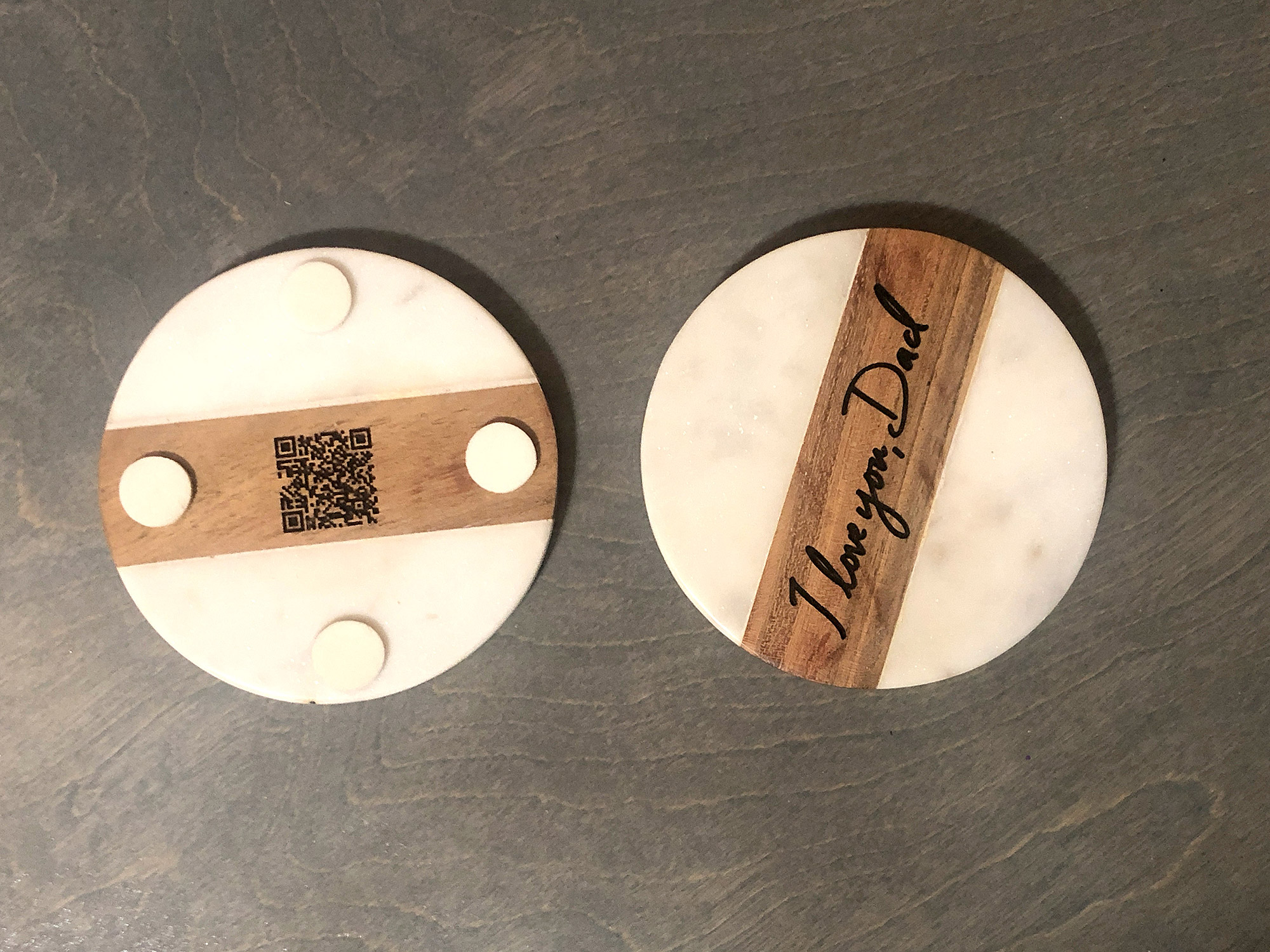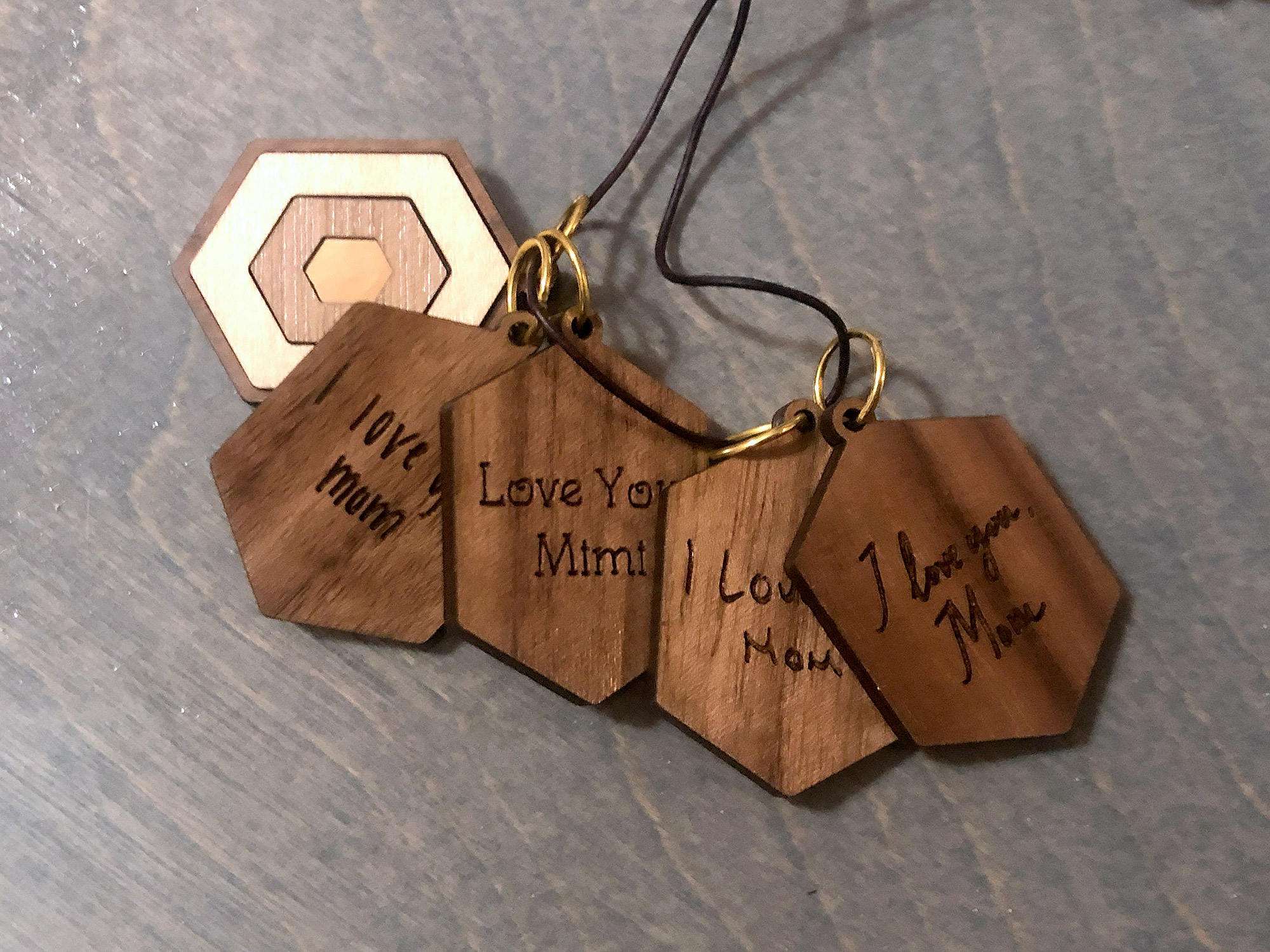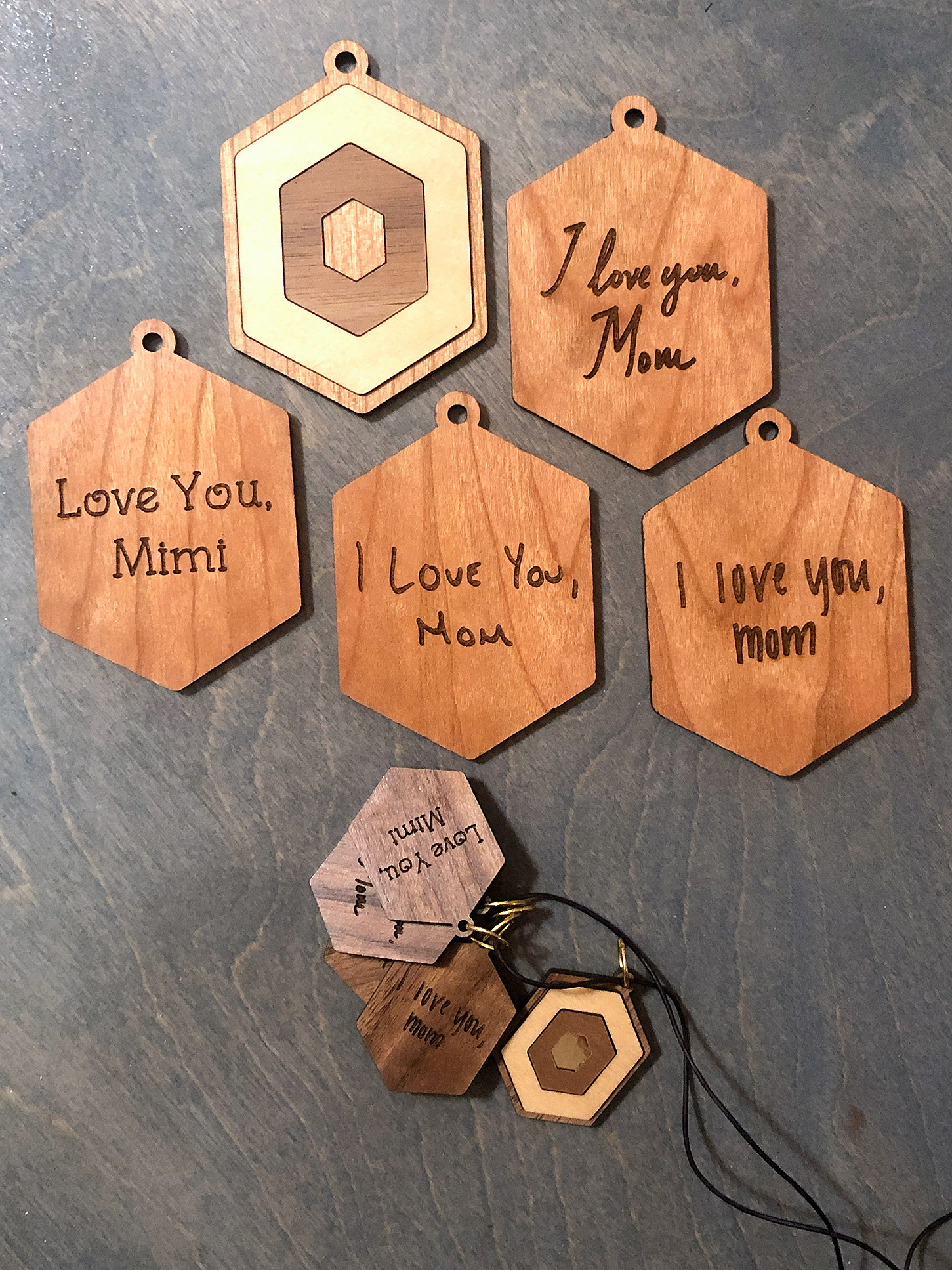 For the simple hexagon design I did three wood colors to represent the three children. I just used proofgrade veneer. For the plywood I used Laserbits from Johnsons Plastic Plus which is identical to the proofgrade offered by Glowforge.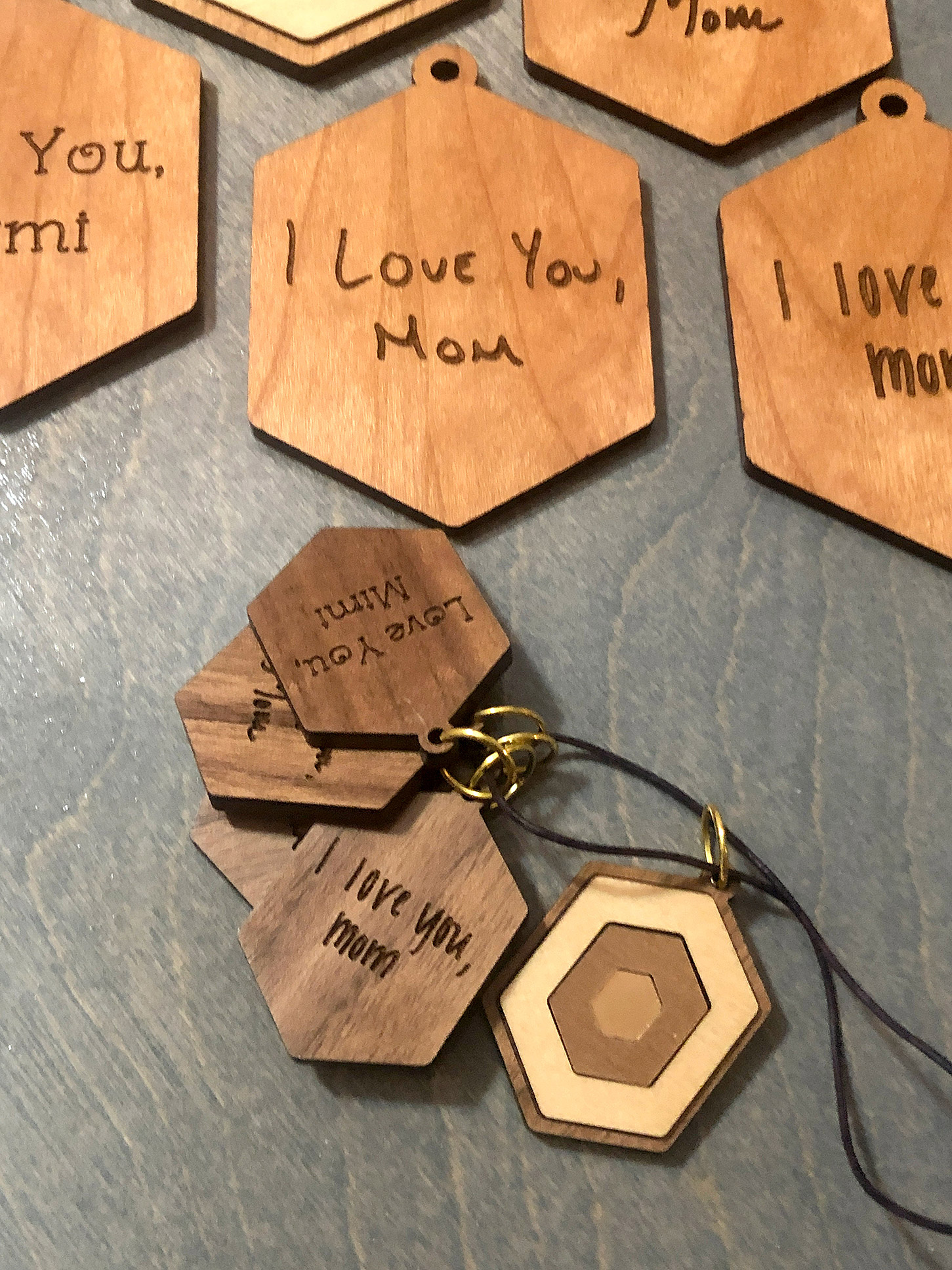 This easy project can be adapted to many different materials and substrates – a hand written recipe on a cutting board, pendants or jewelry, a memorial box, and more. I hope it will inspire you to create something special for a loved one.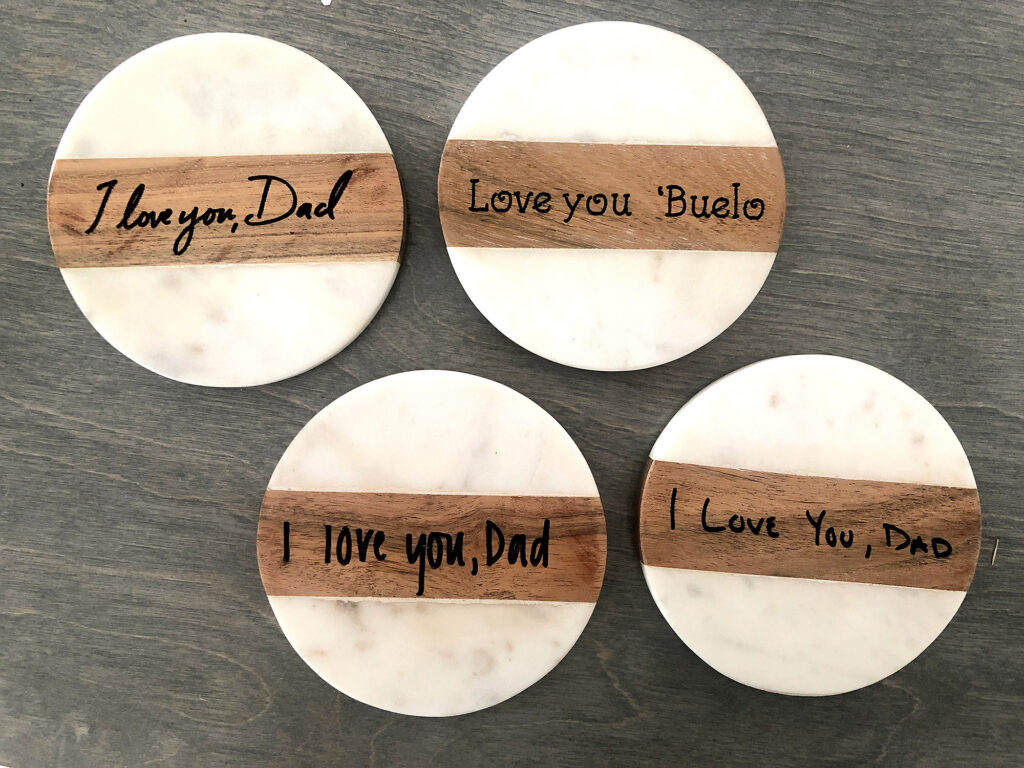 Where to Get the Materials:
Some of these are Amazon affiliate links, so feel free to skip them if you're not into that. As an Amazon Associate, I earn from qualifying purchases, but they do not cost you any extra:
Get 50% off your first Wish.com order with my code: mfvjgnw | I buy lots of odds and ends here, so if you need some small item and don't mind waiting, this can be a fun shop to check out. 
Marble and Wood Coasters:
Squares From Target ($12)
Hexagons From Amazon ($25)
The Wood & Veneer for the Pendants:
For both the wood and veneer Glowforge proofgrade will work perfectly. However, you can also buy the materials from Johnsons Plastic Plus

Laserbits Walnut (it also comes in cherry and maple just like GF Proofgrade)
Sauers and Co Adhesive Backed Wood Veneer
Obligatory Glowforge Discount Code Plug
If you found this post helpful and you plan to buy a Glowforge you can use my code (https://glowforge.us/r/QHDONFXB) for a discount of $100 off the Basic, $250 of the Plus, or $500 of the Pro:
Sign Up for Blog Posts Updates
And finally, if you'd like to be updated on posts like these in the future you can sign up for my email list. You will only receive an email if there is new content, and only once weekly in that case: