Kaleidoscope Kit Instructions
These are the instructions for constructing my Kaleidoscope Kit. I will try and keep them as simple, and straightforward as possible. For a video and further tips please watch the video.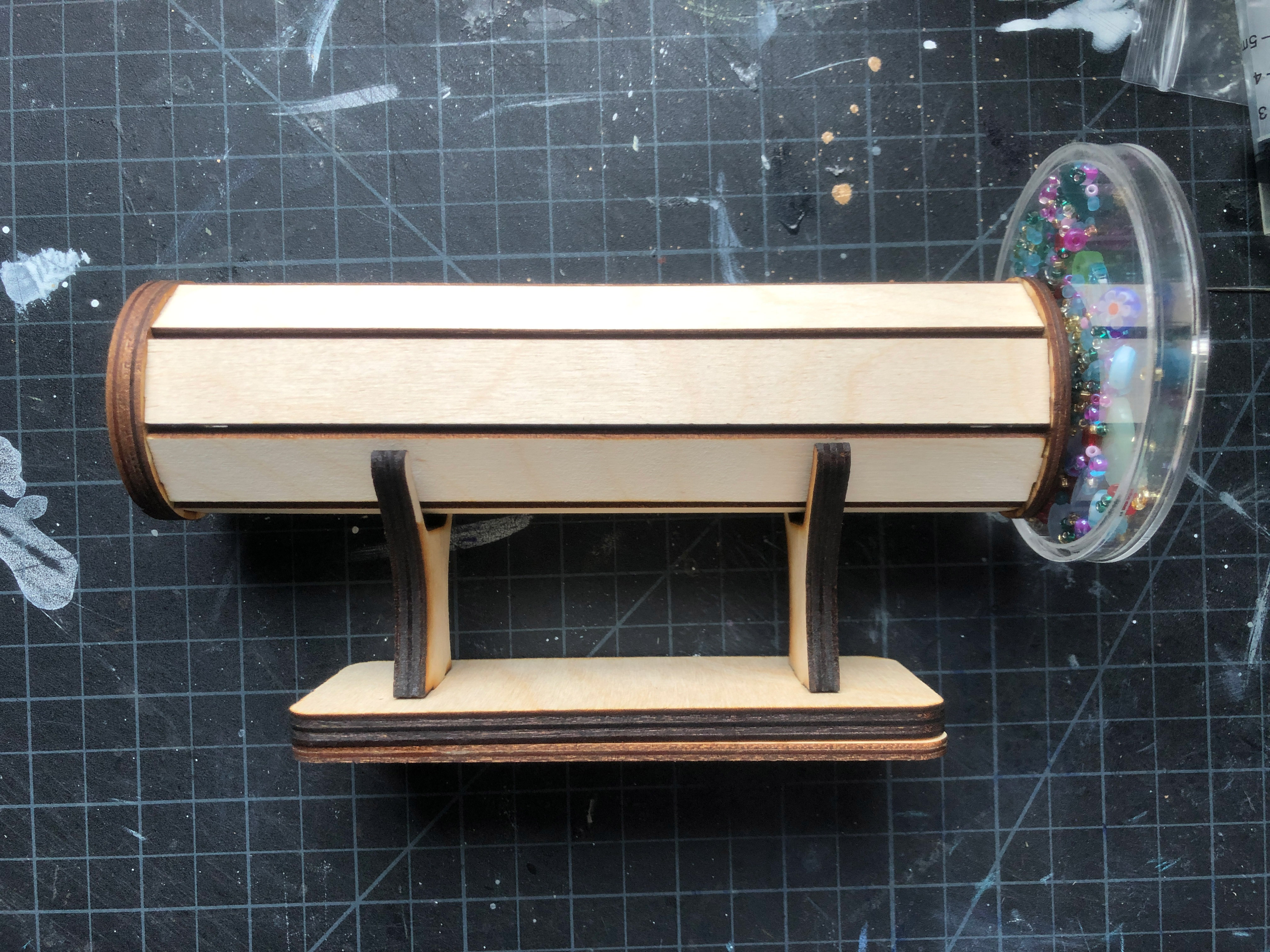 To purchase a kaleidoscope kit visit the following link. I also offer the laser cutting files for sale:
Your kit will come with the following parts:
Slats (different designs available)
A Decorative Eyepiece
Two endcaps
One Image Disk
One Stand (four pieces)
3 Front Surface mirrors
Foam Mirror Supports
Two lenses (a magnifier for the eyepiece, and a flat one for the end cap)
A binding screw to hold the image disk
A small super glue and washi tape to help with construction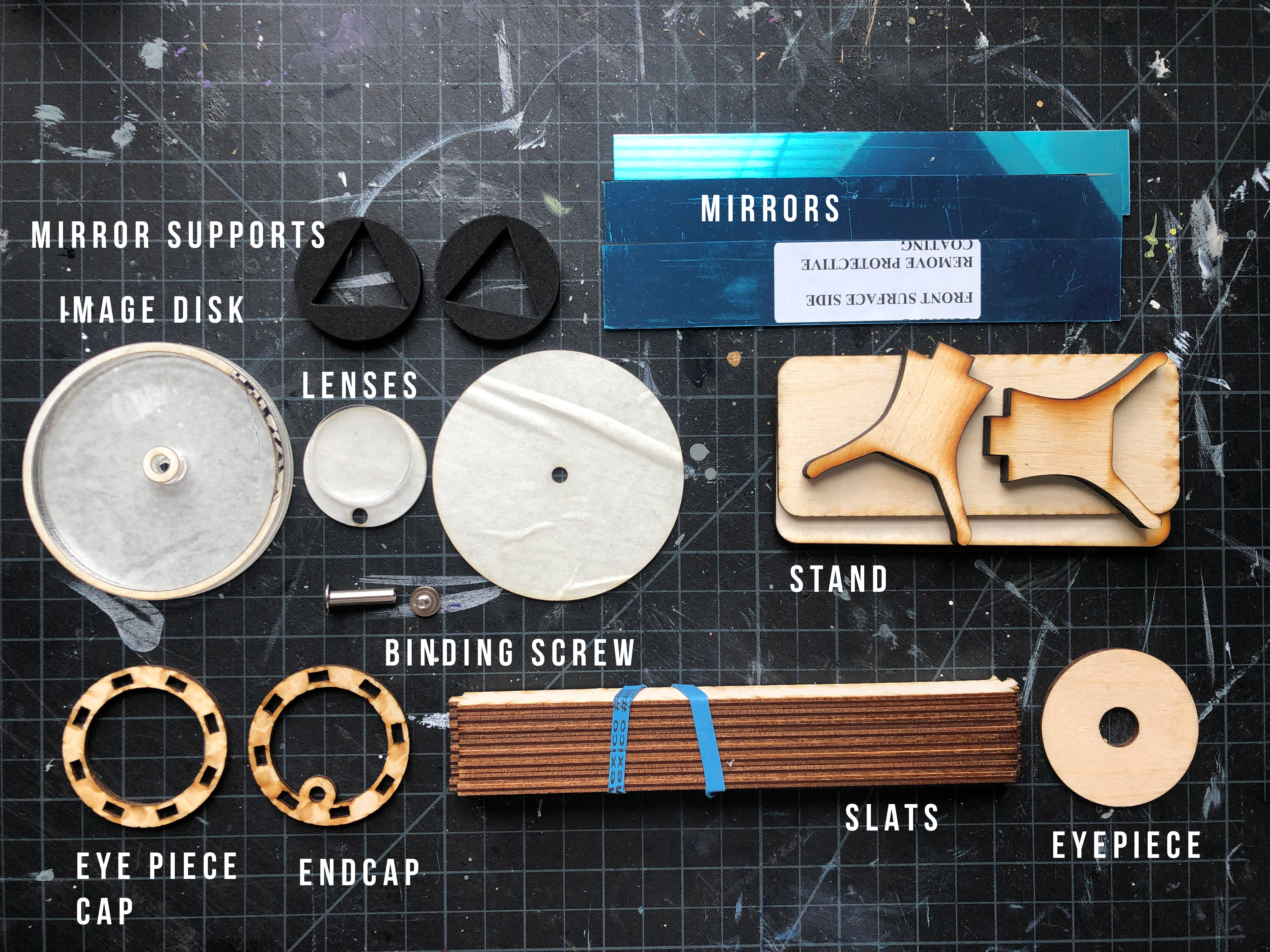 Pre-Prep: Remove Masking & Decorate
You can choose to decorate your kaleidoscope before or after assembly. I will not be decorating this piece as I just want to show construction. You may notice the piece I am showing has some scorch marks on it – I didn't mask every part of this as this is a prototype/sample. Your pieces should be covered in masking which you will need to remove. If your engraved design is very intricate you can use a plastic razor blade or very sticky tape to pull it off. 
Remove the masking from all of the wooden parts and paint, stain, or bedazzle as desired. In the example below I used Folkart Ultra Dye which is a non-toxic water-based dye/stain. If desired you can lightly sand any of the pieces you feel are not smooth enough. This shouldn't be necessary, but it's up to you.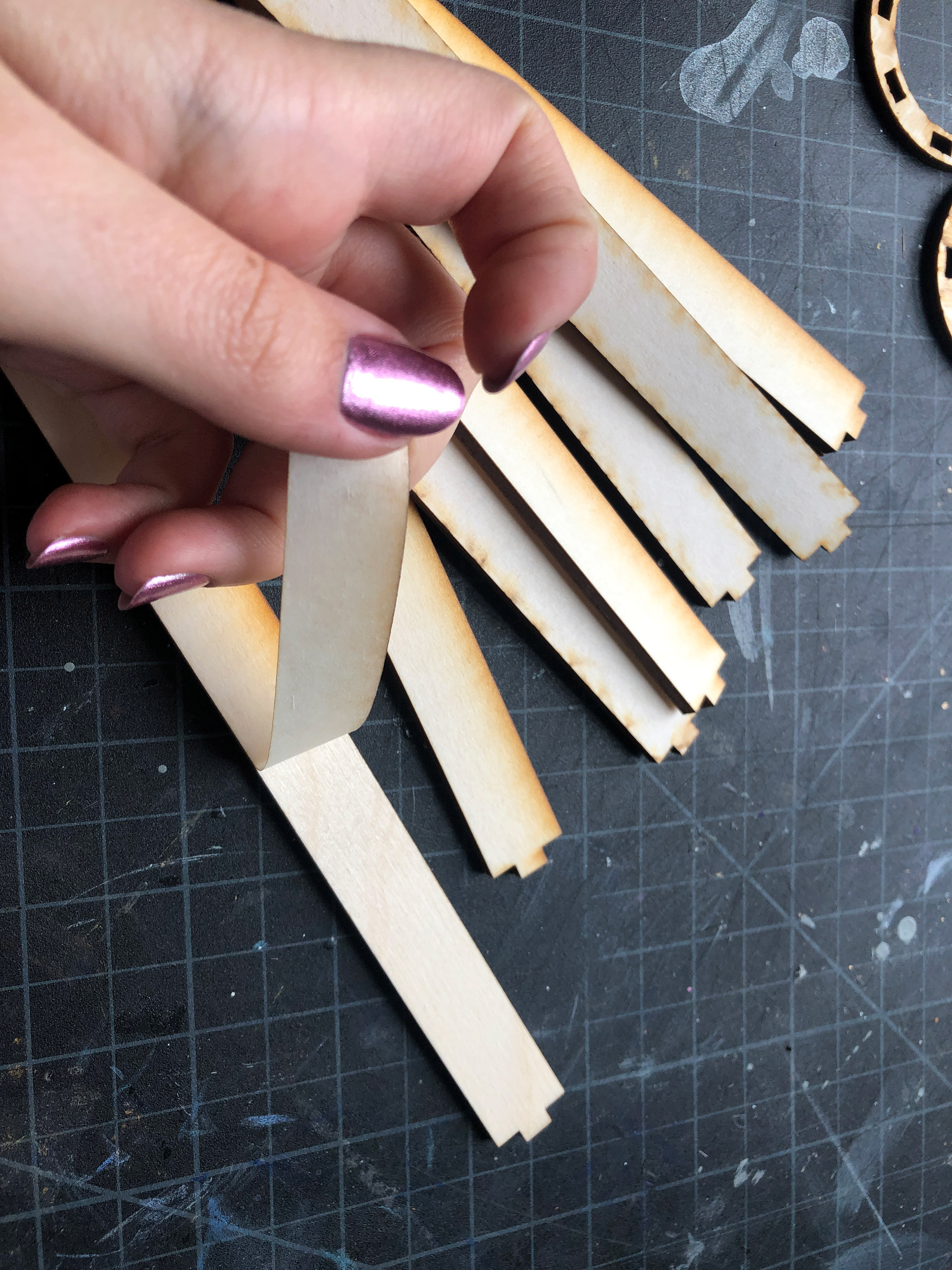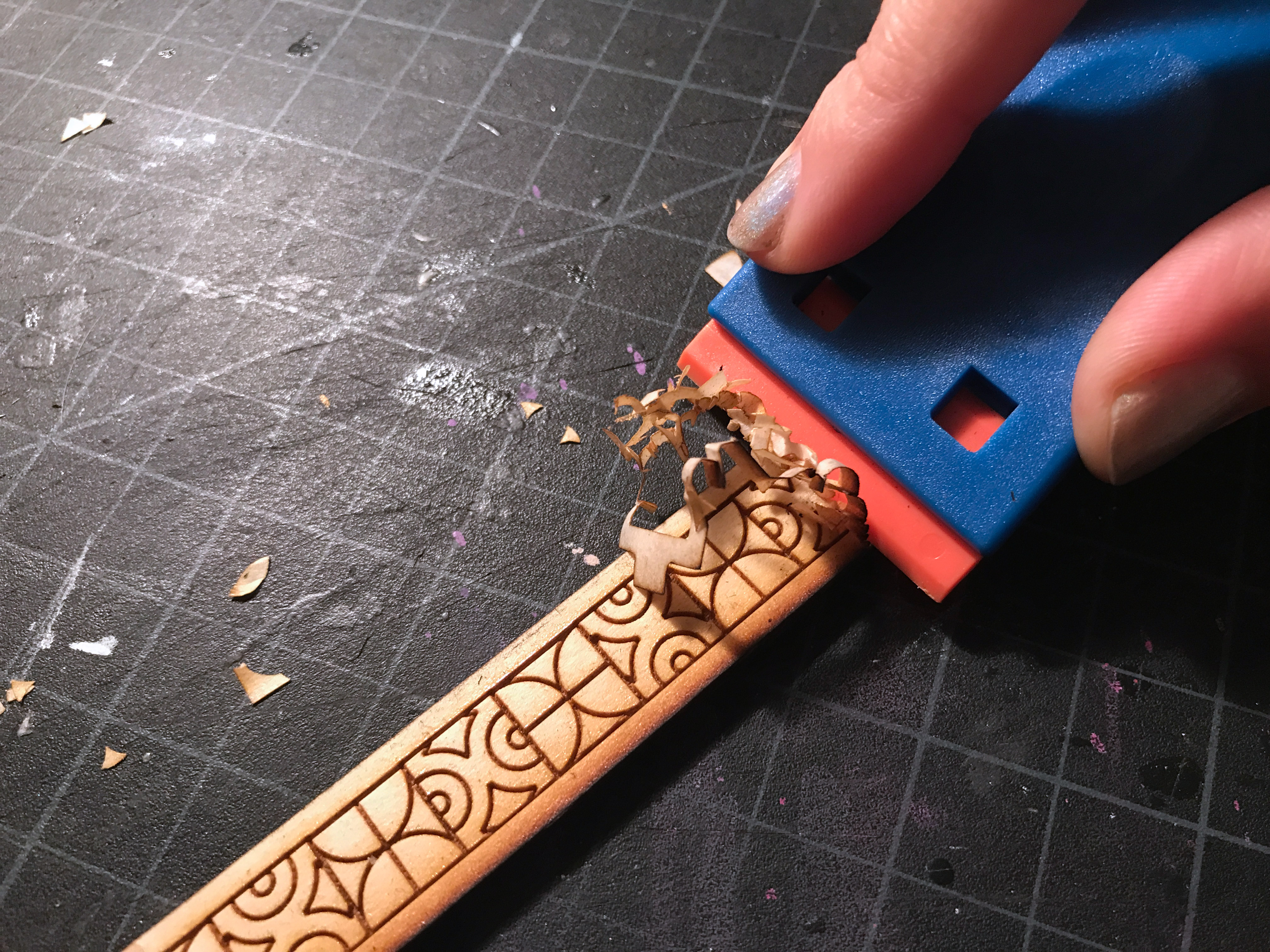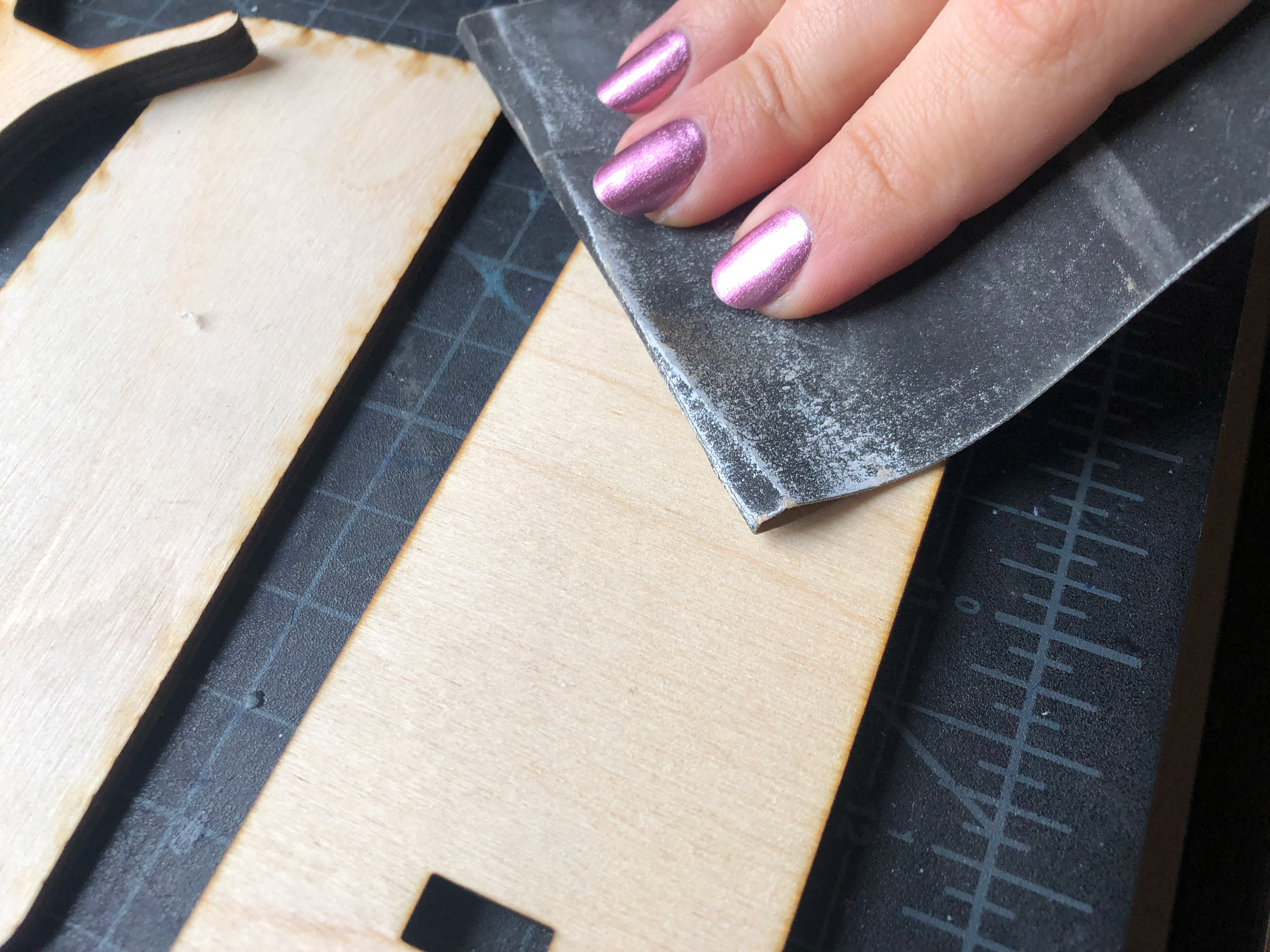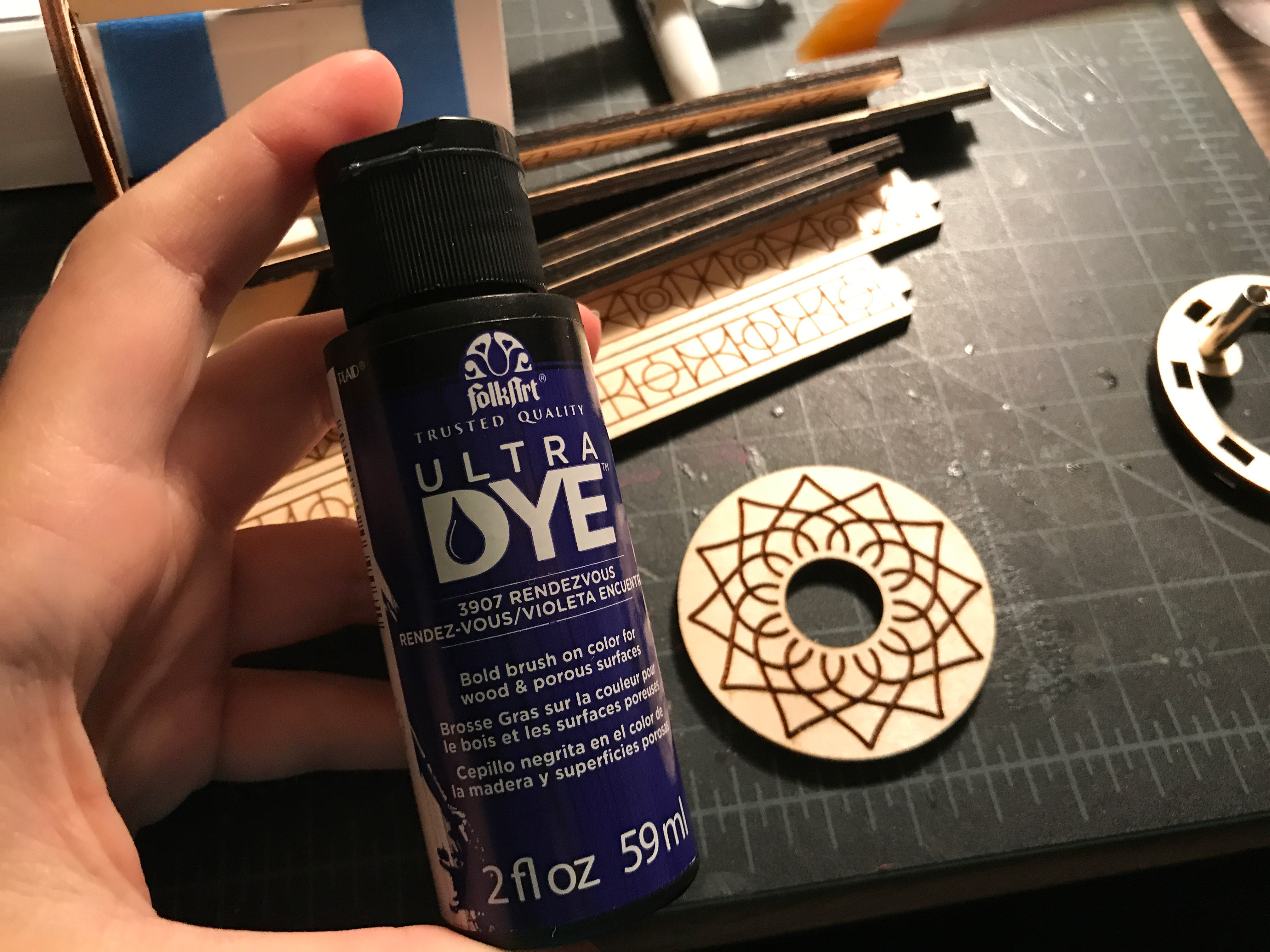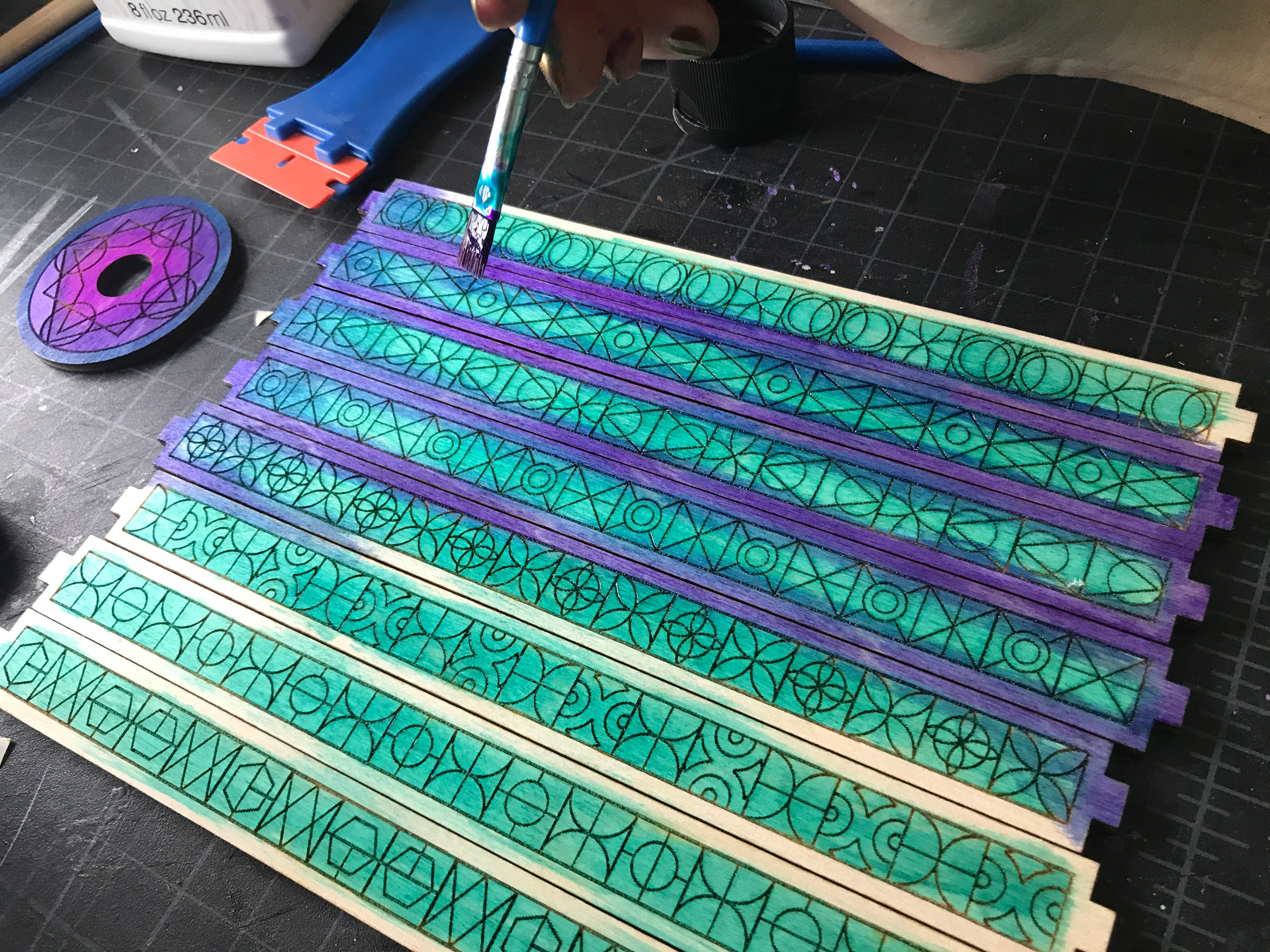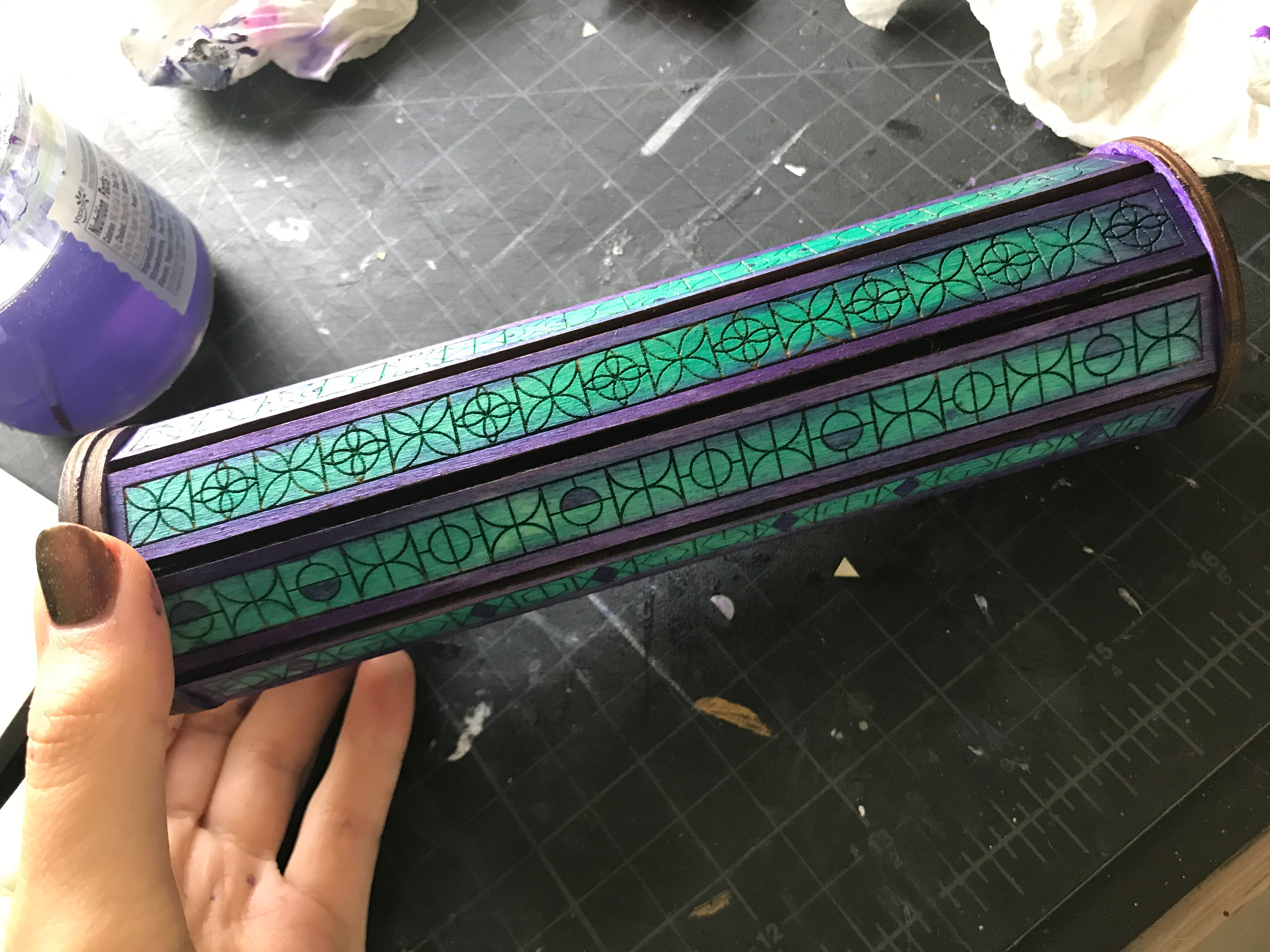 Find the smaller magnifier lens and decorative eyepiece. 
Adding a thin line of glue, glue it into place on the INSIDE of the eyepiece where it will be hidden
Locate the eyepiece endcap – it will be the one without the extra loop. 
Glue into place on the INSIDE of the eyepiece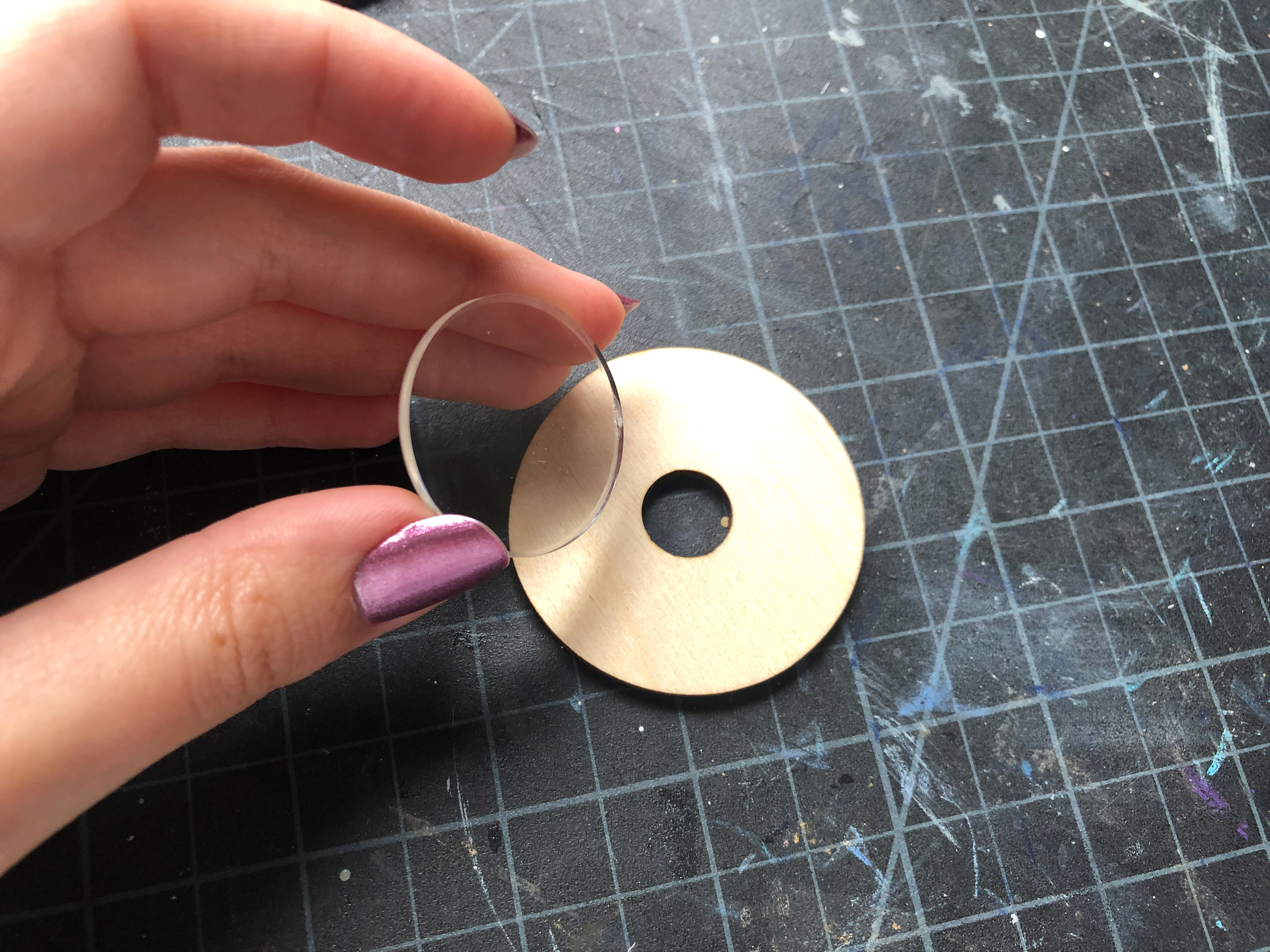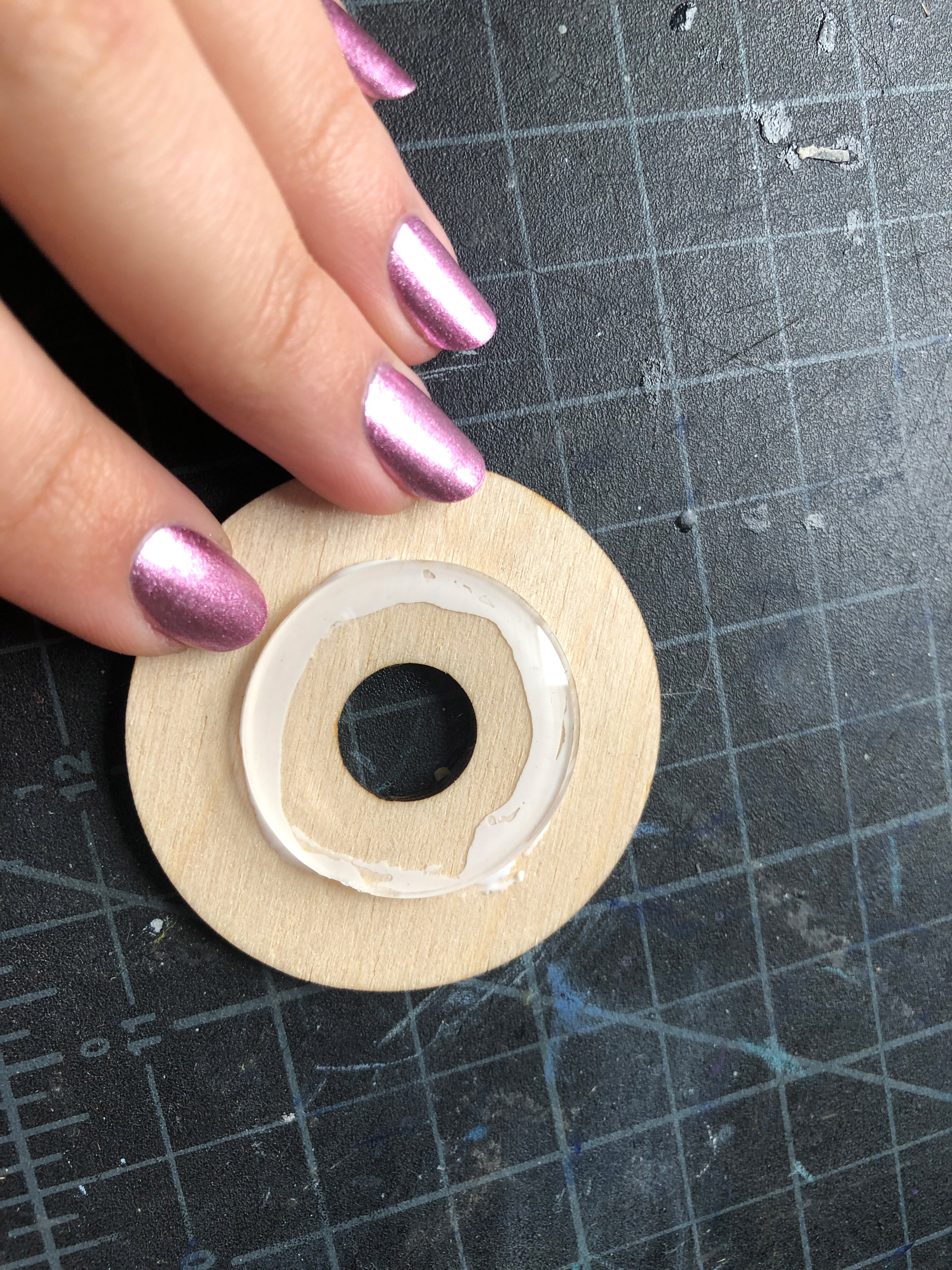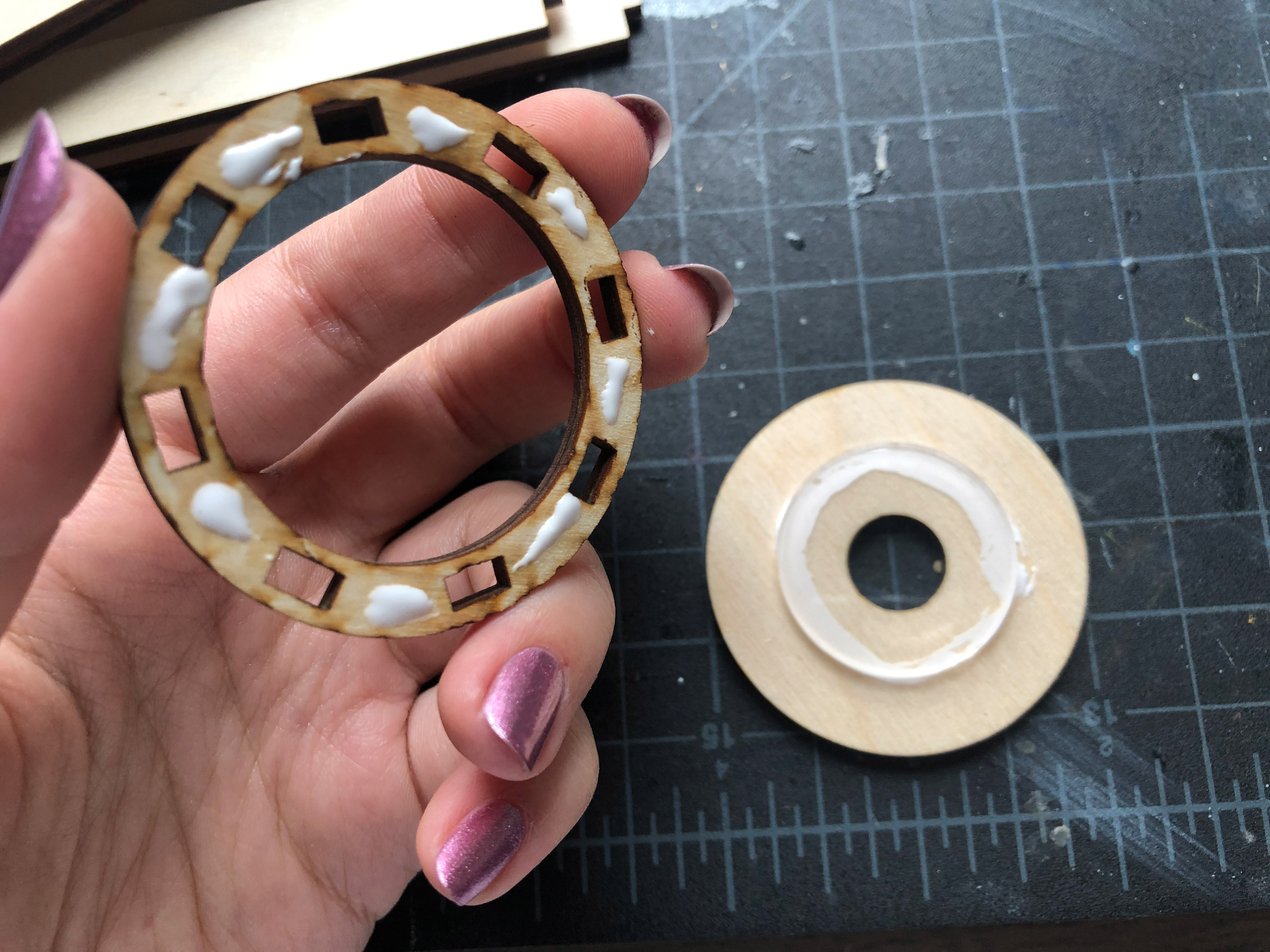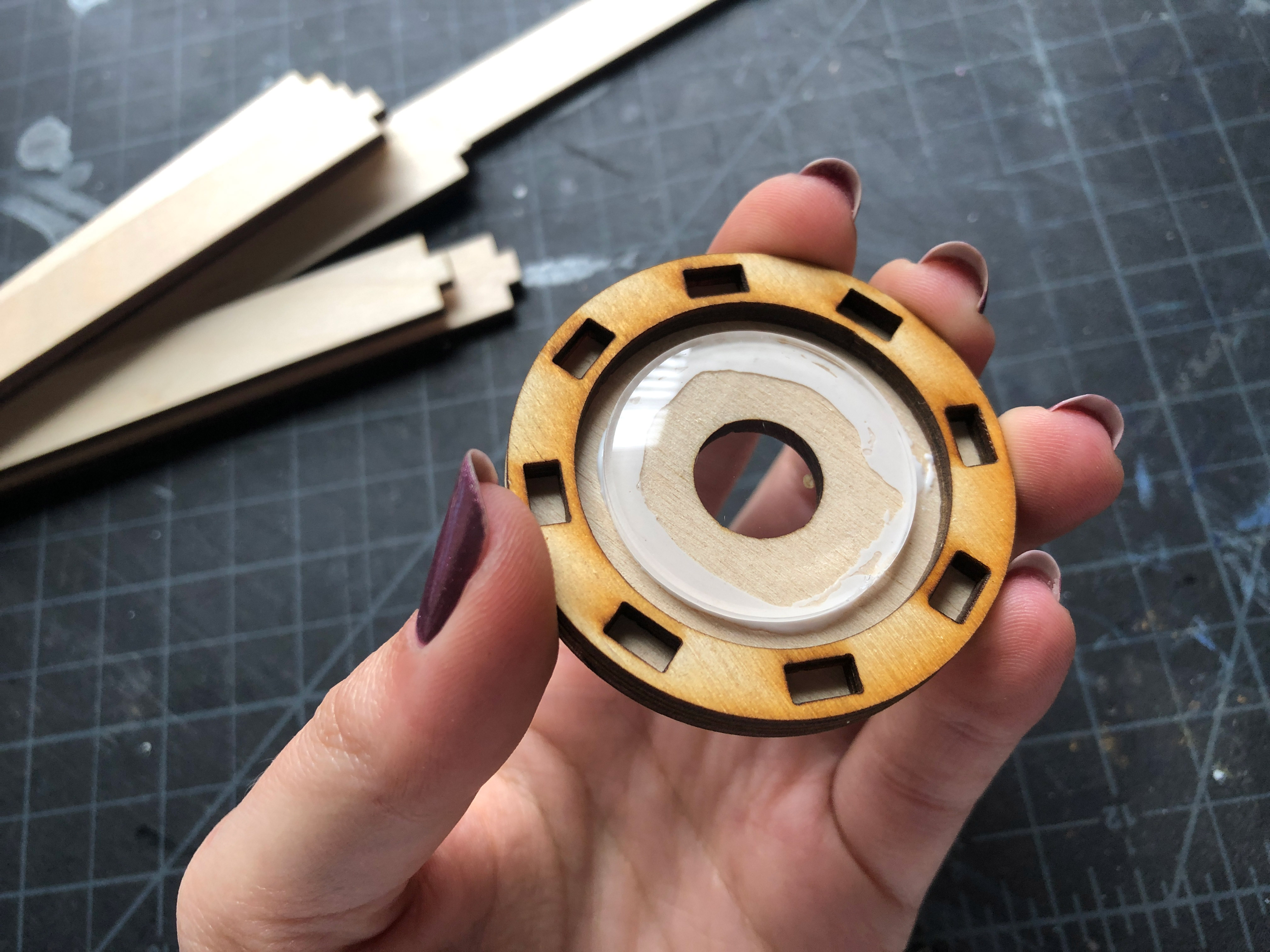 After that piece dries for a minute or two, add a bit of glue to each well and insert your slats. Pay attention to the order you are inserting them if you want a certain look or design order.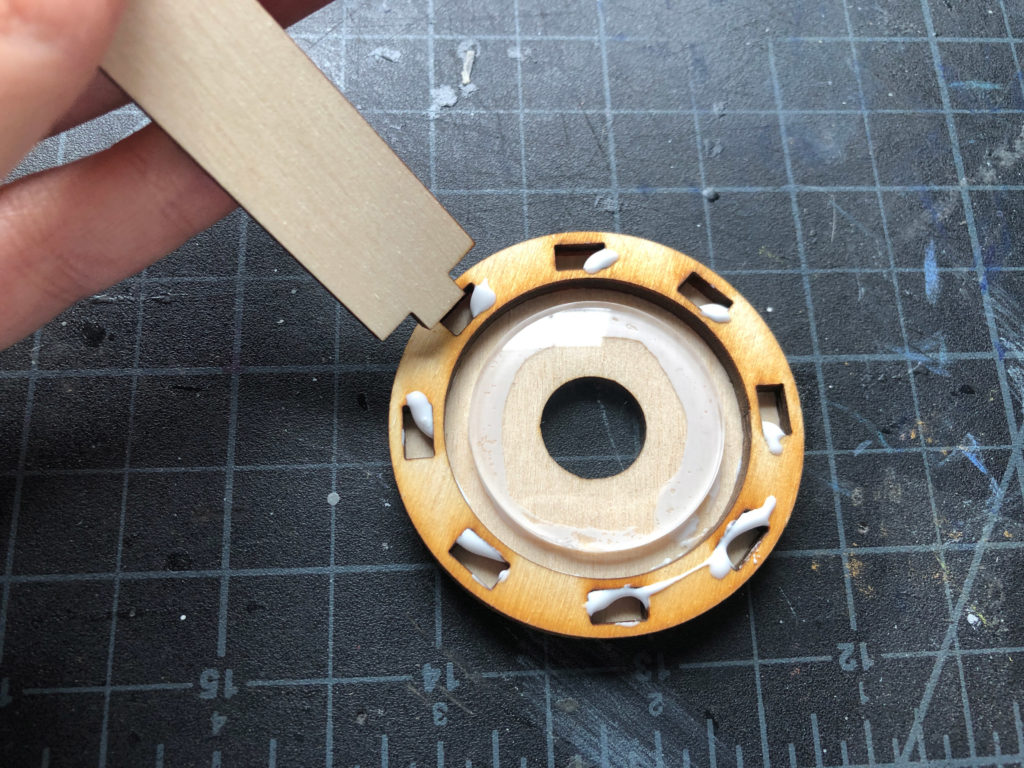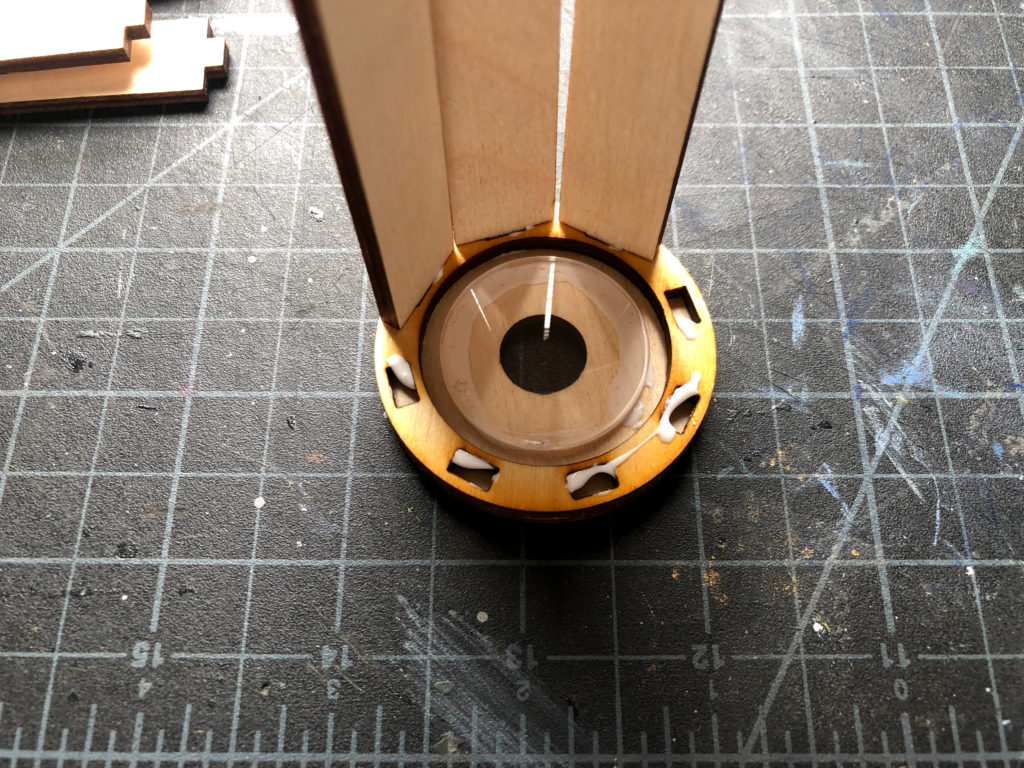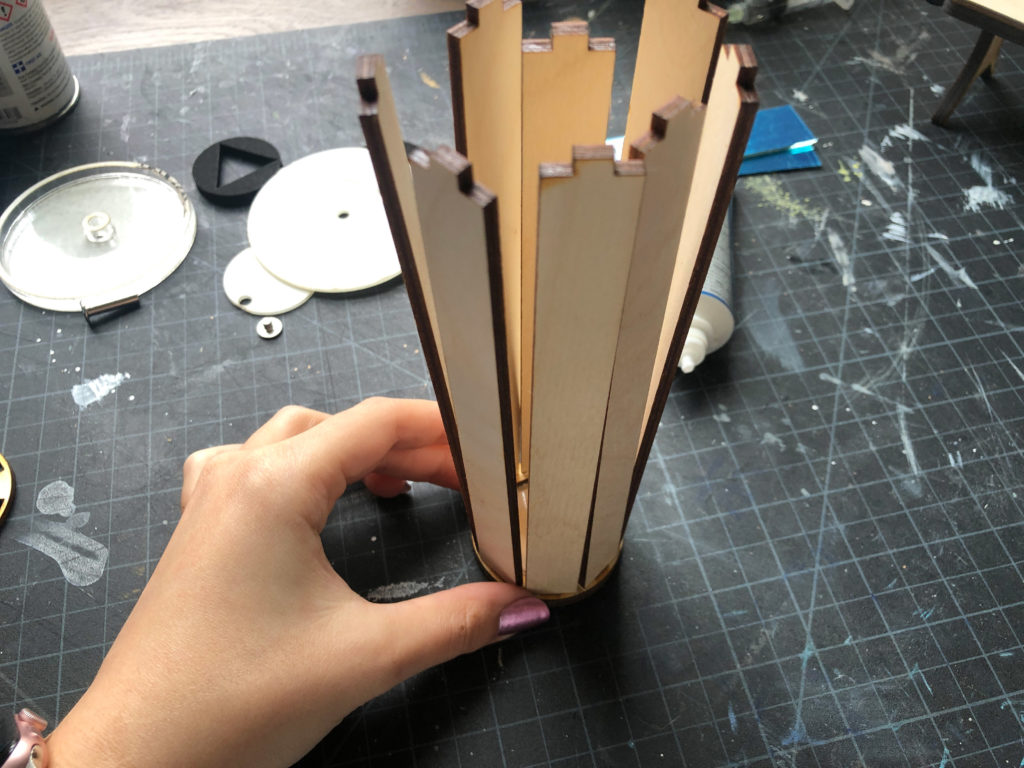 Once they are all inserted, set this piece aside to dry while you assemble the mirrors. 
Take your time with this step and do not remove the film until the last second. You want to avoid scratching the mirrors. 
The first step is to determine which is the good side, and which is the wrong side. The front surface mirror side needs to face INWARD. This will result in the clearest image. Using a pencil (or similar) gently peel back a corner of the masking on each mirror and check them. Once you know which side is the correct side there is not need to check the other side, just mark the "wrong side" or peel the masking form that side.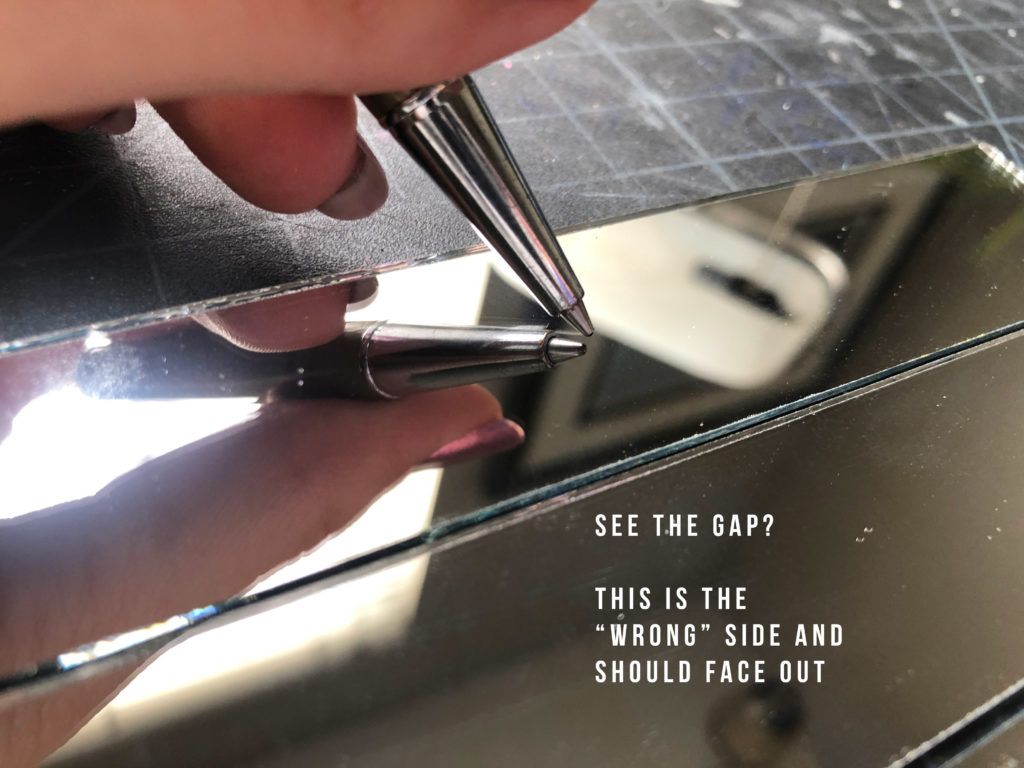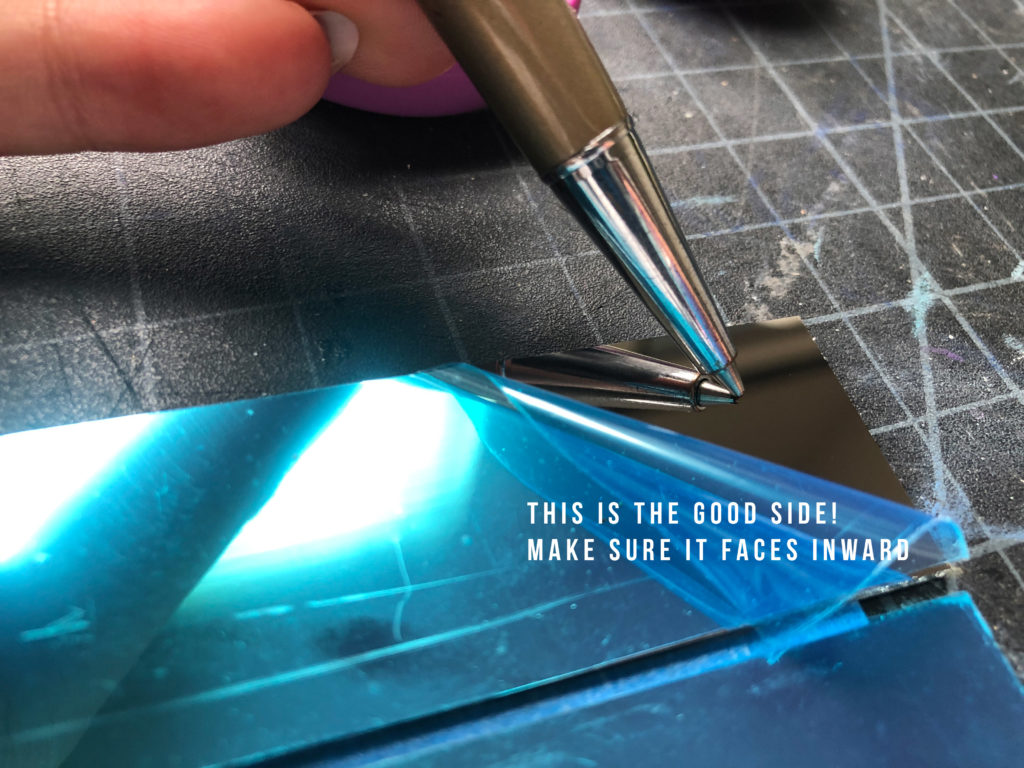 After determining which side needs to face inward, re-smooth the masking and place the good side face down on your clean work surface. Next remove the masking from the wrong side (if you haven't already). Space out your mirrors so there is a gap between them a little bit thicker than the thickness/width of the mirrors themselves. You will need this gap so that they can be folded up into a triangle.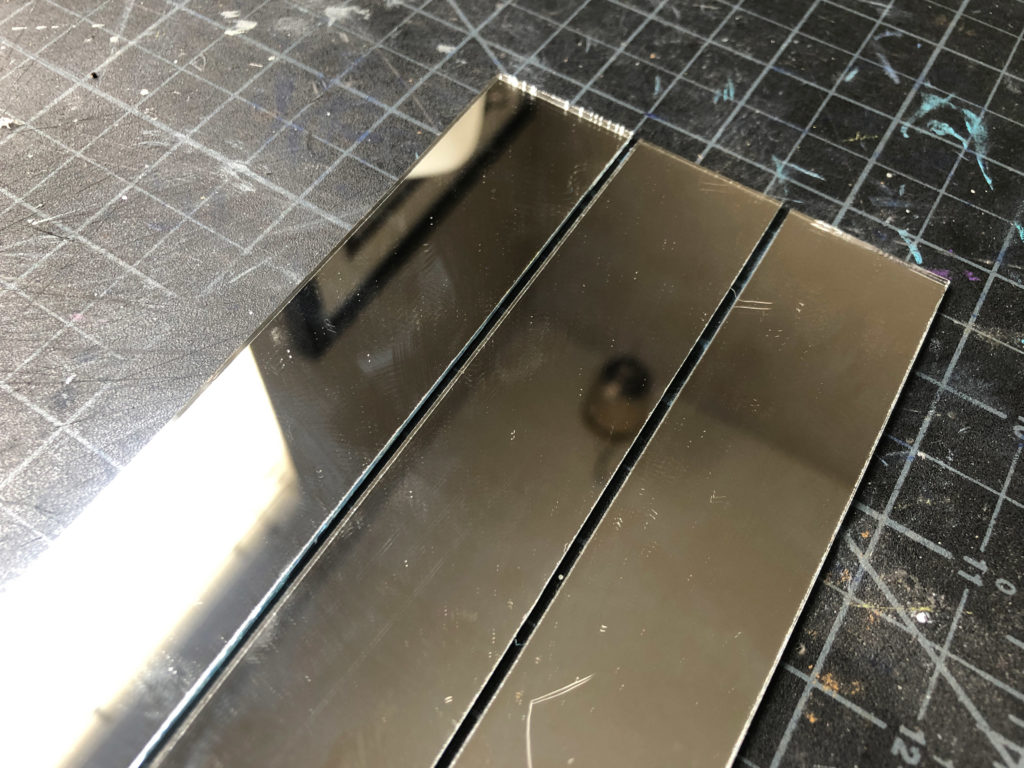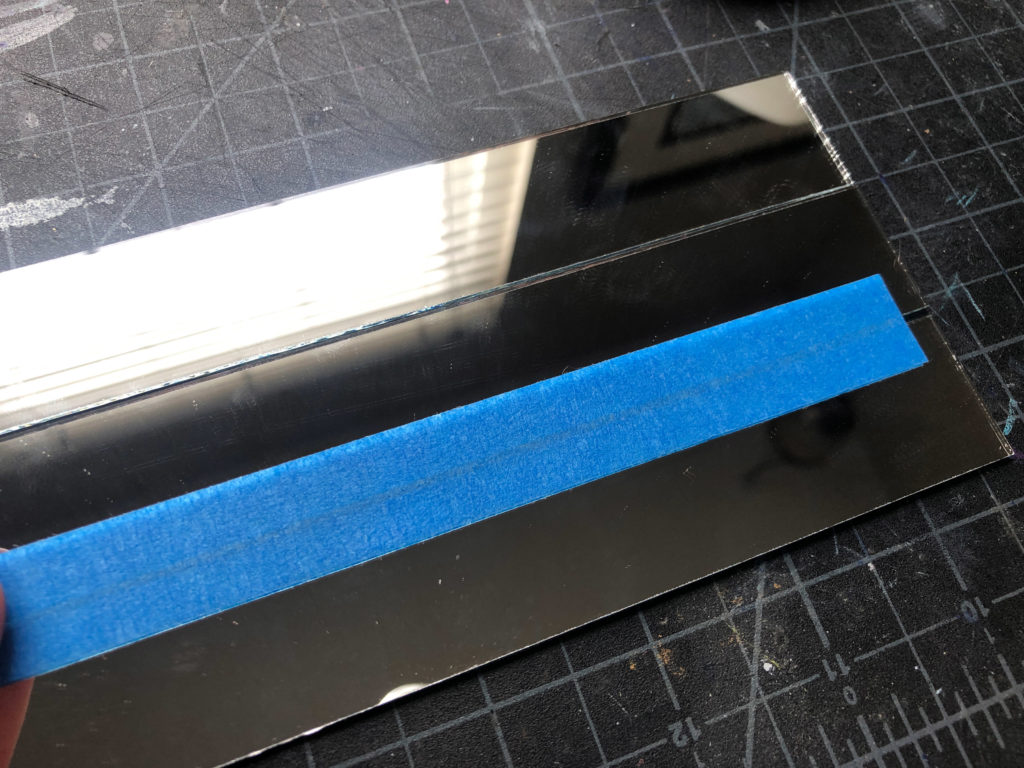 Add a strip of tape to each gap. I like painters tape because if I get the gap wrong I can peel it off and adjust with a new piece. 
See how the mirrors don't quite fold up? My gap is too small here.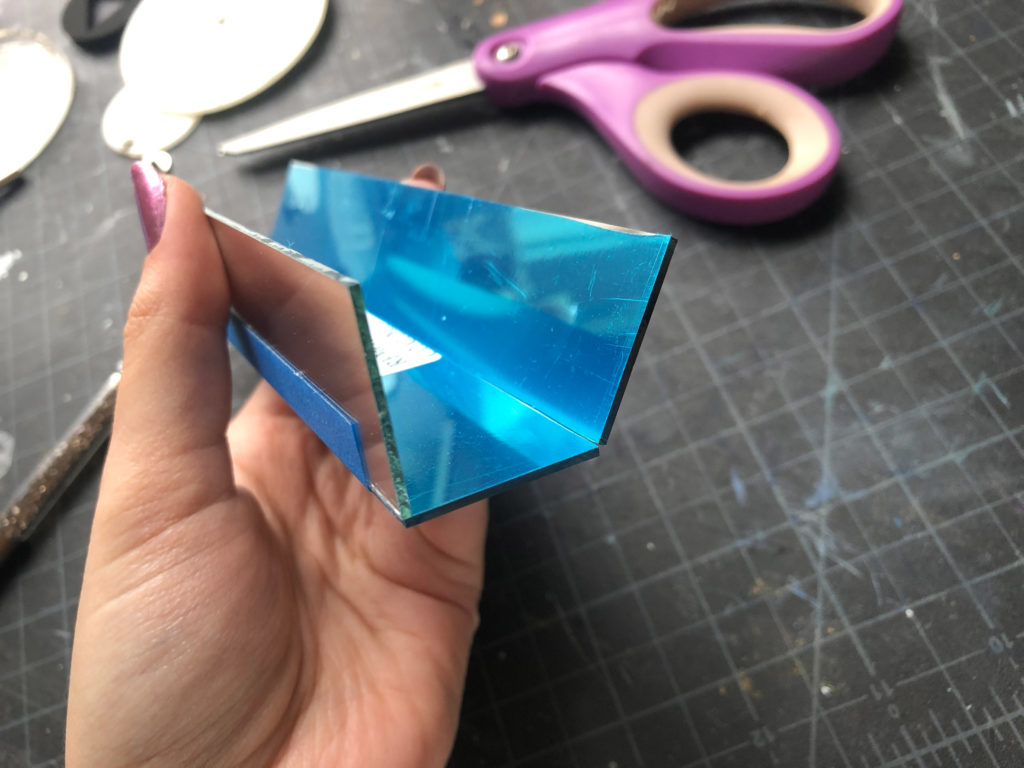 Once you have a nice tight triangle, unfold, gently remove the masking and fold it back up. Then add tape to the remaining edge and then wrap with some additional tape to hold everything together. You want your mirrors to very slightly overlap at the edges or you may see the blue tape in the kaleidoscope image. Again, take your time, there is no rush.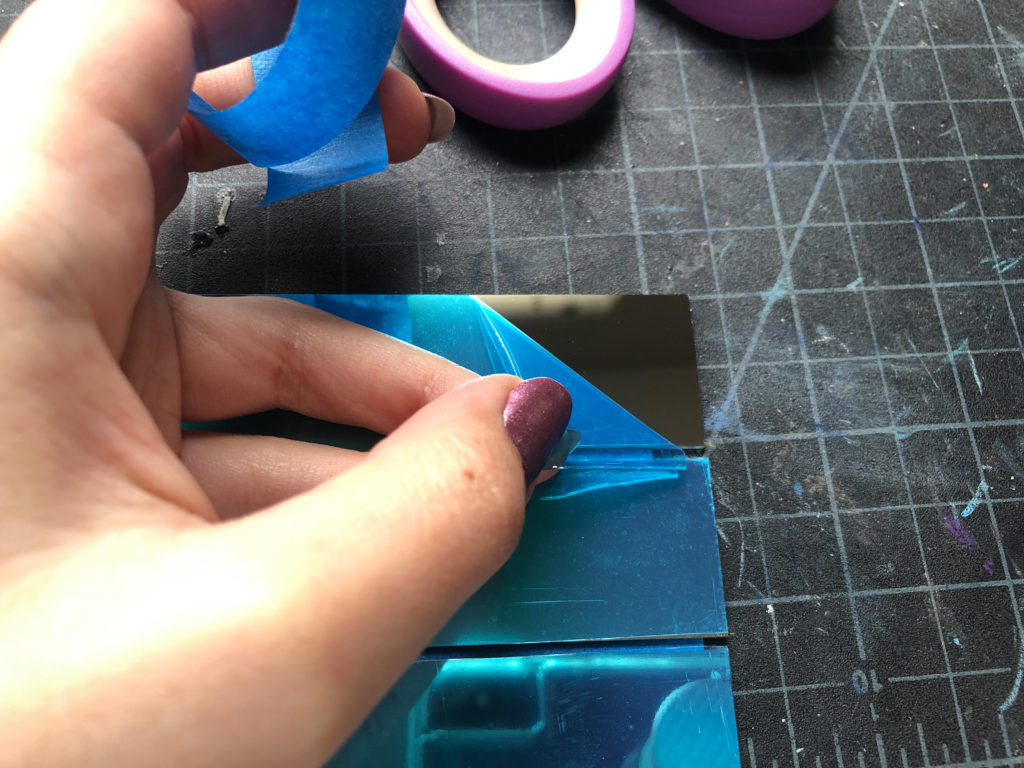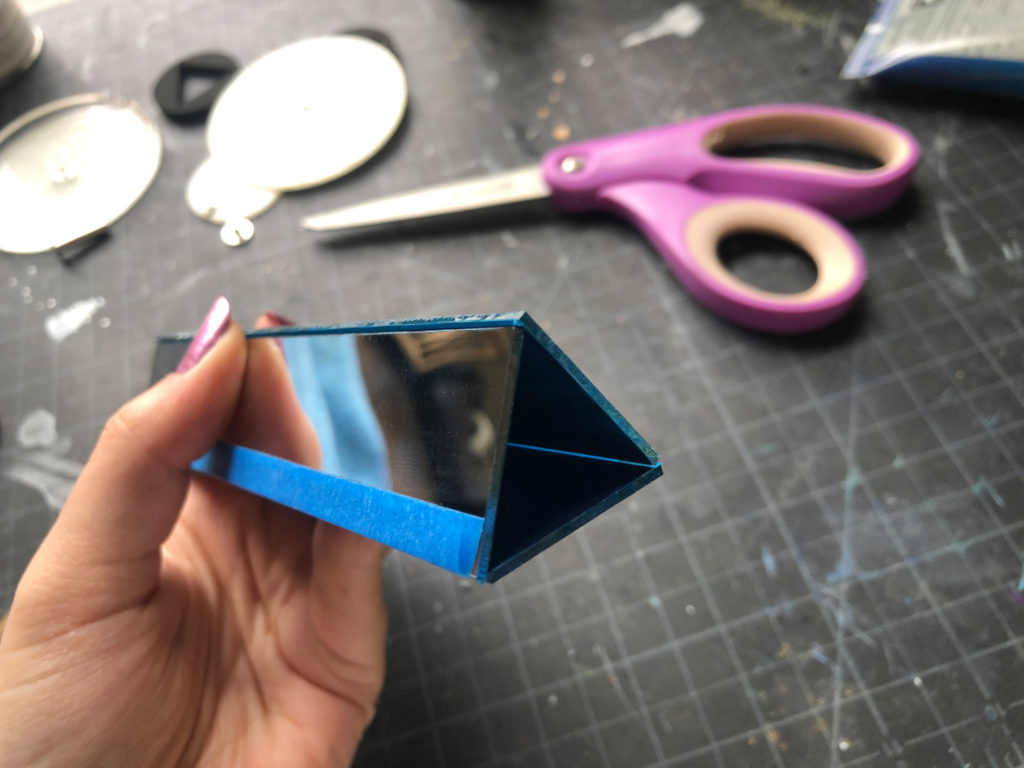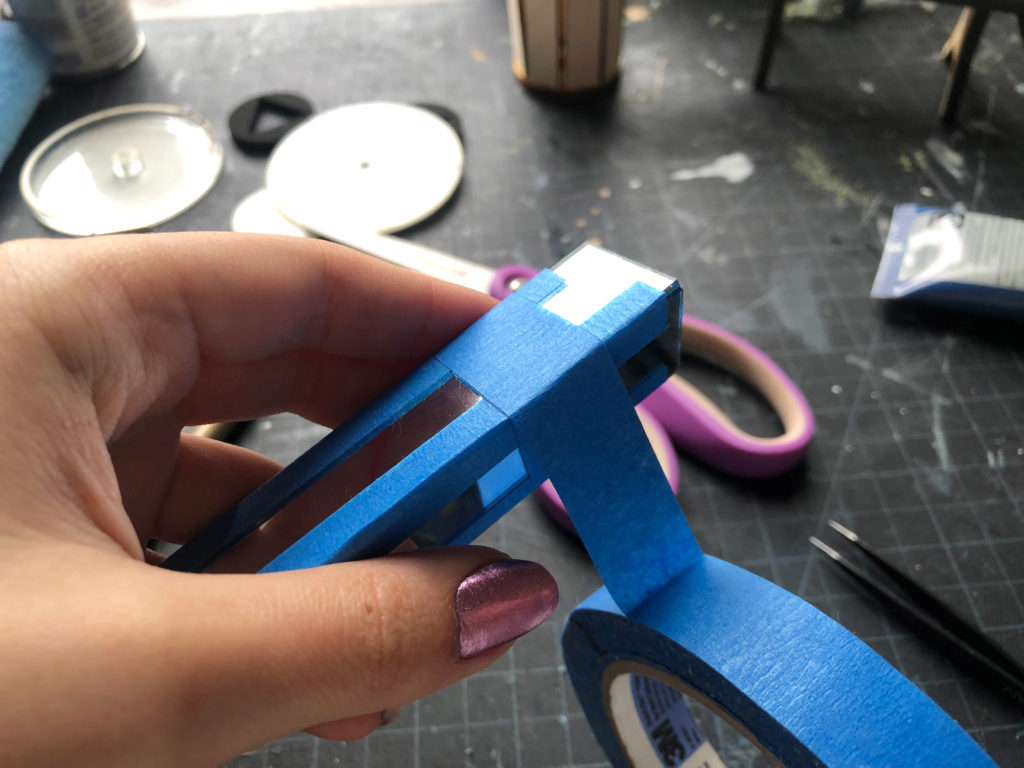 Add the two foam triangles onto the mirror tube and set aside.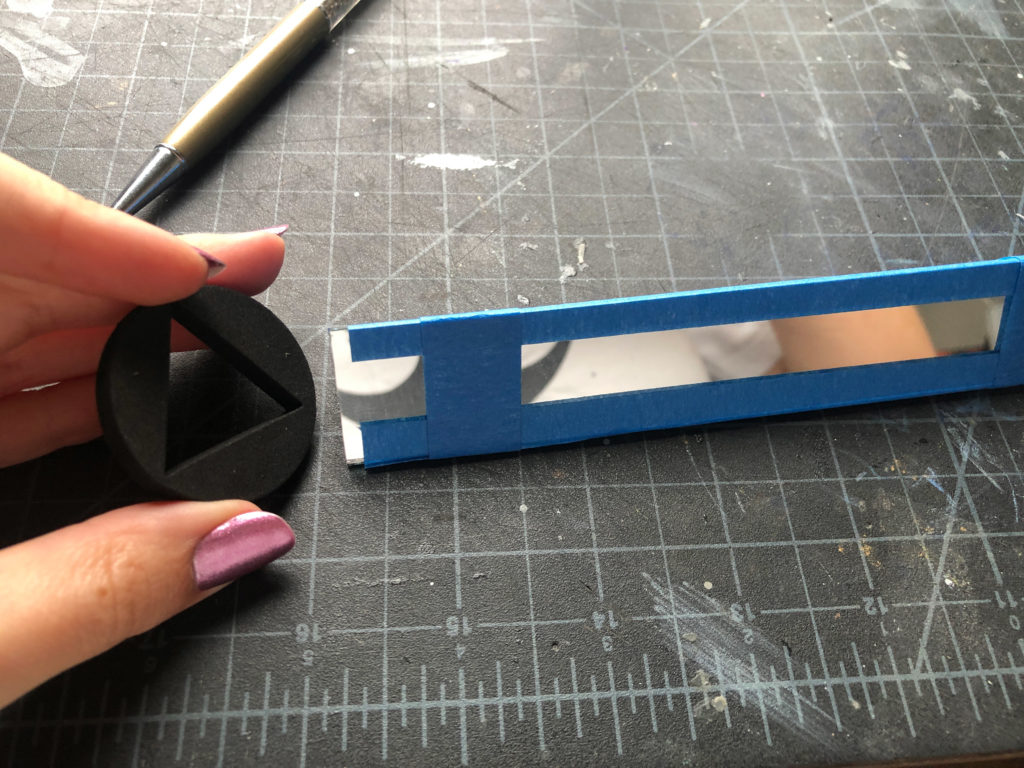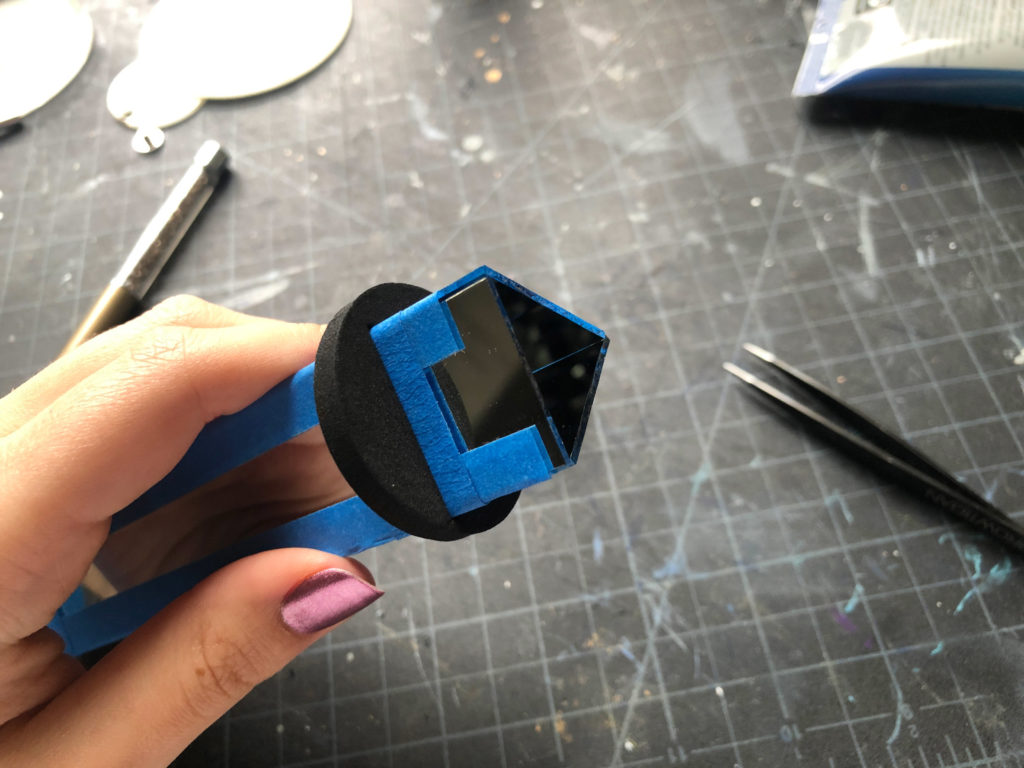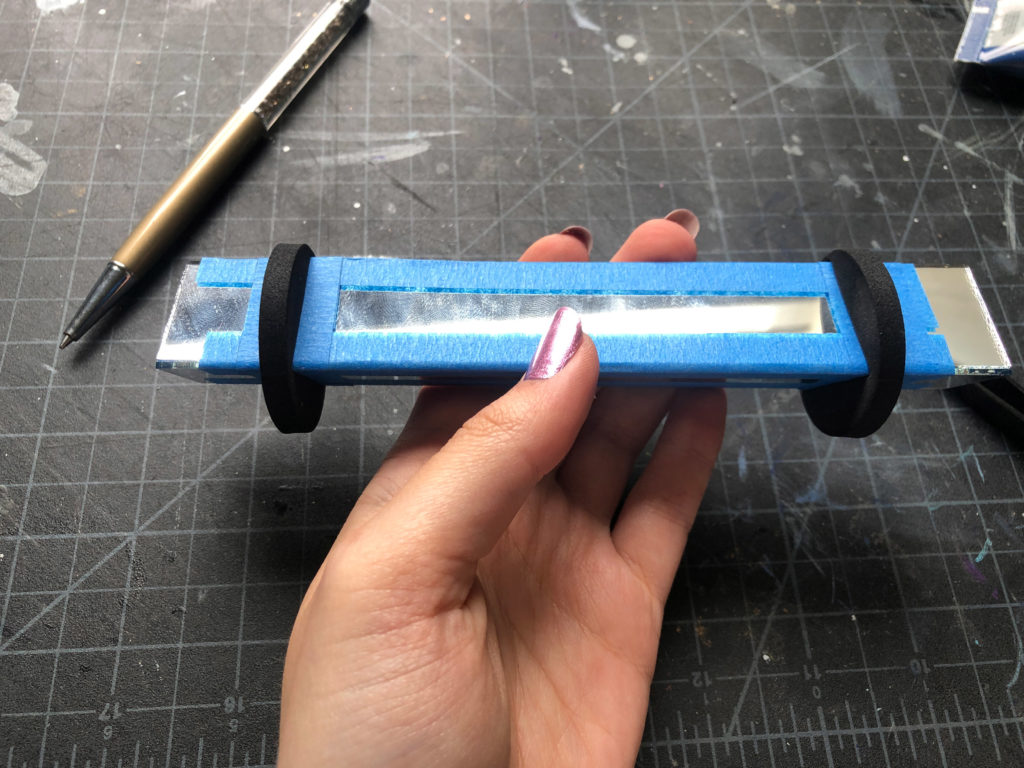 Now that your mirrors are done you need to prepare the endcap. Locate the end cap, flat dustcover/lens, and the binding screw. 
Be very careful with the glue at this step. If you get it everywhere you will end up seeing it. The plastic dust cover is optional so if you scratch it or get way too much glue on it just omit it.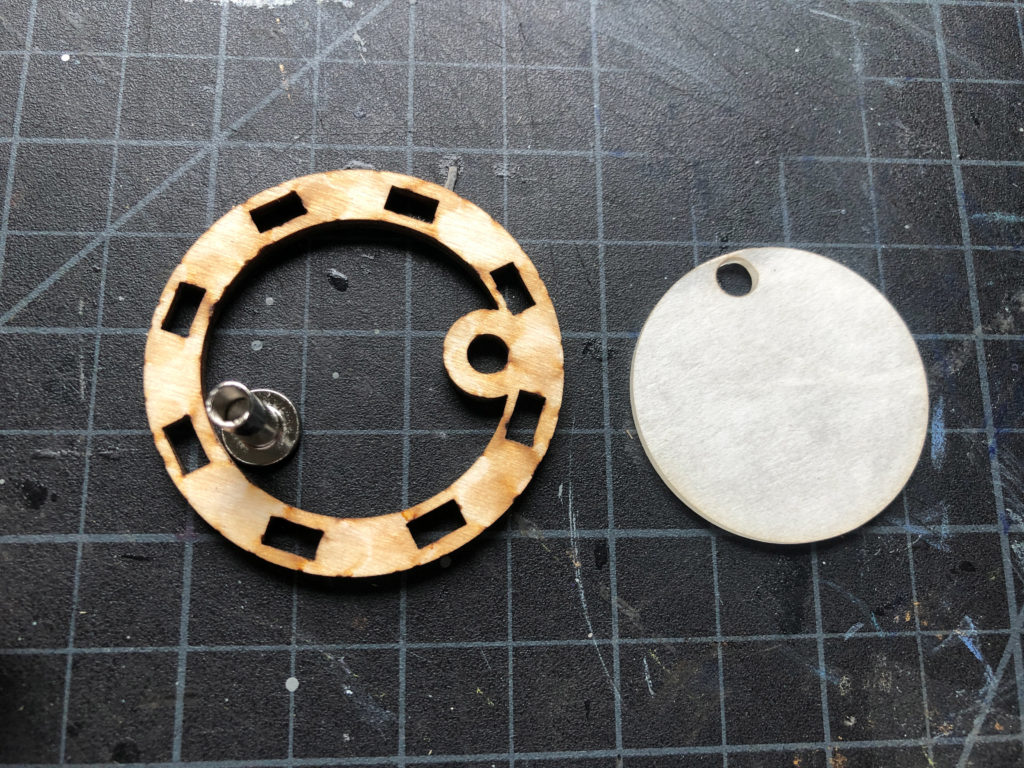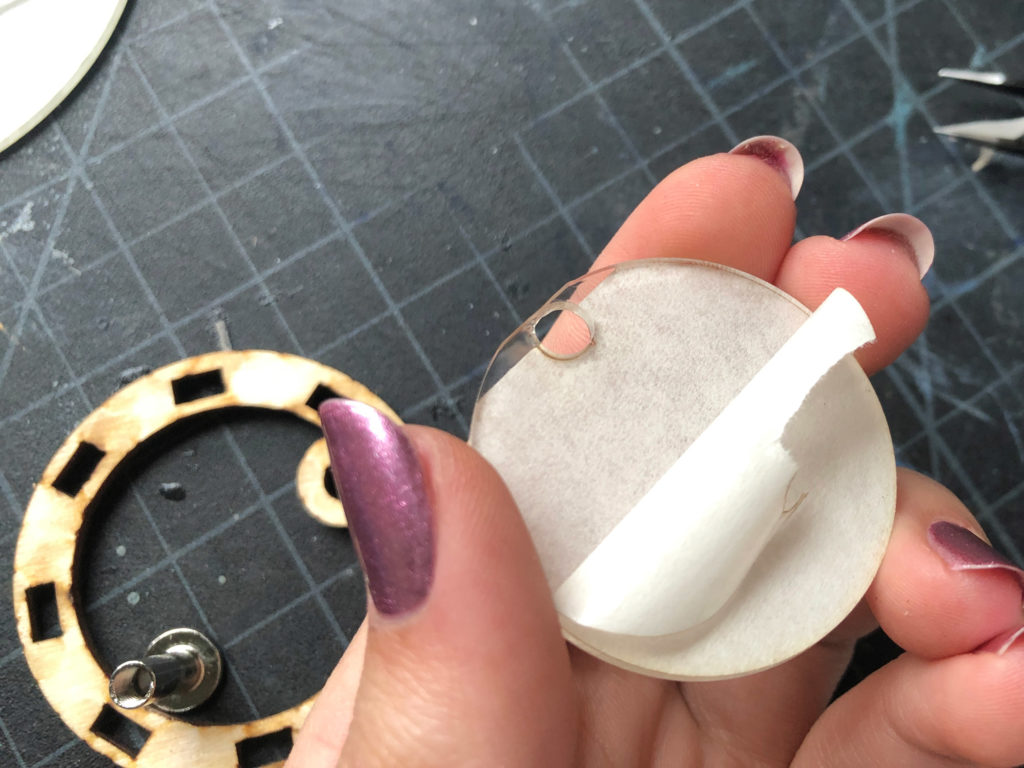 Peel off the masking from the dust cover. Do your best to avoid finger prints. If you need to clean it use a soft microfiber cloth with a bit of water (alcohol or windex will scratch the surface). 
Using a small amount of the super glue, glue the lens in place at the hole. Make sure the holes are lined up. Let this fully dry.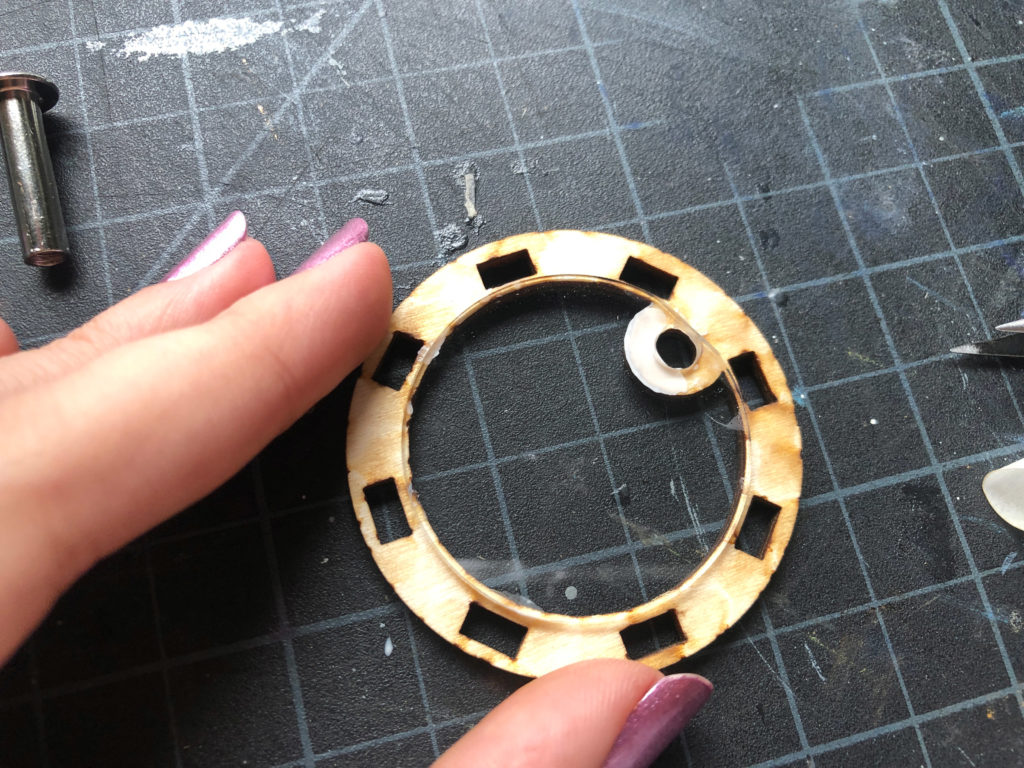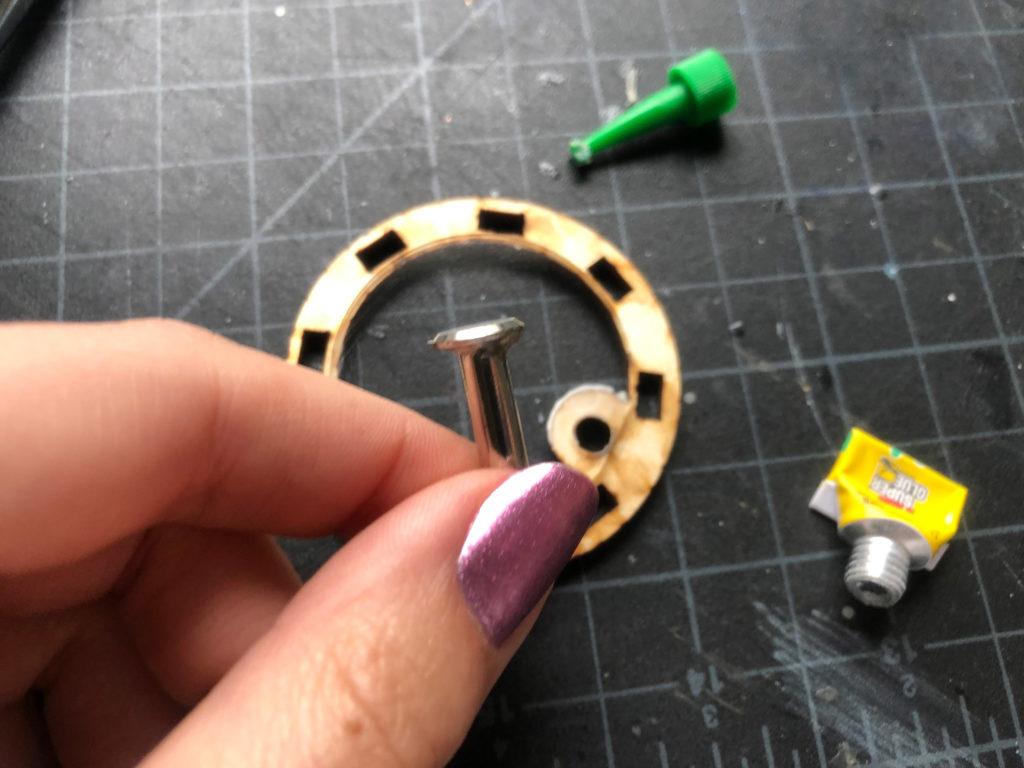 After it is dry, glue the binding post in. Both the flat part of the binding post and the dust cover should be on the INSIDE side. However, you can choose to skip gluing the dust cover altogether if you prefer and just slide it on the outside side. It won't be permanent that way, meaning you can remove it to clean it if needed which is nice. If you're nervous about this step, just don't glue it in, it won't be noticeable on the outside and if you don't like it, you can remove it. 
After gluing the binding post in place, set it aside to dry and insert your mirrors into the tube.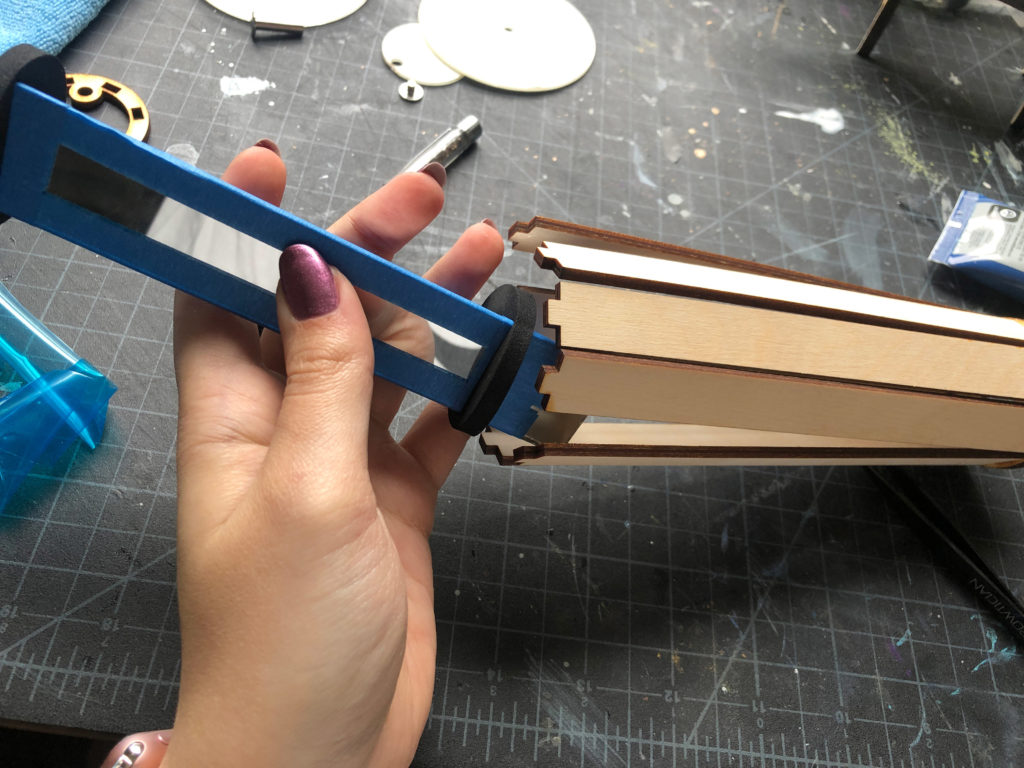 You can adjust where the foam is sitting if needed (some people may prefer it to be near the end so it hides tape a little better.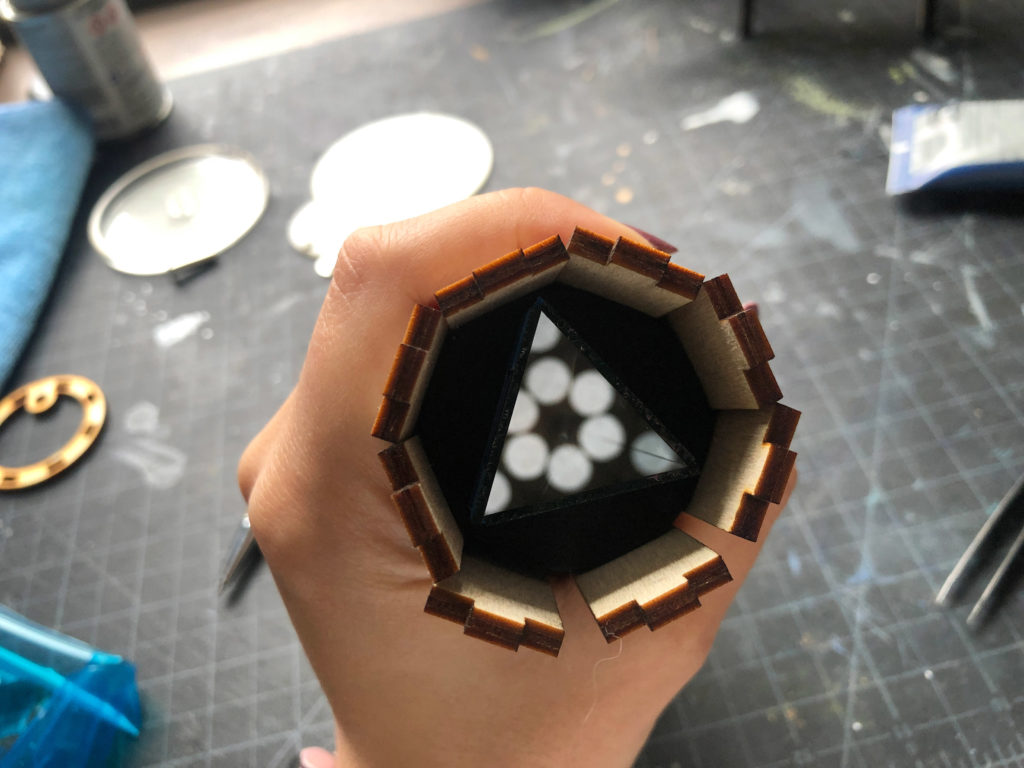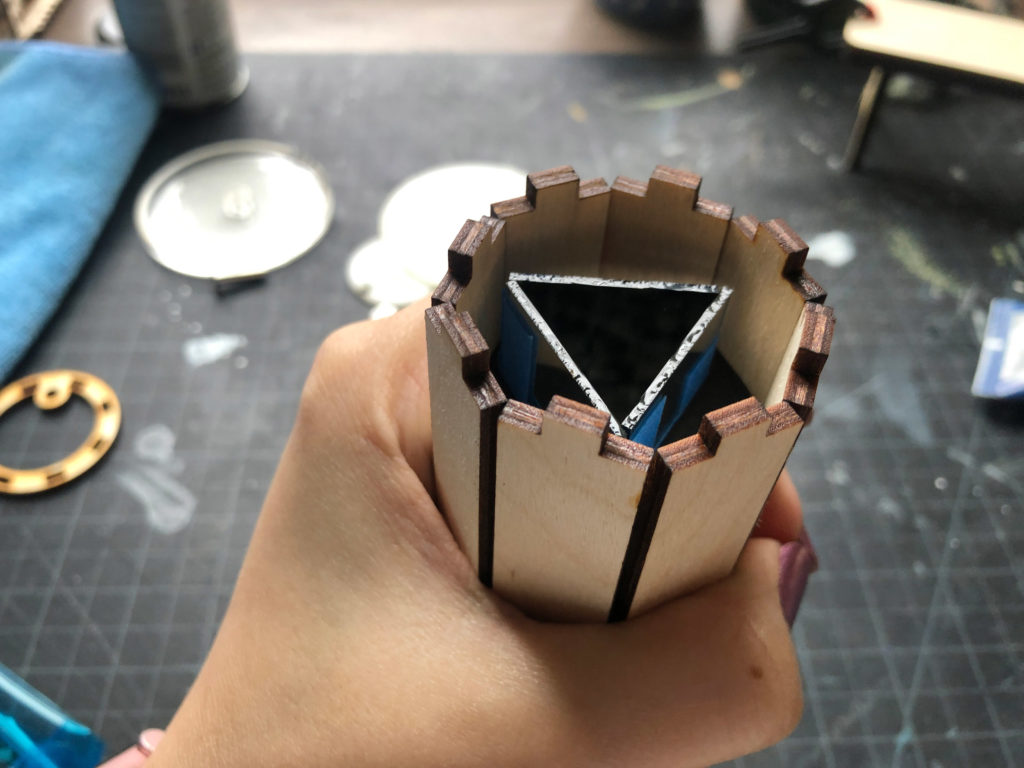 Once the endcap is dry, add a little bit of glue to the tabbed ends of the slats and pop it on. NOTE: make sure the binding screw is out of the view of the mirrors, you can rotate the mirror assembly inside to ensure you won't see the binding screw. Below you can see I have lined it up so that the binding screw does not block the mirrors.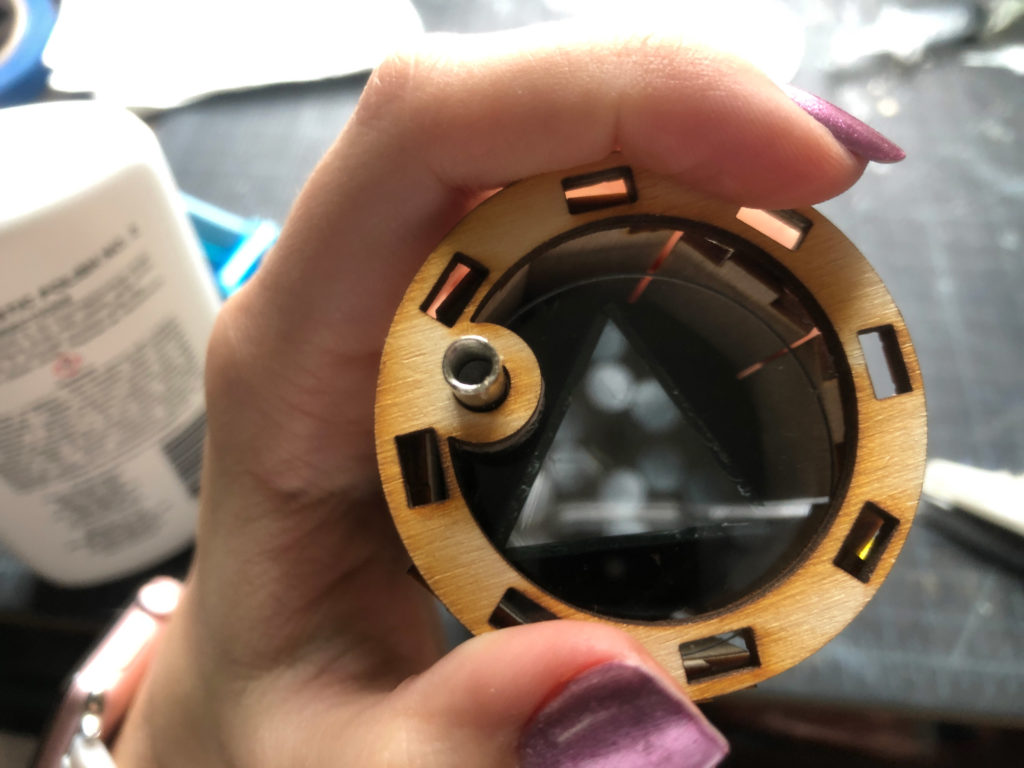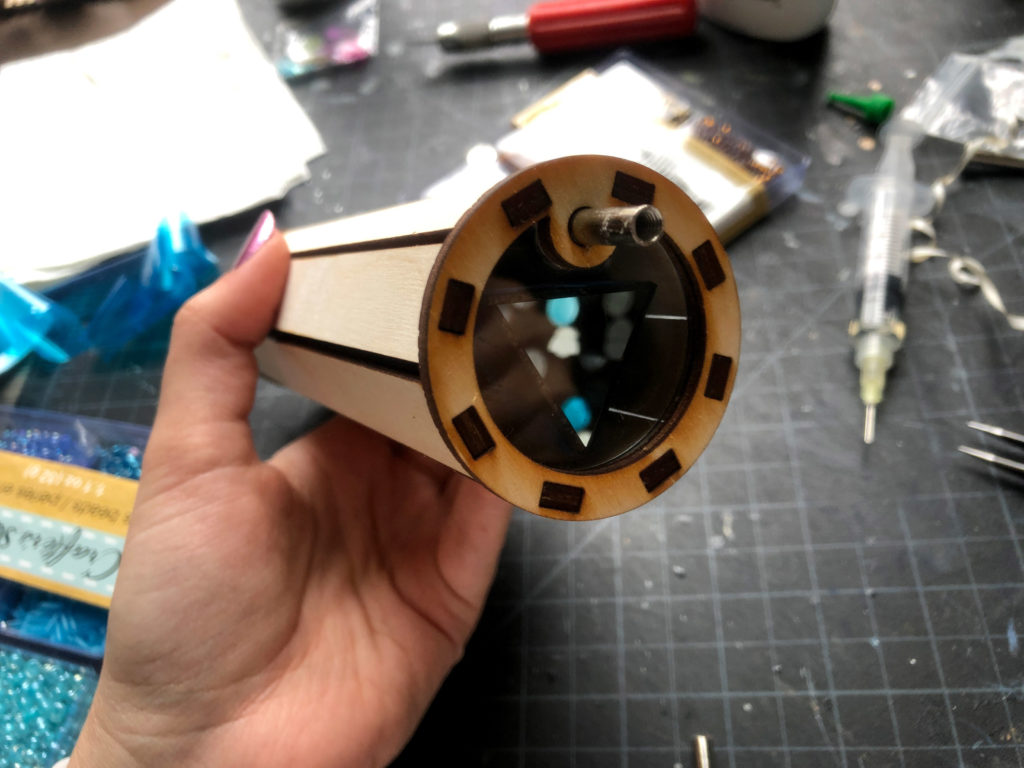 Set aside your assembly to fully dry. Anytime you are waiting for something to dry you can skip down to this step – filling your image disk. Focus on using transparent objects as this will let the most light in and look the most exciting. Things like metallic sequins block the light and look like black specs – look for glass and plastic beads, iridescent clear sequins, bits of art glass etc. 
This step is the fun part! Just fill it up! Occasionally you will want to check two things:
1. That the cap/closing plate will sit flush. You have to be careful about how thick your objects are or they will prevent you from gluing the assembly shut. 
2. That you have ENOUGH filler. It may look stuffed full when laying flat, but if you hold the faceplate on and hold it up (shake it a bit) you may not have as much as you think. 
Gather your filler from wherever you like! You can use pressed flowers, beads, glass, etc. I actually got a lot of my filler shown below at the dollar store. Those colored bead packs are only a dollar each.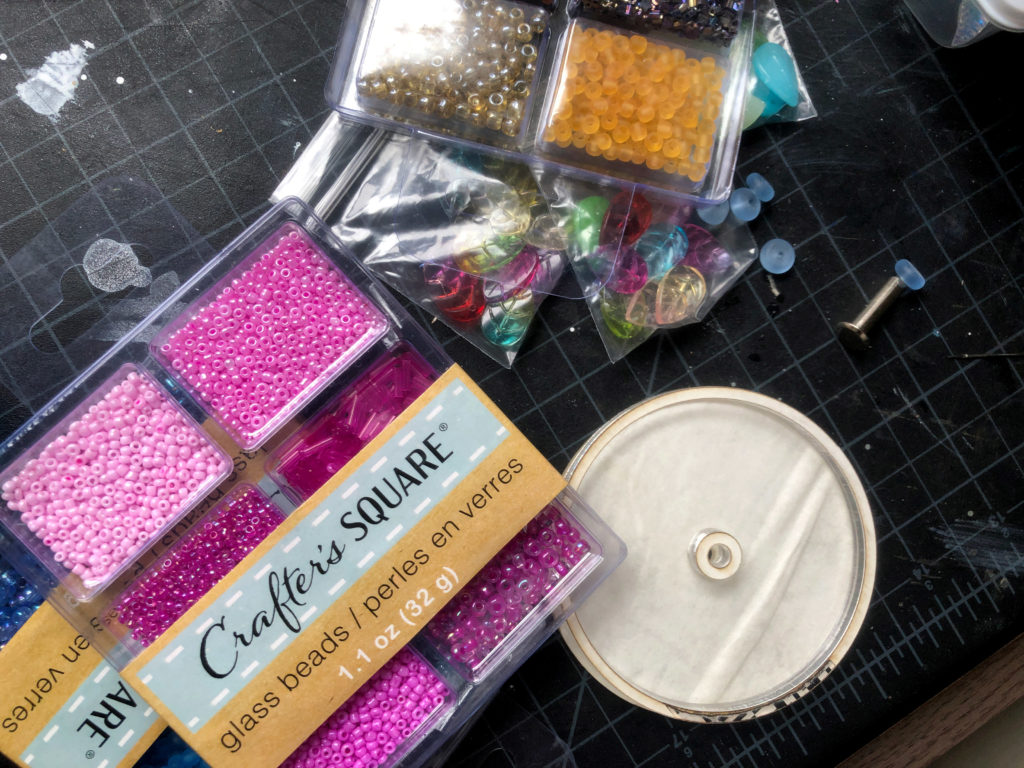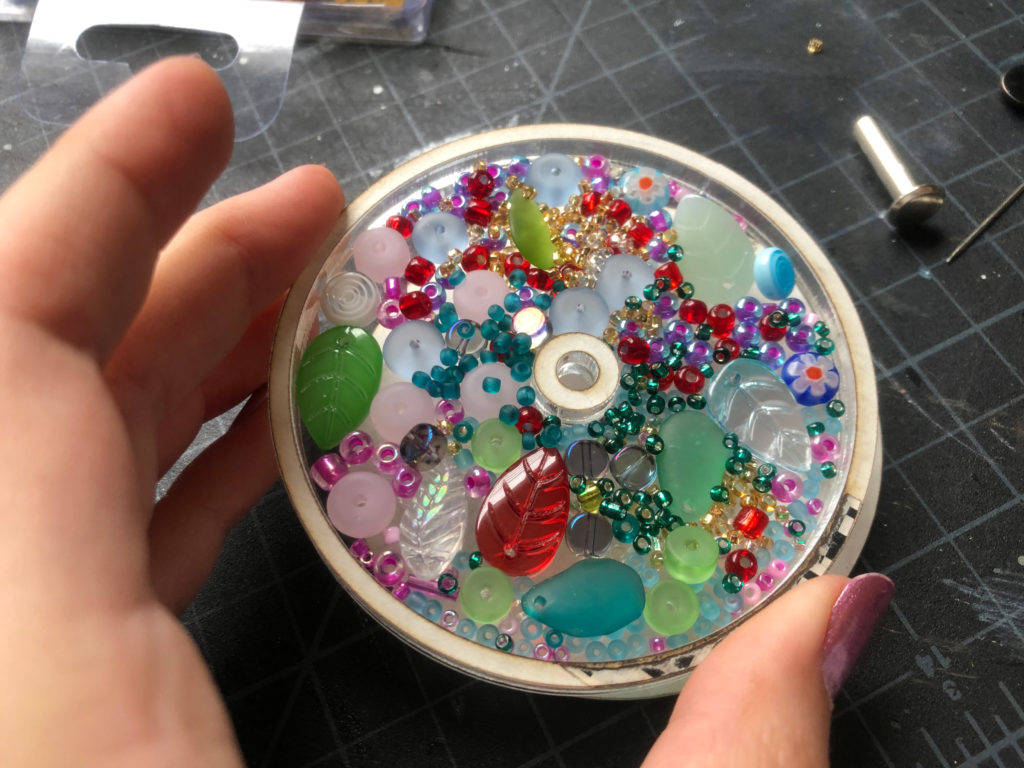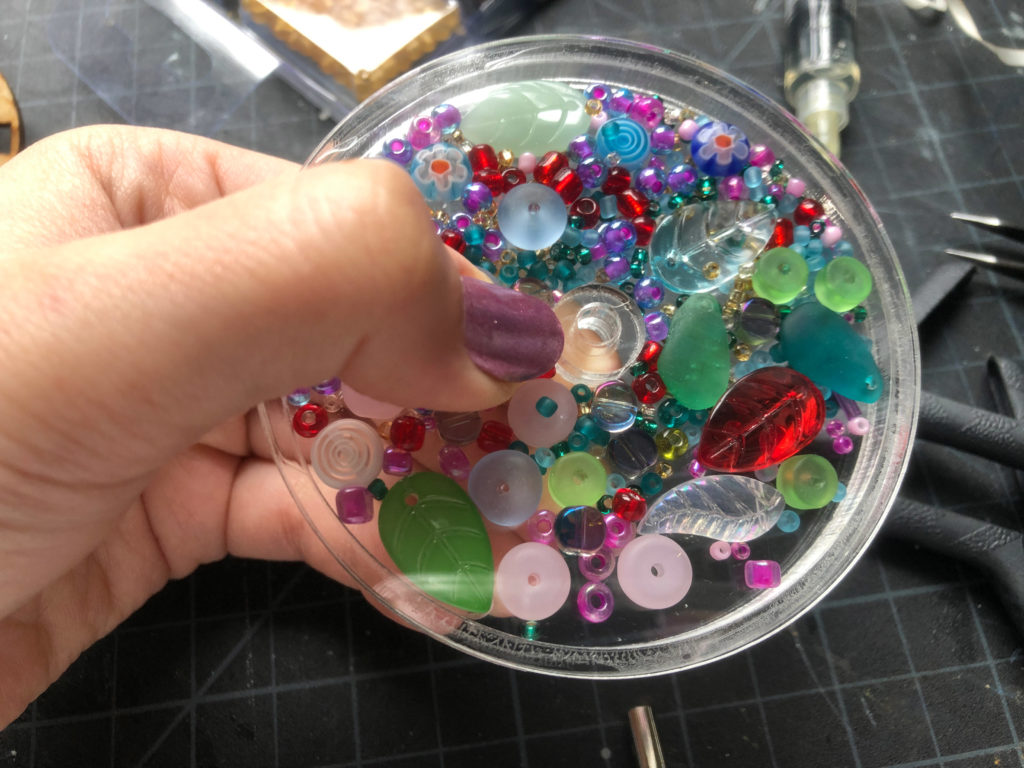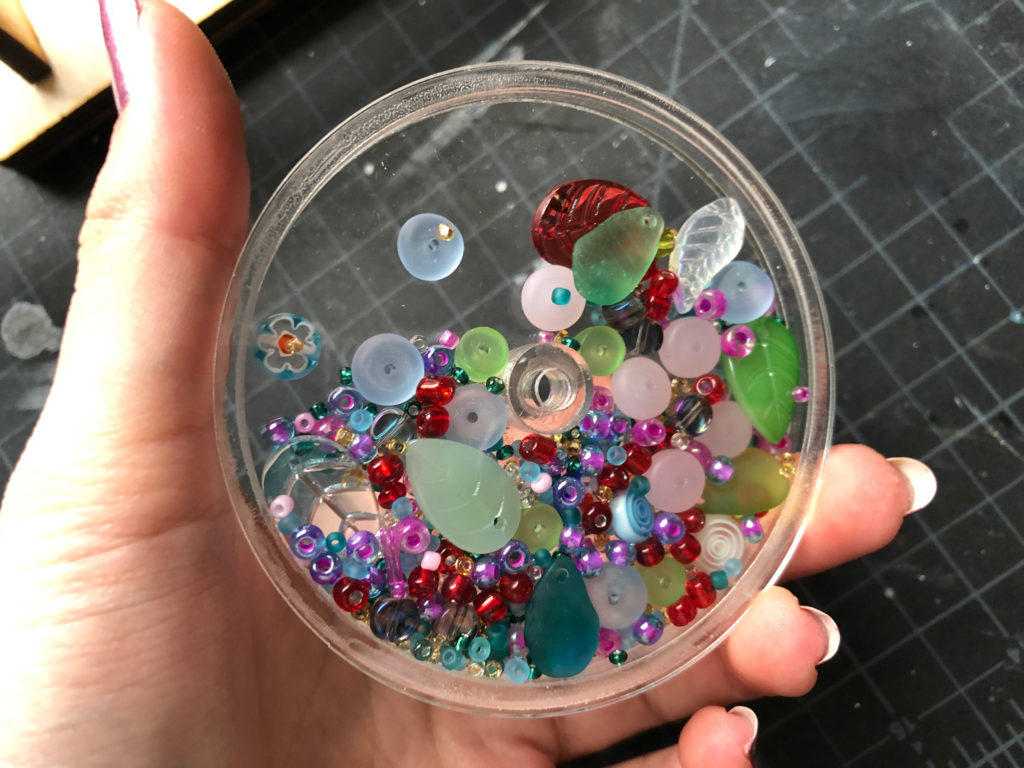 See how everything fell to the bottom leaving a large gap? There is nothing wrong with that as you want some movement, but I like to make sure I've filled it up a bit more so I won't have gaps when I rotate my image disk.
Once your image disk is full to your liking, get all the material settled. Peel off the masking from the edges, and glue it shut. Make sure to avoid fingerprints as best you can on the inside! Don't overdo the glue or it will squish into the image disk and get on your filler. I recommend a gel super glue or something that will stay put for this step. (Your kit may have come with adhesive tape along the edges instead of masking. if that is the case just peel and stick)
Once everything is dry (the assembly and the image disk), slip the image disk onto the end of your kaleidoscope and screw on the end of the screw. If needed you can use the included acrylic spacer. Chances are you won't need it unless you've requested extra room on the end for layering image disks.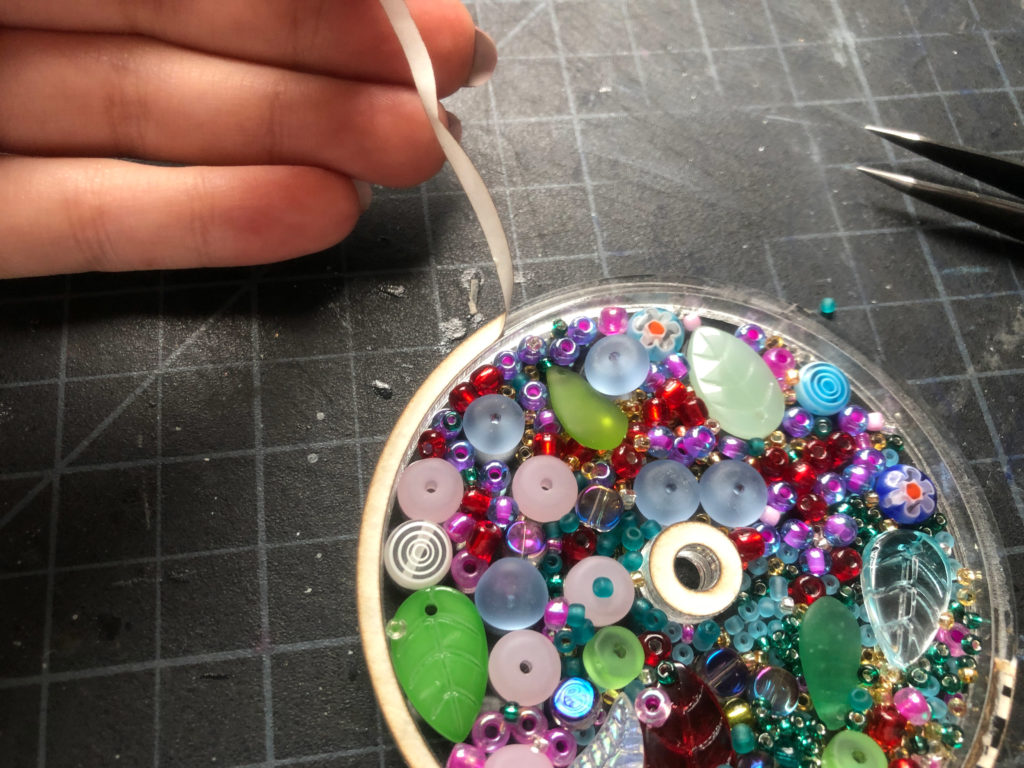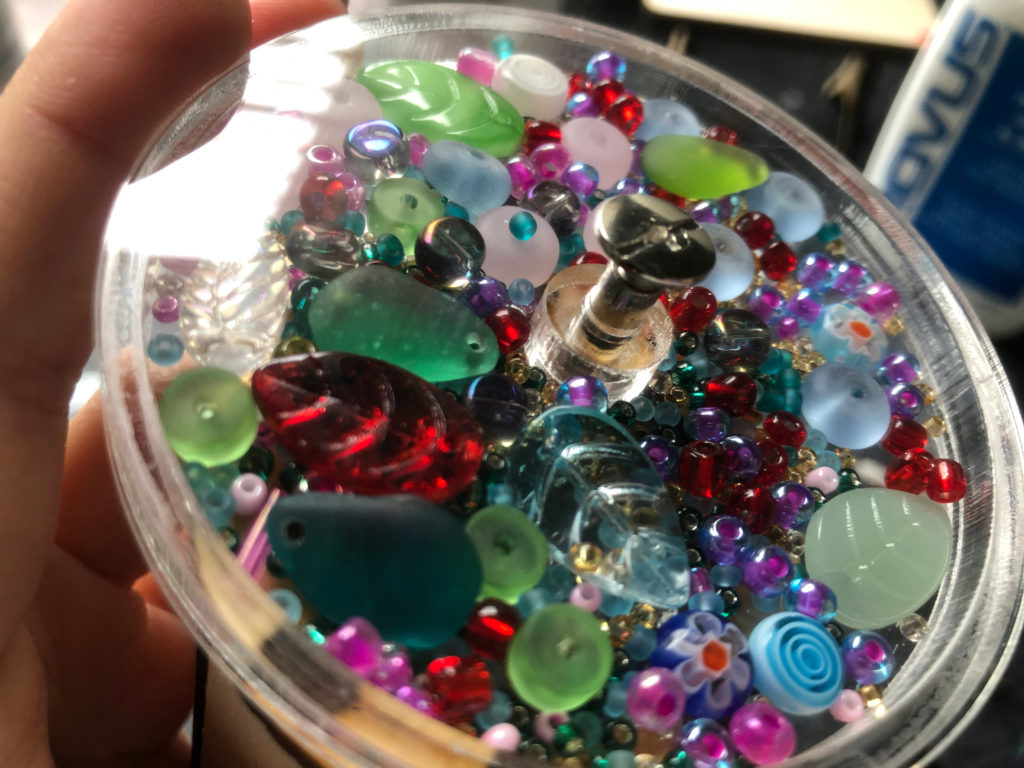 This is the easiest part and again, you can skip to this anytime you're waiting for something to dry. With most of these steps the glue isn't required – it just makes everything more secure. I like to add a little bit to the the two supports before inserting into the base.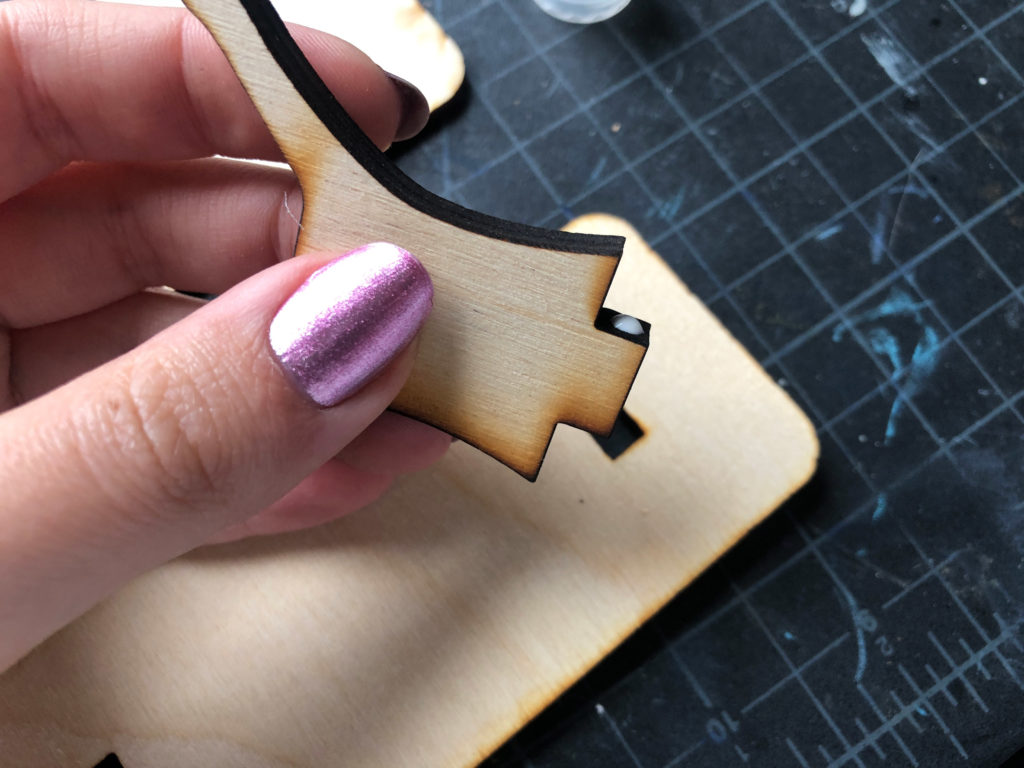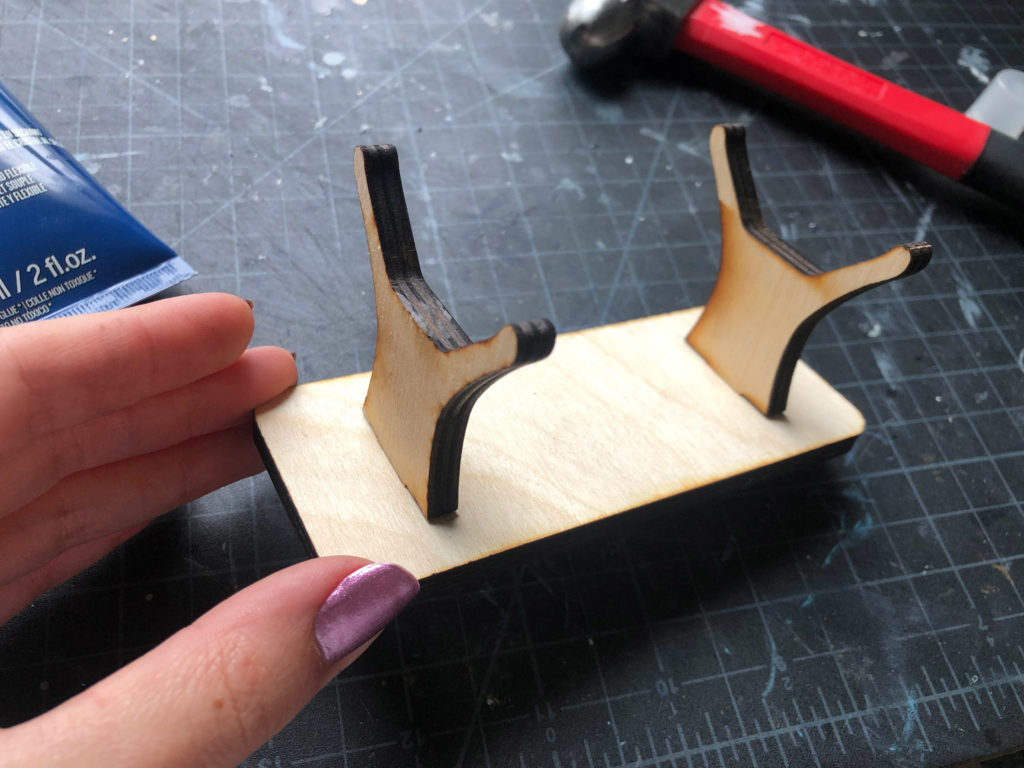 After inserting the supports you WILL need to glue on the bottom plate. The bottom plate just hides the connections and makes everything look more finished.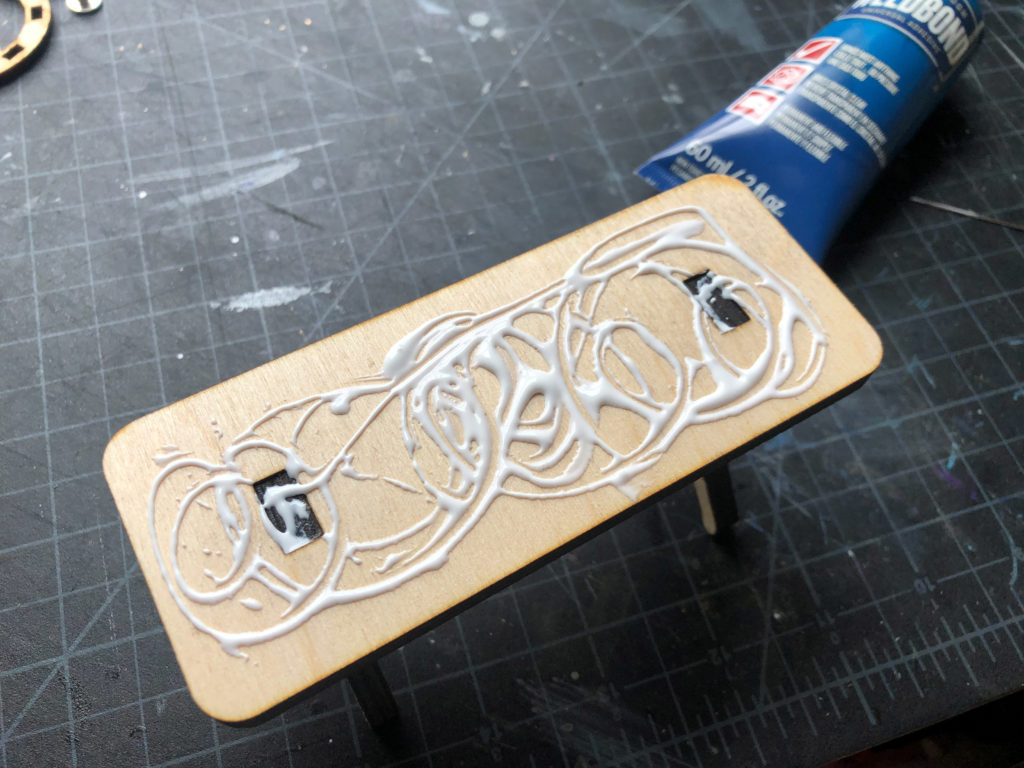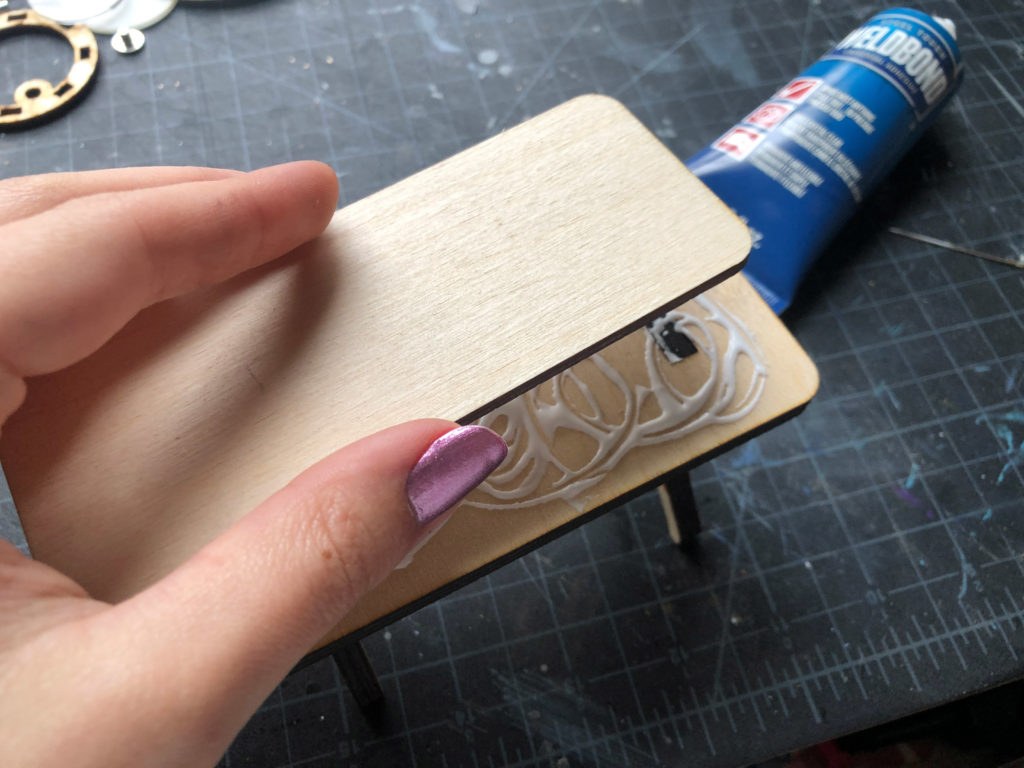 Your kaleidoscope is now done! If you didn't decorate at the beginning you can do so now! Some people prefer to paint or stain when all the parts are together so they can paint a flowing, seamless design.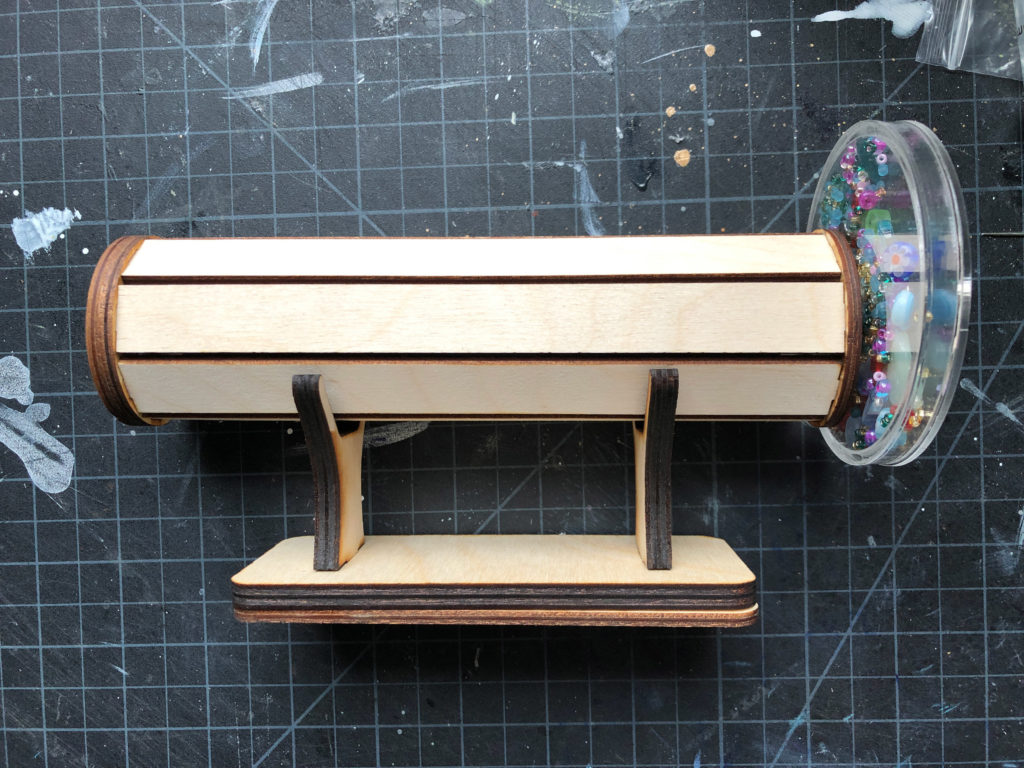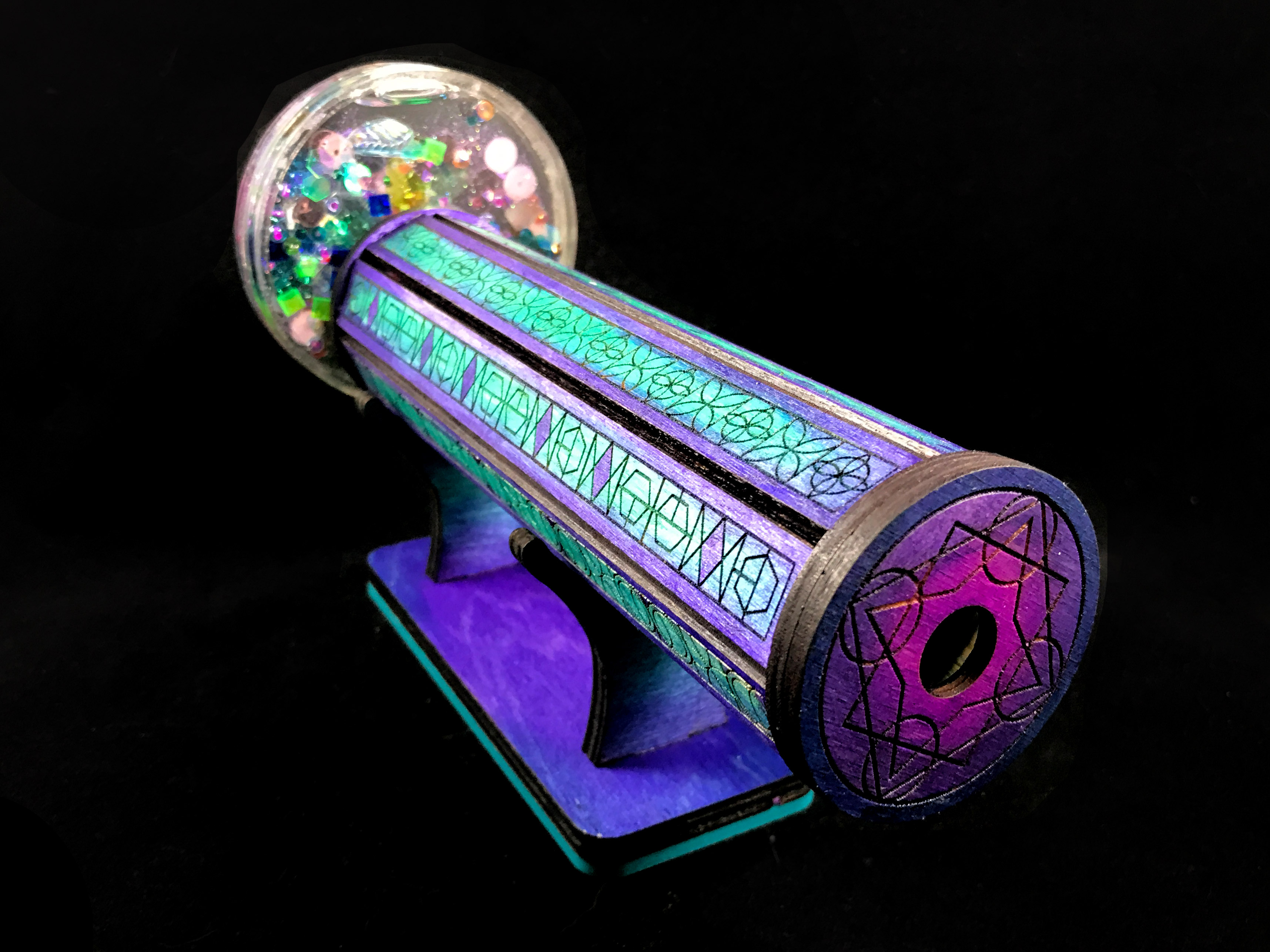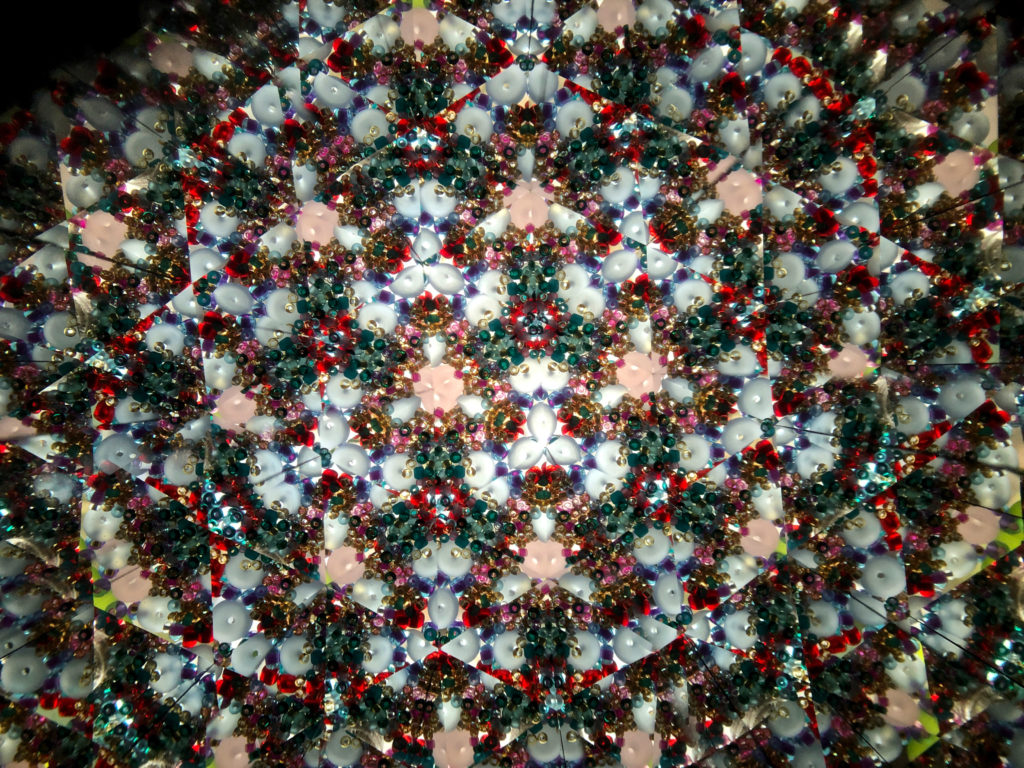 Some of these are Amazon affiliate links, so feel free to skip them if you're not into that. As an Amazon Associate, I earn from qualifying purchases, but they do not cost you any extra:
Get 50% off your first Wish.com order with my code: mfvjgnw | I buy lots of odds and ends here, so if you need some small item and don't mind waiting, this can be a fun shop to check out. 
I get a lot of my glass beads on Wish.com or at local craft stores on sale. If you have not bought filler yet I suggest taking the image disk with you to the store so that you can choose objects that will fit well (some beads are too thick for the image disk to close). Just make sure to leave the masking on when you transport it so you don't scratch it up. You can easily find materials online as well! There are small packs of dichroic glass on amazon or colorful seed bead sets. 
Obligatory Glowforge Discount Code Plug
If you found this post helpful and you plan to buy a Glowforge you can use my code (https://glowforge.us/r/QHDONFXB) for a discount of $100 off the Basic, $250 of the Plus, or $500 of the Pro:
Sign Up for Blog Posts Updates
And finally, if you'd like to be updated on posts like these in the future you can sign up for my email list. You will only receive an email if there is new content, and only once weekly in that case: